Please note this blog was originally published on the 4th September 2020. It was updated on the 15th February 2021 to detail the conditions of the Spring 2021 promotion.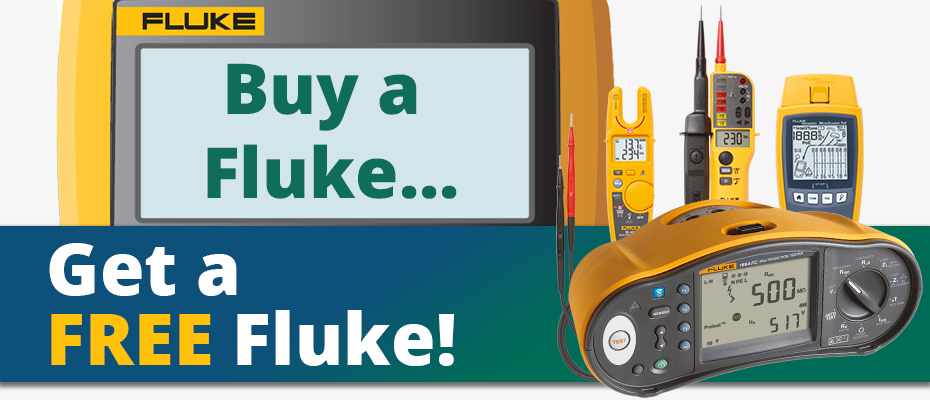 Spend £200 or more on any qualifying Fluke or Fluke Calibration instrument between 15th February 2021 and 30th June 2021 to receive a FREE Fluke tool of your choice (UK ONLY, see T&Cs below).
Please see the table below for further details regarding Fluke's offer levels and eligible FREE Fluke tools.
How to Redeem Your Free Fluke Tool
Redeem your free gift from Fluke at www.fluke.co.uk/freefluke.
To be eligible for this offer you MUST reside in the UK and hold a UK address. You will also require proof of sale, for example, a receipt, purchase order (PO), order confirmation or invoice. Your proof of sale must be dated the 30th June 2021 or earlier. Please note that packing slips are NOT accepted as proof of purchase. Proof of sale must be submitted on or before the 30th June 2021; cancelled orders will NOT qualify for this promotion.
You MUST purchase your Fluke instrument from an authorised Fluke distributor based in the UK; luckily, PASS Ltd is a UK-based Fluke distributor!
Please note that Fluke's BUY A FLUKE GET A FREE FLUKE offer is a standalone promotion and CANNOT be used in conjunction with any other Fluke offer. For further information regarding Fluke's terms and conditions, please download the document below or visit Fluke's website: www.fluke.co.uk/freefluke
Please do not hesitate to contact our sales team on 01642 931 329 or via our online form for more information regarding the BUY A FLUKE GET A FREE FLUKE offer or any of Fluke's instruments.
Please visit our Fluke and Fluke Calibration categories to view our entire range of Fluke products, and see our Fluke Offers page for more Fluke and Beha-Amprobe promotions.