Fluke Corporation has identified a potential safety issue affecting certain Fluke 83V, 87V and 88V Digital Multi-meters ('Fluke 8x V series DMMs').
As a precautionary measure, Fluke has decided to alert customers to the potential safety issue, and request that users perform a simple check to verify the unit is not impacted by the safety issue.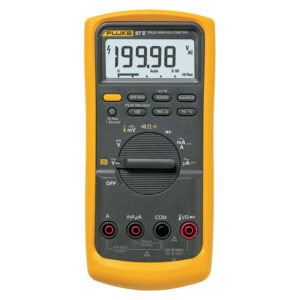 ISSUE DESCRIPTION:

Fluke 8x V series DMMs in the following serial number range may have plastic material intrusion in the COM input terminal. In rare cases, the plastic has sufficiently covered the wall of the input terminal such that it can inhibit proper contact. This has been observed at specific orientations of the test lead plug within the input terminal when used with the "split core" TL75 test leads that shipped with certain regional variants of the product. If using the Fluke 8x V series DMM for the purpose of confirming the absence of voltage1 this may result in a non-hazardous voltage reading when hazardous voltage is present, thereby creating a potential safety risk.
A false negative may lead to electric shock or arc flash from subsequent user actions as a result of the false-negative indication, which may lead to injury or even death.
The following Fluke 8x V series DMMs are potentially impacted:
Manufacturing Dates: June 7, 2019 – August 26, 2021
Starting Serial No. 46280001
Ending Serial No. 55370001

Model Name
87V/I410/L215
FLUKE-83-5/EUR
FLUKE-83-5/RS
FLUKE-87-5
FLUKE-87-5/E2K/EUR
FLUKE-87-5/EUR
FLUKE-87-5/RS
FLUKE-87V/IMSK
FLUKE-87V-MAX
FLUKE-87V-MAX/E2 KIT
FLUKE-88-5/A KIT
FLUKE-88-5/A/RS
IB875KEUR
IB875L
IB875M
Fluke requests that all users of the Fluke 8x V series DMMs within the above Serial Number range take the following steps (outlined in the PDF below) to verify their meter is not impacted by the safety issue. We are sorry for any inconvenience this might cause you, and hope you'll understand that customer safety is our utmost priority. Please read the PDF document with detailed actions on how to check your DMM.
Please accept our most sincere apologies for any inconvenience caused by this action and should you have any questions, please do not hesitate to contact us.
Contact information for FLUKE can be found at https://www.fluke.com/en-gb/support/about-us/contact-us