Perfectly suited for testing motor efficiency on hybrid and electric vehicles, Hioki's new CT6841 and CT6843 current clamps give high precision results every time you test.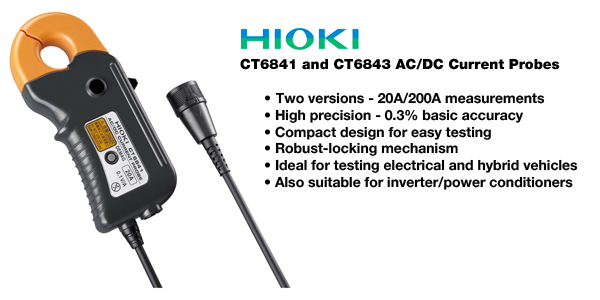 Made for use with the Hioki 3193-10 and 3390 power analysers, these current clamps are capable of working across a broad range of temperatures and measure across a wide frequency band with high levels of precision. The clamps have operating temperature range of -40 to 85°C, allowing them to be used in hot engine compartments.
The CT481, the first in this new range, is capable of measuring up to 20A AC/DC rated current. The upgraded version, the CT6843, is capable of measuring up to 200A AC/DC rated current. Both models carry out testing with high basic amplitude accuracy of just ±0.3% and accuracy is further enhanced due to these clamps ignoring the effects of magnetism and electrical noise from nearby wires and equipment.
Hioki has developed these new clamps as a solution for testing motor efficiency in hybrid and electrical vehicles. Traditionally this is tricky with conventional clamps as, since wiring cannot be removed easily when testing current, pass-through current sensors are not suitable for testing. High temperatures, plus lack of space in the compartment, can also make testing impossible. Hioki's CT481 and CT483 are compact, small-size clamps that can withstand temperature and make sure you can get the measurements you need in vehicles without struggling with larger clamps.
When combined together with Hioki's 3390 or 3193-10 power analysers, these new current probes can be used for truly comprehensive measurements of vehicle efficiency. For more information on Hioki's power analysers, please visit the 3390's page or the 3193-10's page.