At the IPC Apex 2014 Conference and Exhibition for the electronics manufacturing industry last year, Hioki presented a paper revealing that it has developed a four-wire solder joint integrity test for finding latent defects in PCBs that would otherwise go undetected by conventional tests such as capacitance method and boundary scan, among others.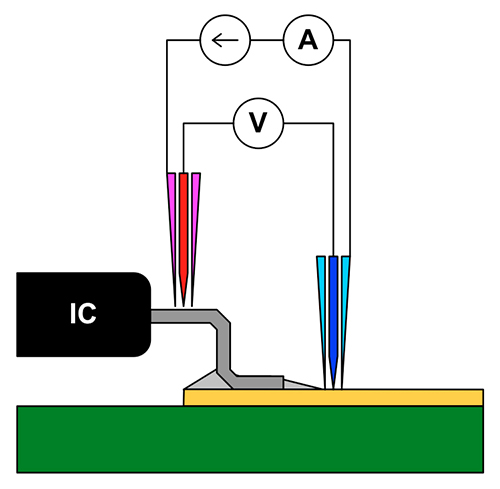 Solder joint integrity test by four-wire resistance measurement
Several test methods have been developed to find solder joint defects in printed circuit board assemblies. Capacitance method and IEEE 1149.1 or boundary scan are often used to find opens between component leads and pads on a board. These methods, however, only find complete opens or complete shorts.
Latent defects that can develop after several years of field use have not been found by conventional methods. Hioki has now developed a new method tthat uses a four-wire small resistance measurement technique built into a flying-probe in-circuit tester.
It measures the resistance between component leads and pads, and checks the solder volume. Because solder volume is inversely proportional to the resistance in-between, the resistance measurement can be a way to test solderability.
During the board-level test stage, assemblies are tested for structural integrity through in-circuit test or boundary scan, or both. Structural test works as a pre-check for the subsequent functional test, where power sources are applied to the board assembly to be tested. Thus, if the board assembly is not structurally complete, it can be damaged during functional test.
When a car is in motion for example, PCBs experience vibration, and solder joints with insufficient solder may become completely open. Although there is no failure during testing or initially in the field, the defect emerges after many hours in use.
The purpose of the Solder Joint Integrity Test (SJIT) is to find latent defects. There are ways to find IC pin opens, but conventional capacitive, magnetic and diode methods cannot find latent pin opens. Boundary-scan test can locate IC pin opens but cannot find latent pin opens. X-ray tests can find latent pin opens but are too slow to test an entire board assembly.
The lower the volume of solder, the higher its resistance becomes. Therefore, by measuring resistance across the solder joint, the reliability of that joint can be tested. Hioki claims that the four-wire resistance measurement method is the only way to find them at this time.
For further information about Hioki products, please visit Tester.co.uk