We have covered the issue of intrinsic safety in a previous blog post last June. Now PASS is driving the message forward in the media, recently with a double page editorial feature written by our managing director Barry Atkins on pages 28-29 of the March 2014 Edition of Hazardex magazine, pioneer of hazardous area publishing in the UK.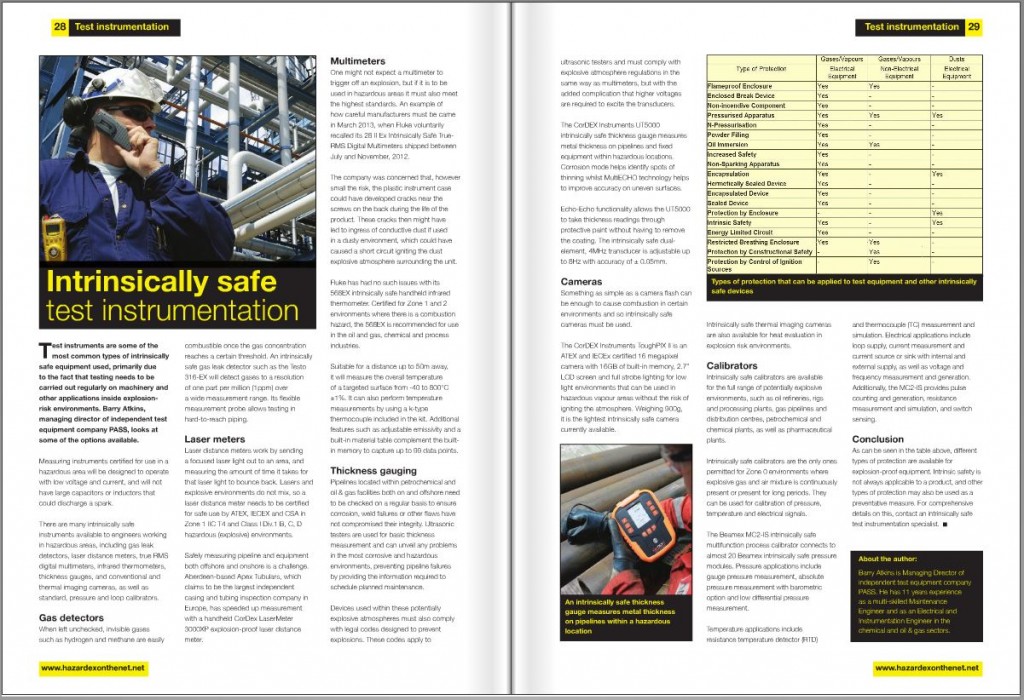 Our article in HazardEx magazine
Test instruments need to be explosion proof for machinery and process applications in hazardous areas. Test instruments is one of the most common types of intrinsically safe equipment used, primarily due to the fact that testing needs to be carried out regularly on machinery and other applications inside explosion-risk environments.
Wikipedia's article on Intrinsic Safety reveals that a measuring instrument certified for use in a hazardous area will be designed to operate with low voltage and current, and will be designed without large capacitors or inductors that could discharge in a spark.
There is a plethora of intrinsically safe instruments available to engineers working in hazardous areas, including gas leak detectors, laser distance meters, true RMS digital multimeters, infrared thermometers, thickness gauges, and conventional and thermal imaging cameras, as well as standard, pressure and loop calibrators.
When left unchecked invisible gasses like propane, hydrogen and methane are easily combustible once the gas concentration reaches a certain threshold. An intrinsically safe gas leak detector such as the Testo 316-EX will detect gasses to a resolution of one part per million (1ppm) over a wide measurement range. Its flexible measurement probe allows testing in hard-to-reach piping.
Lasers and explosive environments
Laser distance meters work by sending a focused laser light out to an area, and measuring the amount of time it takes for that laser light to bounce back. Lasers and explosive environments do not mix, so a laser distance meter needs to be certified for safe use by ATEX, IECEX and CSA in Zone 1 IIC T4 and Class I Div.1 B, C, D hazardous (explosive) environments.
Safely measuring pipeline and equipment both offshore and onshore is a challenge. Aberdeen-based Apex Tubulars, which claims to be the largest independent casing and tubing inspection company in Europe, has speeded up measurement with a handheld CorDex LaserMeter 3000XP explosion proof laser distance meter.
One might not expect a multimeter to trigger off an explosion, but if it is to be used in hazardous areas, it must also be certified. This is easier said than done because in March 2013, Fluke voluntarily recalled its 28 II Ex Intrinsically Safe True-rms Digital Multimeters shipped between July 1, 2012 and November 30, 2012.
Forever the perfectionist, Fluke was concerned that however small the risk, the plastic instrument case may develop cracks near the screws on the back during the life of the product.
If cracks develop, and if used in an explosive dust environment, ingress of conductive dust may cause a short circuit that could ignite a dust explosive atmosphere surrounding the unit, potentially resulting in serious injury or death.
Fluke has had no such issues with its 568EX intrinsically safe handheld infrared thermometer. Certified for Zone 1 and 2 environments where there is a combustion hazard, the 568EX can be used safely in areas with petroleum, chemicals, oil and gas.
Suitable for a distance up to 50m away, it will measure the overall temperature of a targeted surface from -40 to 800°C ±1%. It can also perform temperature measurements by using a k-type thermocouple included in the kit. Additional features such as adjustable emissivity and a built-in material table complement the built in memory to capture up to 99 data points.
Intrinsically safe thickness gauging
Pipelines located within petrochemical facilities both on and offshore represent an ideal environment for using ultrasonic testers for basic thickness measurement through to corrosion, weld and flaw detection. Ultrasonic testers in highly corrosive offshore installations can help prevent pipeline failures by providing the information required to schedule planned maintenance.
Devices used within these potentially explosive atmospheres must comply with legal codes designed to prevent explosions. These codes apply to ultrasonic testers in the same way as multimeters, but with the added complications of the higher voltages required to excite the transducers and the power generated by the transducers themselves, even if disconnected from the pulser/receiver.
The CorDEX Instruments UT5000 intrinsically safe thickness gauge measures metal thickness on pipelines and fixed equipment within hazardous locations. Corrosion mode helps identify spots of thinning whilst MultiECHO technology helps to improve accuracy on uneven surfaces.
Echo-Echo functionality allows the UT5000 to take thickness readings through protective paint without having to remove the coating. The intrinsically safe dual-element, 4MHz transducer is adjustable up to 8Hz with accuracy of ± 0.05mm.
Something as simple as a camera flash can be enough to cause combustion in certain environments and so intrinsically safe cameras must be used. Intrinsically safe thermal imaging cameras are now suitable for carrying out heat evaluation in explosion risk environments.
The CorDEX Instruments ToughPIX II is an ATEX and IECEx certified 16 megapixel camera with 16GB of built-in memory, 2.7" LCD screen and full strobe lighting for low light environments that can be used in hazardous vapour areas without the risk of igniting the atmosphere. Weighing 900g, it is the lightest intrinsically safe camera currently available.
Calibration
Intrinsically safe calibrators are designed for potentially explosive environments, such as oil refineries, rigs and processing plants, gas pipelines and distribution centres, petrochemical and chemical plants, as well as pharmaceutical plants.
Intrinsically safe calibrators are the only technique permitted for Zone 0 environments where explosive gas and air mixture is continuously present or present for a long time. They can be used for calibration of pressure, temperature and electrical signals.
The Beamex MC2-IS intrinsically safe multifunction process calibrator connects to almost 20 Beamex intrinsically safe pressure modules. Pressure applications include gauge pressure measurement, absolute pressure measurement with barometric option and low differential pressure measurement.
Temperature applications include resistance temperature detector (RTD) and thermocouple (TC) measurement and simulation. Electrical applications include loop supply, current measurement and current source or sink with internal and external supply, as well as voltage and frequency measurement and generation. Additionally it provides pulse counting and generation, resistance measurement and simulation, and switch sensing.
Conclusion
Intrinsically safe equipment is generally given what is known as an 'Ex' rating. As can be seen in the table, different types of protection are available for explosion-proof equipment. Intrinsic safety is not always applicable to a product, and other types of protection may also be used as a preventative measure.
For further details on intrinsically safe measurement, please visit PASS's dedicated intrinsically safe equipment web page.