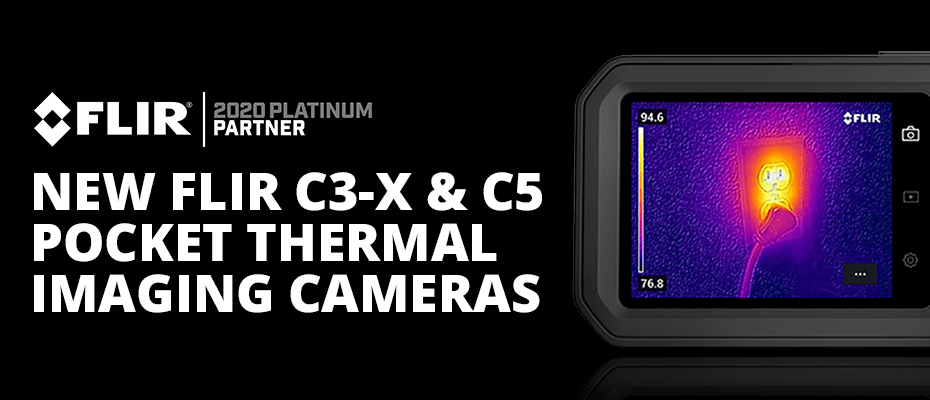 Building on the success of the FLIR C2 Pocket-Sized Thermal Camera, FLIR has developed two new, upgraded Cx-series models, the FLIR C3-X (the successor to the C2) and the FLIR C5. These compact cameras are suitable for inspecting and troubleshooting buildings, facilities, and HVAC/R and electrical systems. They can be used to find hidden hotspots on electrical equipment, detect sources of energy waste, and locate HVAC/R issues as well as structural defects. The FLIR C3-X and C5 Thermal Cameras are ideal for electricians, plumbers, and maintenance technicians.
Like the C2, the FLIR C3-X and C5 Thermal Cameras are pocket-sized. They also support MSX (Multi-Spectral Dynamic) imaging which overlays digital details, captured using an integrated visible-light camera, onto the thermal picture to increase sharpness and clarity.
However, unlike the C2, these cameras are equipped with FLIR Ignite™ Cloud connectivity enabling the direct transfer, as well as storage and backup, of thermal images and data. Once saved to the cloud, data and images can be accessed from any of the user's smart devices or a PC.
Which FLIR Cx-Series Thermal Camera is Right for You?
FLIR's C3-X replaces the FLIR C2 as the entry-model in the Cx-series. It is a three-in-one thermal camera, digital camera and torch with a larger touchscreen than the C2 and 2x the operating time. It also has an expanded temperature range, -20°C to 300°C, and a 128 x 96px (12 288 pixels) IR resolution. Furthermore, the FLIR C3-X Thermal Camera includes professional reporting tools and supports FLIR's Thermal Studio Software which can be used to document issues and create professional reports.
The FLIR C3-X Thermal Camera is ideal for those who value thermal imaging as a useful inspection tool and require a cost-effective, convenient and compact IR camera to complement their other equipment.
On the other hand, the FLIR C5 Thermal Camera is ideal for professionals who regularly use thermal imaging to locate or diagnose issues. To this end, it has a more powerful thermal resolution, 160 x 120px (19 200 pixels), and a higher temperature range, -20°C to +400°C. Increased IR resolution enables the FLIR C5 to identify slight temperature differences, thereby improving the accuracy of measurements and providing greater detail throughout the scene.
The FLIR C5 also offers functions such as Zoom and 1-Touch Level/Span which delivers improved scene contrast. Moreover, like the FLIR C3-X, the FLIR C5 Thermal Camera features MSX imaging, professional reporting tools and FLIR Ignite™ Cloud connectivity, and supports FLIR Thermal Studio Software.
Further Information
For further information regarding these cameras, please view the following links:
Alternatively, please contact our sales team on 01642 931 329 or via our online form.