Megger's next-generation multifunction testers are available now. Find out why you should considering upgrading!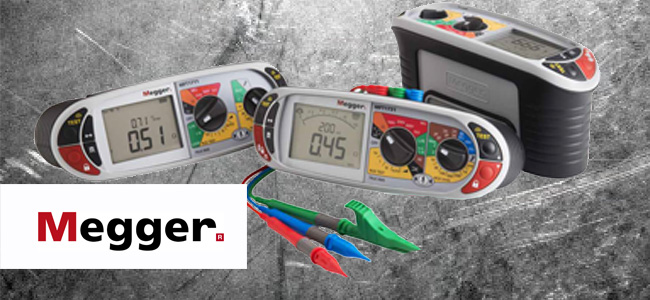 As any electrician knows, Megger products are among the best on the market. Known for their rugged reliability, ease of use and wide variety of testing procedures, Megger multifunction testers are commonly found as the tester of choice for many an electrical installer.
To cater for the demands of today's modern electrical professionals, Megger has now upgraded their existing line-up of multifunction testers. All three existing models - the MFT1710, 1720 and 1730 - have brand new versions with upgraded features, helping to make your testing easier than ever before.
The new testers are as follows:
MFT1710 has been upgraded to the MFT1711
MFT1720 has been upgraded to the MFT1721
MFT1730 has been upgraded to the MFT1731
What's New?
All three of the new models have a selection of new features. These are:
1000V test voltage for insulation tests
Max Zs display function
Automatic RCD tests are now included on all three models
All models are now compatible with programmable and 10mA RCDs
All models also now can carry out true RMS voltage measurements, ensuring accuracy when testing
All three testers follow a similar structure to the older Megger testers. The MFT1711 is the entry-level model, and includes all of the tests you see above, plus all the basic measurements you'll need for testing electrical installations. The MFT1721 is the mid-range model, with additional functions including 3-phase RCD compatibility, leakage current measurements and R1 + R2 display. The MFT1731 is the top-of-the-range model; this tester includes fully downloadable memory and has Bluetooth connectivity, as well as the ability to carry out earth tests.
The table below outlines exactly how each model differs from the other.

| Model Number | MFT1711 | MFT1721 | MFT1731 |
| --- | --- | --- | --- |
| Insulation Testing | - | √ | √ |
| 100V Test Voltage | √ | √ | √ |
| 250, 500V Test Voltage | √ | √ | √ |
| 1000V Test Voltage | √ | √ | √ |
| Test Voltage Display | √ | √ | √ |
| Adjustable Buzzer Threshold | - | √ | √ |
| Continuity and Resistance Testing | | | |
| 200mA Test | √ | √ | √ |
| 15mA Test | - | √ | √ |
| Adjustable Buzzer Threshold | √ | √ | √ |
| Loop Testing | | | |
| 2 and 3 Wire Non-Tripping; L-PE (50V to 280V) | √ | √ | √ |
| 2 Wire High Current; L-N (50V to 280V) | √ | √ | √ |
| 2 Wire Phase to Phase; L-L (50V to 500V) | - | √ | √ |
| PSCC and PFC (20kA Max) | √ | √ | √ |
| Max Zs Display | √ | √ | √ |
| R1 + R2 Display | - | √ | - |
| Touch Voltage Display on Faulty Earth | √ | √ | √ |
| Earth Electrode Test | | | |
| 2 and 3 Pole (Requires Optional Accessory) | - | - | √ |
| 3 Pole Art and Stakeless Method (Requires Optional Accessory) | - | - | √ |
| RCD Tests | | | |
| 1/2, 1, 5 x I and Ramp | √ | √ | √ |
| Auto RCD Tests | √ | √ | √ |
| Type AC, A and S RCD Compatibility | √ | √ | √ |
| Type B (Pure DC) RCD Compatibility | - | √ | √ |
| Programmable RCD Compatibility | √ | √ | √ |
| 3-Phase RCD (No Earth) Compatibility | - | √ | √ |
| 30, 100, 300 and 500mA RCD Compatibility | √ | √ | √ |
| 10mA and 1000mA RCD Compatibility | 10mA only | √ | √ |
| Additional Features | | | |
| Supply Measurements | √ | √ | √ |
| True RMS | √ | √ | √ |
| Leakage Current Measurements (Requires Optional Accessory) | - | √ | √ |
| Phase Rotation | - | √ | √ |
| Calibration Certificate Included | √ | √ | √ |
| Rechargeable Batteries (with Charger Included) | - | - | √ |
| SP5 Switched Probe Included | - | √ | √ |
| Warranty Upgradeable to 3 Years (FREE) | √ | √ | √ |
| On-Board Memory with Bluetooth Download | - | - | √ |
| CAT IV 300V / CAT III 600V | √ | √ | √ |
| Hard Moulded Case | √ | √ | - |
| Soft Pouch with Additional Storage | - | - | √ |