Popular electrical test equipment manufacturer Megger has just released their brand new PAT testing range, the PAT120 and PAT150.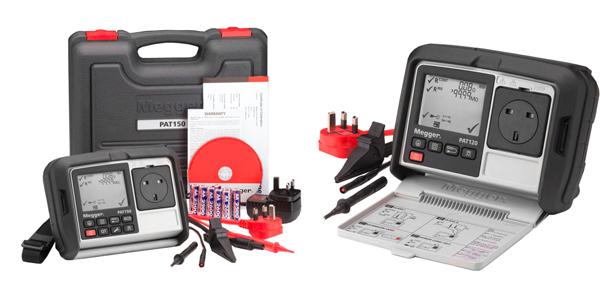 Available now, the PAT120 and PAT150 are designed to make PAT testing as simple as possible. Both testers include PASS/FAIL cross/tick easy indicators plus full result display and a high quality armoured rubber case with protective lid for easy, damage-free transportation.
The PAT120 is designed for those looking for an easy-to-use PAT testing that does everything you need to ensure compliance with the IET Code of Practice. It includes dual insulation test voltages of 250V/500V for use on IT-based and surge-protected equipment and is also suitable for use with class I + class II appliances, associated leads and extension leads.
The PAT150, the upgraded version of the PAT120, comes with additional functionality such as a portable RCD testing mode for 10mA and 30mA RCDs, mains powered leakage testing, SELV measurements and test result limits and testing duration can be adjusted as desired by the user.
Both testers are ideally suited for lower volume PAT applications such as offices and charity shops that don't have a large amount of appliances to test.
Want more information on these testers? The table below outlines the difference between each model.
| Feature | Megger PAT120 | Megger PAT150 |
| --- | --- | --- |
| Mains Test Socket | BS1363 | BS1363 |
| Power Supply | AA alkaline batteries | AA alkaline batteries |
| Testing | | |
| Protective Earth Resistance | √ | √ |
| 250V Insulation | √ | √ |
| 500V Insulation | - | √ |
| Cable Test | √ | √ |
| Live Protective Conductor Current | - | √ |
| Live Touch Current | - | √ |
| Substitute Leakage | √ | √ |
| Function Test (Part of Live Leakage Test) | - | √ |
| 10mA PRCD | - | √ |
| 30mA PRCD | - | √ |
| SELV Voltage | - | √ |
| Lead Resistance Nulling | - | √ |
| Function Keys | | |
| Class 1 | √ | √ |
| Class 2 | √ | √ |
| Lead/Cord | √ | √ |
| PRCD | - | √ |
| Single Test | - | √ |
| LCD Backlight | √ | √ |
| Setup | - | √ |
| On/Off | √ | √ |
| Standard Accessories | | |
| 4mm Plug Lead Probe + Croc Clip | 1x | 2x |
| Extension Lead Adaptor | BS1363 | BS1363 |
| Mains Supply Cord | - | √ |