Minister for Communities and local Bristol West MP Stephen Williams visited the NAPIT Training Centre in Bristol in January 2014 to gain an insight into the life of an electrician and the training that aspiring electricians and sustainable technology installers need to get qualified.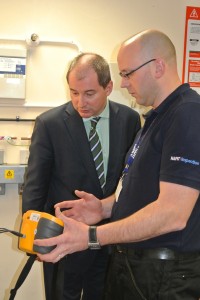 NAPIT Registration is the division of the NAPIT Group that runs Competent Persons Schemes. It ensures that NAPIT registered installers across the building service industry are competent to work safely to the building regulations that apply in England and Wales. The flagship renewables and electrical training centre training centre was first opened in Bristol in 2011 and boasts bespoke training rigs for electrical inspection and testing, solar PV panels, biomass boilers and more.
Williams was shown around the purpose-built training centre and met electricians and senior representatives from NAPIT who are working with Government and alongside industry stakeholders to improve the promotion of competent, registered electricians to households.
David Cowburn, Managing Director of NAPIT Registration, said: "It was a pleasure to meet the Minister of Communities. He was clearly passionate about raising awareness of competent, registered electricians to households and enthusiastic about promoting safe practice among aspiring tradespeople.
"We had the opportunity to show him the training options we offer here in Bristol and provide an insight into what NAPIT, alongside Government and key industry stakeholders, are striving to achieve – namely the creation of one register to make it easier than ever before for the general public to find competent electricians.'
Williams said: "It was great to take the opportunity to visit the NAPIT Training Centre near my home constituency. Training is vital for anyone looking to boost their prospects in today's competitive employment market.
"The visit provided a valuable insight into the opportunities available to aspiring tradespeople and I was pleased to hear about the work NAPIT and other organisations are doing to create one search facility and easily recognisable mark for all competent, registered electricians. Finding an electrician who can work safely and legally is crucial to consumer safety and their work to raise awareness of this issue is very encouraging."
To view the range of courses being run at the NAPIT Bristol Training Centre, visit the NAPIT Training website.