The Martindale VI137002 voltage tester has been approved by the NHS as a standard tester for its Estates and Facilities Division, according to Health Technical Memorandum (HTM) 06-02: Electrical safety guidance for low voltage systems. The document's purpose is to encourage best practice guidance for the safe systems of work and safety procedures for operation and management of low voltage AC electrical installations up to 1,000V in healthcare premises.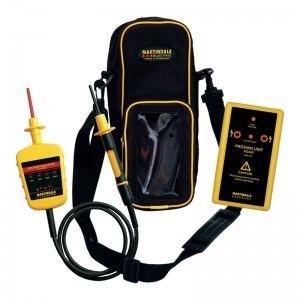 HTM 06-02 states that all work on low voltage electrical equipment including conductors should be carried out while such electrical equipment and conductors are dead and isolated from all sources of supply, and after being proved dead at the point-of-work.
It says: "Before any work can begin, the electrical equipment and conductors need to be identified and then proved dead at the point-of-work by means of an approved voltage testing device, which must itself be tested in an approved manner immediately before and immediately after its use."
Voltage test indicators are covered in the appendix as follows: "This guidance requires Authorised Persons and Competent Persons to prove equipment dead by using a voltage test indicator.
"As there is no British Standard for a voltage test indicator in non-hazardous areas, it should comply with the recommendations of the Health and Safety Executive's 'GS38: electrical test equipment for use by electricians'."
Barry Atkins, managing director of independent test equipment expert PASS Ltd, welcomes the news of the NHS's approval of Martindale VI137002 voltage tester.
Atkins adds: "Martindale's VI137002 voltage tester, when used with a PD440 proving unit kit, allows NHS Authorised Persons and Competent Persons to check devices and circuits for dangerous errors for AC and DC voltage from 50-400V."
The VI137002 can be used to indicate a voltage range between 50-400V AC/DC with LED indicators of voltage at 5, 100, 200 and 400V. The tester can also indicate polarity, automatically detects AC/DC voltage and responds to voltage presence in less than 0.1s. A two-pole voltage tester, the VI137002 is also compliant with GS38 and is BS EN 61010 rated.
Martindale's PD440 is used for verifying the overall accuracy of the voltage indicator by simply inserting the tips of the VI37002's probes into the unit.
For further information visit PASS Ltd's Martindale's VI137002 web page.