Predictive maintenance is essential for sustaining uptime, reducing repair costs, and maximising profits. Often these routines involve checking for leaks in air, gas, steam and vacuum systems, or partial discharge in power distribution systems and high-voltage equipment. Acoustic imaging provides a simpler, quicker, and safer method of spotting these problems at an earlier stage enabling easier, cheaper, and more convenient repair.[1]
Quick Links
What is Acoustic Imaging?
Acoustic imaging captures and displays ultrasonic sound allowing you to see the sources of faults sooner. The Fluke ii910 Precision Acoustic Imager utilises a digital camera and 64-count microphone array combined with sophisticated algorithms to capture ultrasonic sound waves and convert these into a sound map which is overlaid onto a digital photo.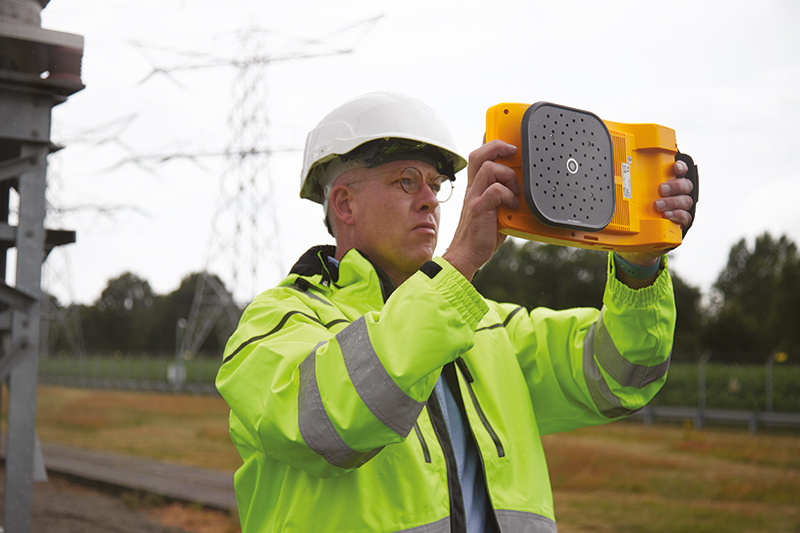 Why is Acoustic Imaging Useful?
Acoustic imaging or ultrasonic imaging is useful as often it provides the first indication of a potential or impeding electrical/mechanical fault. Identifying issues at an earlier stage means they can be addressed quickly often reducing repair costs and eliminating or significantly decreasing downtime, allowing you to continue maximising profits while lowering expenditure.
Similarly, acoustic imaging allows you to find and neutralise invisible threats such as partial discharge. Unchecked, partial discharge can lead to blackouts, fires, explosions, and production loss, endangering your workforce and equipment. Using ultrasonic imaging, these issues can be diagnosed from a safe distance.
Finally, acoustic imaging is especially effective in industrial environments where the sound of a leak can be easily drowned out by loud background noises. In situations where a leak's audible noise cannot be heard, acoustic imagers allow its ultrasonic sounds to be seen.
What is Partial Discharge?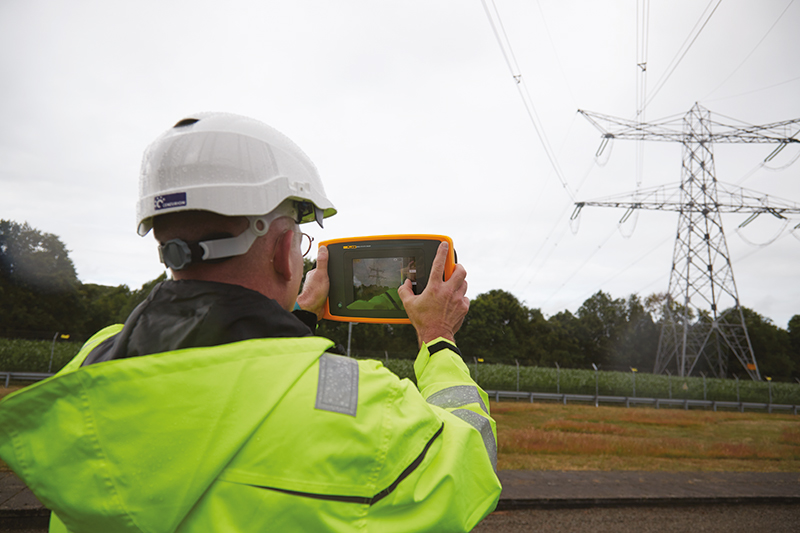 "Partial discharge (PD) is an electrical discharge that does not completely bridge the space between two conducting electrodes."[2] It tends to occur in high-voltage electrical equipment and is usually due to a minor defect that produces thousands of mini discharges. If unaddressed, partial discharge will grow and become more severe potentially culminating in (at best) significant downtime needed to repair the fault or (at worst) explosions, injuries, and fatalities.
There are four types of partial discharge that develop from different defects and have the potential to cause varying levels of damage:
Corona: a common type of partial discharge occurring when electrical discharge makes direct contact with the air surrounding the conductor or other sharp surface; while not ideal, corona is the least concerning form of partial discharge as, generally, it poses fewer safety risks and is unlikely to generate as much damage as other types.
Arcing: produced by the electrical breakdown of gas, arcing is a prolonged electrical discharge resulting in the production of a plasma which materialises when current flows through the air or another non-conductive medium.
Surface: also known as surface tracking, surface discharge occurs when discharge travels along the surface of the insulation. Insulation breakdown, originating from high humidity, moisture intrusion, poor maintenance, or contamination and/or weathering of insulator surfaces, is a common cause of surface tracking in medium- and high-voltage equipment. Unfortunately, surface tracking is one of the most destructive types of partial discharge.
Void (internal): this highly destructive discharge will continue to expand until it induces complete failure. It usually arises due to defects in the solid insulation of cables, bushings, and GIS junction insulation.
How Does the Fluke ii910 Precision Acoustic Imager Pinpoint Partial Discharge?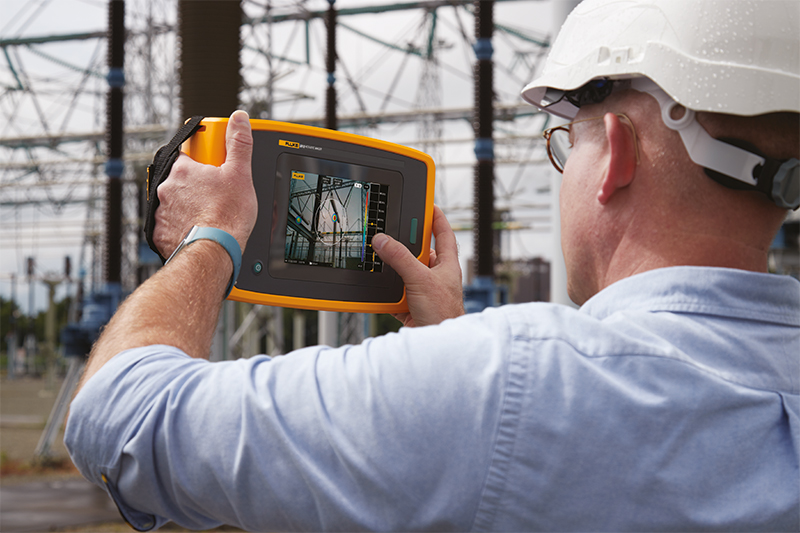 Requiring little to no training, the Fluke ii910 Precision Acoustic Imager can be used from a safe distance to detect ultrasonic sounds emitted by partial discharge. Ultrasonic sound waves are picked up by this easy-to-use sonic imager's 64-count microphone array. They are converted into a sound map which is superimposed onto the digital image captured by the Fluke ii910's built-in camera. The combined picture is displayed on its 7-inch, 1280x800px LCD. The Fluke ii910 Sonic Industrial Imager has a detection range of 120m and can identify ultrasonic noise between 2kHz and 100kHz.
Fluke Partial Discharge White Paper
To learn more about how to use Fluke's ii910 Precision Acoustic Imager for pinpointing partial discharge, download Fluke's helpful white paper.
Download Fluke's Partial Discharge White Paper.
Why is Leak Detection Important?
Billions of dollars are squandered annually due to energy lost through leaks in compressed air systems. It is estimated that 40% of the world's industrial energy is wasted in this way. It is essential that leaks are located and repaired not just to improve profits and prevent extensive downtime but to reduce environmentally costly energy wastage.
Moreover, undiscovered leaks can lead to significant damage to your system, resulting in things like:
Control pressure regulator failure
Process control valve panel condensation
Pressure regulator corrosion
Valve actuator downtime
Reduced performance
Contamination
Loss of pressure leading to contamination, faulty equipment, and environmental safety risks
Excessive repair costs
Ineffective repairs
Loss of expensive gases/assets
Compromised product quality
How Does the Fluke ii910 Precision Acoustic Imager Locate Leaks?
As gas escapes compressed air systems through leaks, it generates turbulence which produces rapid changes in pressure and flow velocity. This in turn creates acoustic and ultrasonic soundwaves. Manufacturing environments, with their loud machinery and requirements for staff to wear hearing protection, are difficult places for maintenance technicians to detect audible sounds emanating from leaks. The Fluke ii910 Precision Acoustic Imager provides a simple solution to this problem. Its 64-count array of microphones will pick up on the ultrasonic sound escaping these leaks. Using advanced algorithms, it creates a sound map which is then overlaid onto a digital image taken by the sonic imager's camera and visible on its 7-inch, 1280x800px LCD. As mentioned above, the Fluke ii910 Precision Acoustic Imager can capture soundwaves between 2kHz and 100kHz and has a detection range of 120m.
Fluke LRQ White Paper
Download Fluke's detailed LRQ (Leak Rate Quantification) white paper to discover more about how to use the Fluke ii910 Precision Acoustic Imager to locate leaks.
Download Fluke's LRQ White Paper.
Fluke Webinar
If you wish to learn more about the applications of acoustic imaging, Fluke will be hosting an informative and interesting webinar on the 11th November between 10 am and 11 am. This enlightening talk delivered by Fluke's experts will cover the applications and advantages of acoustic imaging, as well as offer an introduction to Fluke's ii910 and ii900 Sonic Industrial Imagers.
To sign up to Fluke's webinar , please follow this link.
Read more about Fluke's acoustic imaging webinar here.
Further Information
Alternatively, please contact our Sales team on 01642 931 329 or via our online form for more information regarding Fluke's webinar and/or acoustic/ultrasonic imagers.

---
[1] The information for this blog was gathered using the following sources:
[2] Fluke, Main causes and types of partial discharge, last accessed 05 November 2021