In September last year, the new Code of Practice (5th edition) for inspection and testing of electrical appliances was released by the IET. It provides full guidance on the standards that are required for electrical appliance safety, along with advice on determining whether electrical equipment is fit for continued use.
There have been quite a few changes to the new edition. The emphasis is on assessing the risk factor and creating a testing schedule to suit your particular industry. With such a diverse amount of electrical equipment out there, you need to adopt a testing regime that reflects the type of equipment, its usage and frequency, to meet your business needs.
Another significant change has also been made to accommodate the copious amounts of new IT equipment that now surrounds us every day.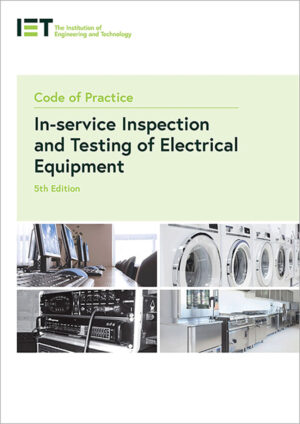 For those who are already familiar with PAT Testing, we have listed the main changes from the 4th to the 5th Edition below. However, we recommend that you get your own copy of the IET Code of Practice, so that you can familiarise yourself with all of the requirements and incorporate any changes into your current PAT testing regime.
You can also sign up for one of our PAT Testing Training courses, which take place regularly across the UK. They will teach you everything you need to know to carry out PAT testing and gain competency in this field.
Key Features and Changes of 5th Edition
A New Product Classification has been added - Class II FE - This is mainly used for IT equipment
New Functional Check
New legal requirements and duties including guidance for landlords and hire sectors
A new technical classification that replaces SELV, PELV, ELV and LV to ES1 ES2 & ES3
Every class of equipment has to have a document Risk Assessment by the Duty Holder which sets out the period of testing
All equipment has an insulation resistance; the leakage test is now an additional test
Leakage test is 5 milliamps for all equipment (class 1 or class 2)
Emphasis on 250V insulation tests to protect IT Equipment
Insulation Resistance Class I should not be less than 1.0MΩ and Class II 2.0MΩ
Class 3 equipment has a visual, although not tested
Load testing is not a requirement for in-service inspection & testing
Performing safe isolation procedures on fused spur equipment.
Additionally, like its predecessors, this new code reinforces the need for duty-holders to inspect and test equipment in line with the risks the equipment is exposed to, the environment in which it is used, and the user's skill level. Similarly, it also emphasises the importance of establishing and conducting safety checks that are compliant with current working practices and legal requirements.
For full details of the amendments, please refer to the New 5th Edition Code of Practice.
FAQ's
What is the 5th Edition code of practice?

The IET Code of Practice for In-Service Inspection & Testing of Electrical Equipment details advice on how to determine whether electrical equipment is fit for continued use, specifically conducting in-service inspections and tests. The common term is still PAT Testing, and although PAT means "Portable Appliance Testing", the code has now grown to include other appliances including some stationary items.
Who is Responsible for PAT Testing?
If you don't use an external company to carry out PAT testing on your equipment, you can appoint a Duty Holder, the Duty Holder should know their legal responsibilities as laid down by the Electricity at Work Regulations (1989).

Can I become a PAT Tester?

Yes! You do not need to be an electrician to be a certified PAT Tester, in low-risk environments, a competent person can undertake visual inspections if they have the correct knowledge. PAT Testing, however, does require more understanding and therefore should be designated to someone who has undergone a competency course to ensure they have the correct knowledge and understands the equipment.
Which PAT Tester do I need for my business?
There are many makes and models of PAT Testers available with 5th Edition Testing capabilities. The tester that you need will depend on your budget and the number of items you will be testing. We have a number of 5th Edition compliant PAT testers and PAT Testing kits to get you started.
For more information about which PAT Tester is best for your application, give our team a call on 01642 626 140.
We look forward to speaking with you soon!