In any busy commercial kitchen where different types of food are prepared, ready to be sold, the risk of cross-contamination between foods is always a problem.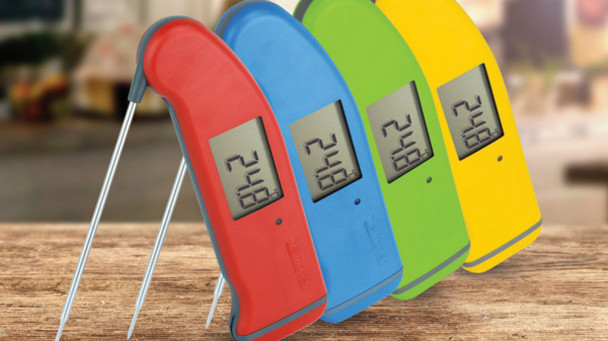 In order to apply with all relevant food safety regulations, most professional kitchens now adopt a colour-coding system used for both chopping boards and knives, with specific colours assigned to items used with specific types of food.
But what about digital thermometers used in the kitchen? These thermometers are used regularly in commercial kitchens, but it is less common for colour-coded thermometers to be used alongside chopping boards and colour-coded knives. This, of course, increases the potential risk of cross-contamination between food, particularly as you could accidentally use the wrong thermometer with the wrong type of food.
Thankfully, there's a solution! ETI's Thermapen 4, a super-fast, highly reliable digital thermometer made for use in the food industry, is available in a wide variety of colours, allowing you to create a colour-coded environment for your thermometers used in the kitchen!
https://www.youtube.com/watch?v=oB9DC16FU-E
There are 10 different versions of the Thermapen 4 available, with all of the colours you need for creating a colour-coded system within your kitchen.
We highly recommend using the following colours for the following types of food:
White - bakery and dairy items, including bread, pastries and cheese. Raw eggs should still be handled elsewhere as they carry salmonella bacteria
Green - ideal for use with salad and fruit. Most fruit/salad is low risk and can be handled safely in its raw state
Red - recommended for use with raw meats. Naturally raw meat should be prepared far away from other foods, as it extremely dangerous to touch other food with raw meat. Having a red, colour-coded thermometer will make sure you don't accidentally use your thermometer with other food types
Yellow - ideal for cooked meat. Make sure you also keep the cooked meat away from any raw meat, and use a yellow knife/thermometer/chopping board to help differentiate
Brown (or Black) - recommended for use in vegetables. Mainly used for helping keeping the kitchen organised as vegetables are low risk
Blue - suitable for use with raw fish. Keep meat and fish separately on different boards and used different thermometers to ensure there's no risk of cross-contaimination
The ETI Thermapen 4 is also available in grey, orange, pink and purple, allowing you to create even more colour-coded zones in your kitchen, should you need them!