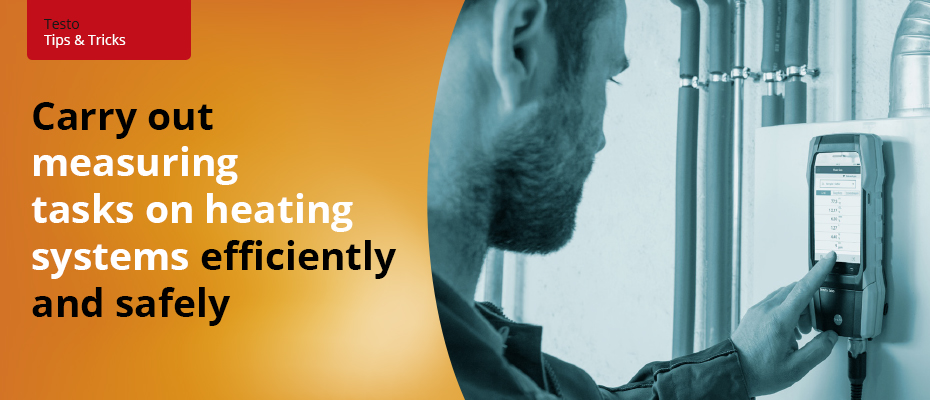 Testo's winter deals, which are valid until the 30th April 2021, include a free Testo 830-T2 IR Thermometer with every Testo 327-1 and 320B Flue Gas Analyser Kit, as well as new Testo 300 FGA models and kits at promotional prices. To accompany this range of winter 2021 offers, Testo has compiled a helpful white paper, which offers useful tips, diagrams and data, to aid engineers with conducting checks on heating systems quickly and safely.
Testo's fifteen-page white paper is titled, 'Carry out measuring tasks on heating systems efficiently and safely', and offers advice on the following the topics.
Functional Testing and Settings for Gas-Fired Systems
This section is concerned with checking and commissioning atmospheric gas boilers and condensing boilers. It includes the following subsections:
Checking the gas connection pressure
Setting the gas-air ratio
Preparing the flue gas analyser
Determining the flue gas loss
Calculating the efficiency (ŋ)
Measuring the flue draught
Measuring the CO concentration
Flue gas channel inspection
Maintenance of the analyser
Additional Checks
This chapter provides information on:
Checking nitrogen oxides
Ambient CO measurement
Ambient CO2 measurement
Functional Testing and Settings for Oil-Fired Systems
This section details the settings and measurements required to commission non-condensing appliances such as low-temperature boilers with forced-draught oil burners. It covers the following topics:
Measuring the smoke number
Settings for oil burners
For more helpful advice and useful tips, please download Testo's white paper here.
To browse our Testo Offers, follow this link. For further information regarding these offers and/or other Testo products, please contact our sales team on 01642 931 329 or via our online form.