Whether it is time to upgrade your old Flue Gas Analyser or you just need a new model with more advanced features, this is the best time to surprise yourself with a great deal! PASS Ltd can help you now.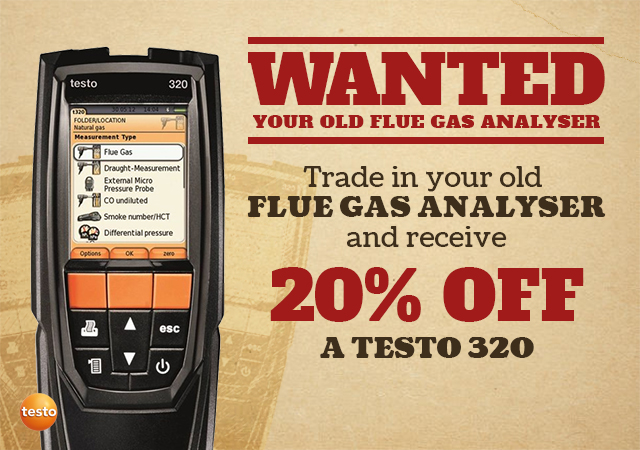 Trade in your old Flue Gas Analyser for 20% Off the price of a brand new Testo 320.
Trade up to a Testo 320, with its easy to use colour screen and simple function menu. It is the perfect way to upgrade to a modern flue gas analyser.
Here's a summary of just how much you could save if you trade up to one of the Testo 320 FGA kits below:
*Prices are excluded VAT

How to Redeem the Trade-In Discount
1.Call the Sales Team on 01642 931 329 or send an email to info@pass.co.uk and request a "Testo Flue Gas Analyser Trade-In" form. We will then send you a Trade-In form.
Or, Download the "Testo Flue Gas Analyser Trade-In Form" here.
2.Fill out the Trade-In form and return it with your old Flue Gas Analyser to the following address:
PASS Limited
1 Wilson Street
Thornaby
TS17 7AR
3.PASS will supply scan of details of the Trade-In form + photo record of traded-in FGA unit and serial number to Testo Ltd. Also a scan of customer invoice may be requested to confirm discount level.
4.PASS will confirm receipt of your FGA and give you your discount on your new Testo 320 equipment.
Flue Gas Analyser Trade-In Terms and Conditions
1.This offer cannot be used in conjunction with any other price offers available.
2.Trade in offer is specific to 320 model analyser kits as upgrade.
3.At trade-in point your current analyser (any makes and models) will be handed over to PASS Ltd.
4.PASS Ltd reserve the right to refuse or withdraw the offer at any time.
5.No cash alternative is available.
6.Our standard terms & conditions apply
7.Offer ends: 31st March 2019.
8.This trade-in is governed by Testo, please see Testo`s terms and conditions here.
Click here if you want to see our full range of Flue Gas Analysers.
If you have any further questions please call us on 01642 931 329 or send an email to info@tester.co.uk.