When you spend £1000 or more on qualifying Teledyne FLIR products between the 1st July and 30th September 2022, you'll receive a FREE Teledyne FLIR tool of your choice (UK & EU customers only, T&Cs apply).
Quick Links
Offer Levels & Eligible FREE Teledyne FLIR Tools
From July 1st to September 30th 2022, choose a FREE Teledyne FLIR tool from the options below when you spend £1000 or more on qualifying Teledyne FLIR instruments.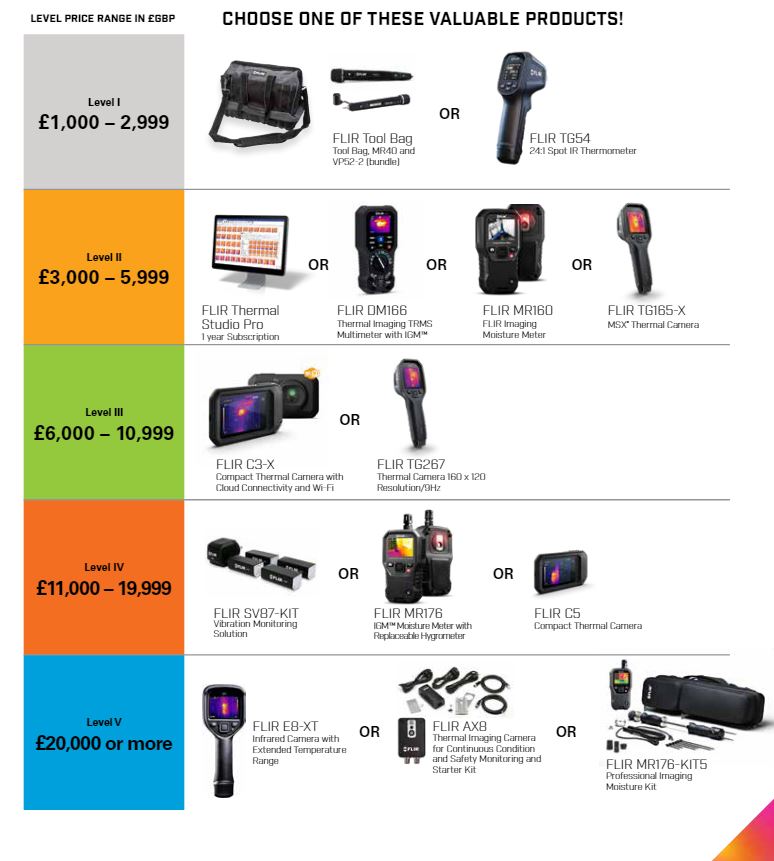 How To Redeem Your FREE Teledyne FLIR Tool
To redeem your FREE Teledyne FLIR Tool, please complete Teledyne FLIR's redemption form and submit it, along with a legible copy of your original invoice as proof of purchase (copies of purchase orders are not accepted), via this link (please note that you must have a FLIR.com account to open the link). Claims that are submitted Monday to Friday between 8 am and 5 pm EST will receive a response within two working hours. Claims submitted outside of these times will receive a response the next working day.
Terms & Conditions
Minimum spend of £1000 excluding tax and shipping fees.
Qualifying new Teledyne FLIR products: FLIR ONE Pro-Series, Cx-Series, TG-Series, Ex-Series, EXX-Series, T-Series, Si124, GF77 HR/LR, IR Windows, AX8, and FLIR and Extech test and measurement tools.
Promotional period: 1st July 2022 to 30th September 2022.
Purchases must be made from Teledyne FLIR LLC, its affiliates, or an authorised distributor; fortunately, PASS Ltd is an authorised distributor!
Products purchased from online auction sites, third-party resellers, or private parties are excluded from this offer.
Valid in the UK and EU only.
You MUST submit a complete, accurate, and legible redemption form and a legible copy of your original invoice (purchase order copies are not accepted); illegible, incomplete and/or fraudulent documentation will be rejected.
If purchasing more than one product, you must submit a legible copy of your original invoice for each item.
Claims must be made no later than 30 days from the date of purchase; submissions outside of this time period will be void.
This offer is only valid for the original end-user purchasers.
This offer cannot be combined with any other Teledyne FLIR/ FLIR promotion.
You should receive your free gift(s) 6-8 weeks after your claim is approved.
Prices and product availability are subject to change without notice.
Once a claim has been submitted, the purchased Teledyne FLIR products cannot be returned for a refund.
Free gifts will be sent to the company name or the first and last name of the individual indicated on the invoice submitted as proof of purchase.
Further Information
Full details and terms and conditions of Teledyne FLIR's Buy a FLIR Get a FREE FLIR Offer can be found in Teledyne FLIR's promotional leaflet.
For more help and advice regarding Teledyne FLIR's offers and products, please don't hesitate to contact our Sales team on 01642 931 329 or via our online form.
In the meantime, please browse our eclectic range of Teledyne FLIR thermal cameras including models for energy auditing and building inspections and imagers for electrical and mechanical troubleshooting/maintenance.