Please note that this blog was originally published on the 2nd October 2016. It was updated on the 2nd December 2021.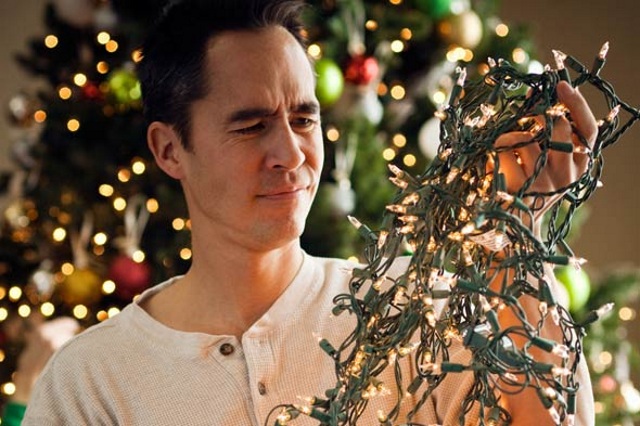 This year, like last year, Christmas lights are sorely needed to brighten up our workplaces and homes (which, as we know, for many people have also doubled as offices). So, please don't miss out on bringing festive cheer to your workspace for fear that your Christmas lights may be unsafe.
Quick Links
Should I PAT Test Christmas Lights?
Christmas lights, which seem to be designed to tangle themselves into unfathomable knots, are something we all look forward to putting up in December. However, many firms decide not to use Christmas lights (to the ire of the poor person who has just spent the last 2 hours, 53 minutes and 27 seconds detangling the things) because they are unsure as to whether they are safe.
An easy way to solve this problem is to PAT test your Christmas lights before you put them up. Admittedly, there is no law requiring that you PAT test your Christmas lights annually, except in circumstances where Christmas lights may be subjected to extreme stress such as on construction sites. However, it is widely considered best practice to test them every year or, as a minimum, every two to five years. For more information regarding PAT testing best practices, please consult the IET Code of Practice for Inspection and Testing of Electrical Equipment.
In line with best practice, we highly recommend that you PAT test your Christmas lights every year especially if they have been in storage or you plan to decorate outside spaces. Don't panic! This doesn't mean you need to fork out for a professional electrician to test a few lights. PAT testing does not have to be expensive; it can be done in-house.
PASS Ltd has developed a one-day PAT Testing Competency Course aimed at complete beginners. Ideal for landlords, caretakers, office workers, retail staff, and anyone else using portable appliances in the workplace or at home, the PAT Testing Competency Course is available nationwide. Together, the morning and afternoon classes cover:
An overview of PAT testing
Why PAT testing is important
PAT testing requirements
Obligations of businesses/contractors
IET Code of Practice
Basic electrical theory
Using PAT testers (practical session)
At the end of the course, you'll be asked to take a multiple-choice, open-book exam. Once you have passed the exam, you'll receive a Certificate of Competency in PAT Testing.
In addition to this, PASS Ltd offers a range of simple-to-use, convenient, and economic PAT Testers including models by Kewtech, Martindale, Seaward, and UNI-T. Once you've received your Certificate of Competency, please speak to our Sales team and we'll help you find the PAT tester that's right for you. You can contact our Sales team on 01642 931 329 or via our online form.
What is a Visual Inspection?
We advocate PAT testing your Christmas lights annually. However, if you don't have the time, equipment, or means to carry out a yearly PAT test, we strongly suggest that, as a bare minimum, you subject your Christmas lights to a comprehensive visual inspection. As part of a thorough visual check, look for obvious signs of damage to the cable, the plug, and the lights. If anything looks amiss either don't put the lights up or use a PAT tester to verify their safety before you deck your office out to look like Santa's Grotto.
How to Carry Out a Visual Inspection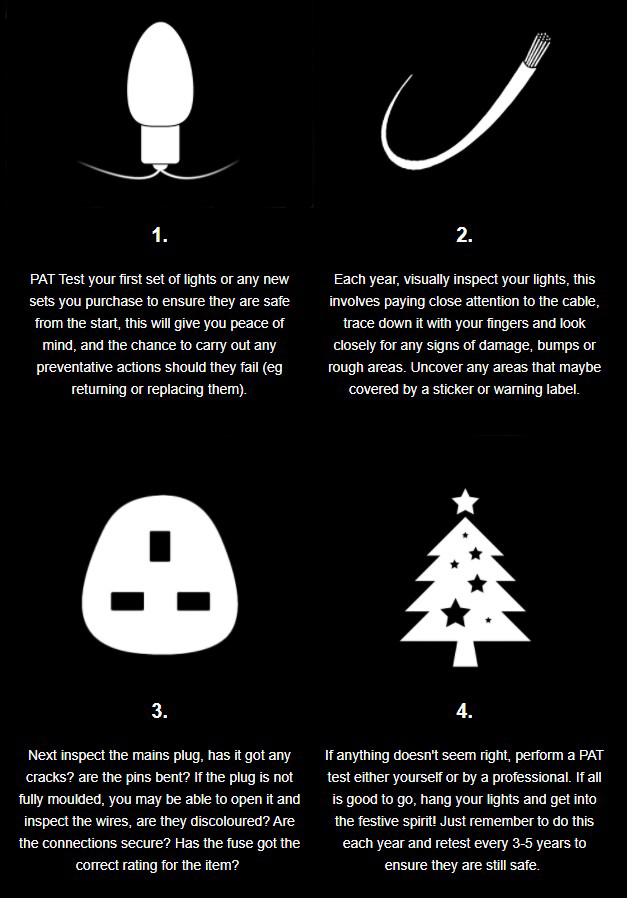 So, Should I PAT Test Christmas Lights?
I know, I know, you've asked three times now. Well, the answer to whether you should PAT test Christmas lights is yes and no. There is no legal obligation for you to PAT test indoor lights (though it is a legal requirement to PAT test ones likely to undergo extreme stress, e.g. lights used to decorate outside spaces); however, we ardently endorse PAT testing your Christmas lights every year. This complies with best practice and provides a reliable method of ensuring your lights are safe, thereby protecting yourself, your colleagues, your tenants or your family from potential hazards resulting from ill-functioning lights.
Now go inspect and PAT test your lights and get them up. We insist and Christmas 2021 absolutely demands it!!
Further Information
For further information regarding PAT testing, PAT testers, or our training courses, do not hesitate to contact our sales team on 01642 931 329 or via our online form.
In the meantime, please browse our extensive range of PAT testers, PAT testing kits, and PAT testing courses.
Source: Health and Safety Executive