Please note that this blog was originally published on the 2nd October 2016. It was updated on the 8th December 2020.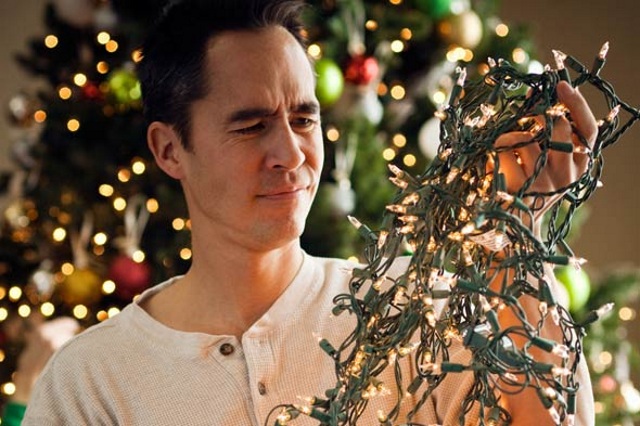 This year, possibly more than any other year in recent memory, Christmas lights are sorely needed to brighten up our workplaces and homes (which, as we know, for many people have also doubled-up as offices). So, please don't miss out on bringing festive cheer to your workspace for fear that your Christmas lights may be unsafe.
Christmas lights, which seem to be designed to tangle themselves into unfathomable knots, are something we all look forward to putting up at this time of year. However, many firms decide not to use Christmas lights (to the ire of the poor person who has just spent the last 2 hours, 53 minutes and 27 seconds detangling the things) or they spend unnecessary money getting them PAT tested to ensure they are safe.
However, here are the facts about PAT testing Christmas lights:
It is NOT a legal requirement that Christmas lights are PAT tested every year, even in offices
PAT testing is only an annual legal requirement in high-risk environments where Christmas lights may be subjected to extreme stress, for example, on construction sites
With this in mind, we can tell you that Christmas lights do NOT need to be PAT tested annually, saving companies a lot of money and, subsequently, improving Christmas cheer. Instead, Christmas lights should be subjected to a visual check: you should look for obvious signs of damage to the cable, the plug and the lights. If anything looks amiss either don't put the lights up or use a PAT tester to verify their safety before you deck your office out to look like Santa's Grotto.
Having said that, it is still a good idea to PAT test your lights every few years to ensure they are working safely and correctly. Moreover, if you are planning to decorate outside spaces using Christmas lights, these should be PAT tested annually as they are more likely to incur damage.
To save both time and money, PAT testing can be done in-house. PASS Ltd offers a range of simple-to-use, convenient PAT Testers including Kewtech, Martindale, Seaward and UNI-T models. In addition to this, PASS has developed a PAT Testing Training Course, with an online exam and recognised certificate, available to purchase on USB.  As this PAT Testing Training Course is supplied on a USB, it can be completed at home or in the office and is a quick and inexpensive way of training existing staff to PAT test correctly and safely.
So, do Christmas lights need to be PAT tested? Well yes and no. Indoor lights only need to be PAT tested every few years but outdoor lights should be PAT tested every year.
Now go inspect your lights and get them up. We insist and Christmas 2020 absolutely demands it!!
Please browse our extensive range of PAT testers and PAT testing kits. For further information, do not hesitate to contact our sales team on 01642 931 329 or via our online form.
Source: Health and Safety Executive