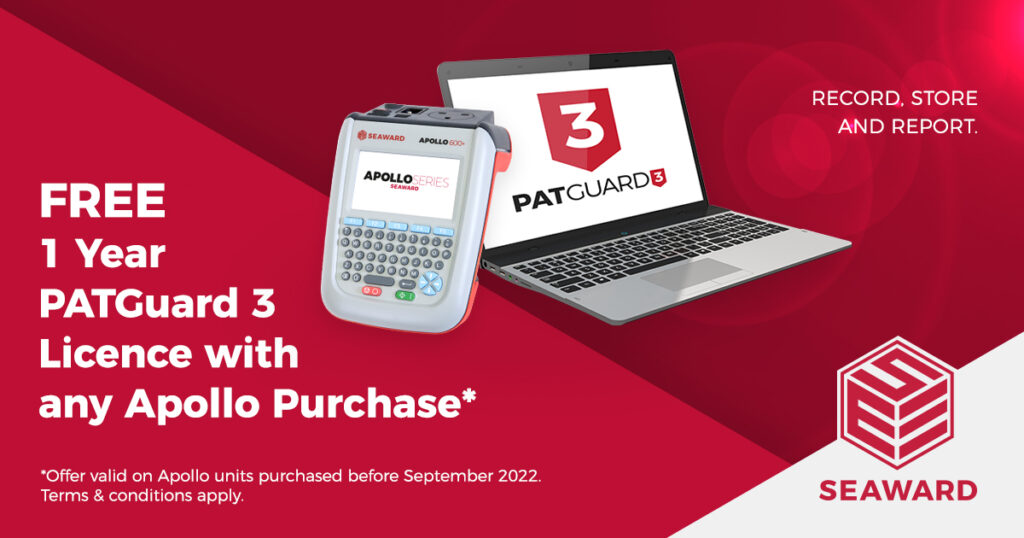 Buy any Seaward Apollo 400+, 500+, or 600+ PAT Tester or PAT Tester Kit between the 22nd June 2022 and 31st August 2022 and you'll receive a free 1-year Seaward PATGuard 3 Software Licence, worth £157 (inc VAT).
Quick Links
Seaward Summer Promotion Details
Qualifying Seaward Apollo PAT Testers must be purchased from a Seaward-approved distributor – that's us!
Purchased Apollo PAT Testers must be brand new
Eligible Apollo PAT Testers have to be purchased between 22nd June 2022 and 31st August 2022
Eligible models include single testers and testers with kits
No cash alternative is available
The licence fee cannot be refunded at any time
The customer is responsible for renewing the PATGuard 3 licence once the 12 months is complete
Seaward reserve the right to remove this offer at any time
This offer is only available to customers in the UK
This offer cannot be applied retrospectively
Eligible Seaward Apollo PAT Testers
Chosen by PAT professionals worldwide, Seaward's market-leading Apollo Series portable appliance testers offer the perfect balance between speed, portability, and advanced features required for modern high-volume PAT testing. Seaward designed the Apollo series to offer a PAT tester that is perfect for all applications.
Apollo 400+
Seaward's Apollo 400+ PAT Tester is the perfect solution for mid-volume PAT testing. This 5th Edition compliant tester can store up to 2000 records and offers an eclectic array of electrical safety tests including:
Low current earth continuity
Point-to-point (earth continuity and insulation resistance)*
Insulation resistance
IEC lead
Protective conductor current
Touch current
Load power/current
Alternative leakage current
RCD
Power socket
Apollo 500+
In addition to offering the same testing capabilities as the Apollo 400+, the 5th Edition-compliant, mid-range Seaward Apollo 500+ PAT Tester supports:
Class 2 FE tests
Protective and touch leakage limits to 5mA
QR code compatibility
A 10 000-record internal memory
Apollo 600+
Like the previous models, Seaward's top-of-the-range PAT tester is 5th Edition-compliant and offers an eclectic array of electrical safety tests. The Seaward Apollo 600+ PAT Tester includes all the features present on the Apollo 500+ as well as:
Built-in safety management and risk assessment systems
Full-colour camera with flash
Large internal memory with the capacity to store up to 2000 photos and 50 000 records
Compatibility with Android devices and flash drives for transferring data
On-board fire detection and emergency lighting reports
The Seaward Apollo 600+ PAT Tester is an all-in-one solution for managing, assessing, and testing appliances. It is ideal for larger businesses, caretakers, and those who perform PAT testing on a large scale.
Further Information
Please click the following links to browse our complete selection of Seaward products including eligible Apollo PAT Testers and PAT Tester Kits.
For more help or advice regarding Seaward's products or promotions, don't hesitate to contact our Sales team on 01642 931 329 or via our online form.
*For point-to-point testing an optional accessory is required.