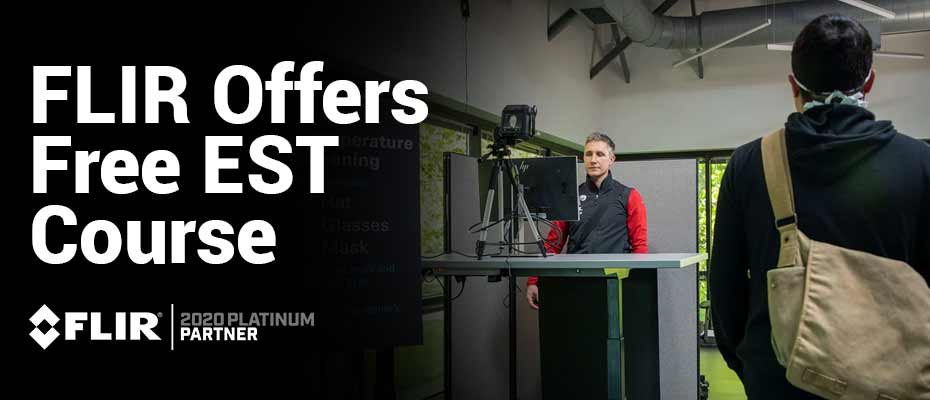 FLIR has provided a series of FREE short video tutorials (available below) to aid businesses, organisations and screening staff with conducting accurate and reliable skin-temperature checks using FLIR Exx- and T-series Thermal Cameras. These thermal imaging cameras can be installed at building entrances, ports of entry and checkpoints to screen individuals for elevated skin temperature. EST can be suggestive of a fever which is a common symptom of many illnesses including COVID-19.[1] Therefore, these FLIR Exx- and T-series Thermal Cameras can be used alongside other social distancing and hygiene measures to help prevent the spread of infection in public and professional places.
FLIR's Exx- and T-series Thermal Cameras offer an efficient, effective and easy method of screening for people who might be ill. They may prove particularly useful to pubs, restaurants, hairdressers, outdoor gyms, cinemas, museums, galleries, theme parks, arcades, social clubs, places of worship and community centres that are preparing to re-open across England over the course of July 2020.[2] In fact, over the past few months, Finnebrogue, a sausage company in County Down (NI), has been using FLIR's Exx Thermal Cameras to screen employees for EST. This, along with social distancing and hygiene measures, has allowed the factory to remain operational throughout the pandemic without compromising the wellbeing of its employees.[3] Please see PASS' Thermal News Roundup for more details.
How Do FLIR Exx- and T-Series Thermal Cameras Detect EST?
The FLIR Exx- and T-series Thermal Cameras detect infrared radiation within their field-of-view and display it as an easy-to-interpret thermal image. This, coupled with their FLIR Screen-EST™ Mode, allows screening staff to identify individuals with elevated skin temperature quickly and easily.  
The FLIR Screen-EST™ Mode measures the hottest part of the subject's (the person being screened) face. This reading is then compared to the average skin temperature (calculated using accumulated readings) plus the user-set tolerance, e.g. 36°C +1°C. If an individual's skin temperature is above the accepted range, the temperature alarm will be triggered.
The FLIR Exx- and T-series Thermal Cameras are able to conduct non-contact temperature measurements in a few seconds. This means queues can be kept moving which is particularly useful in high-traffic areas. Furthermore, the FLIR Exx- and T-series Thermal Cameras are able to measure skin temperatures from a distance of 1-2m, allowing the subject and screening staff to adhere to social distancing regulations.
Please note that as neither the FLIR Exx- nor T-series Thermal Cameras are diagnostic tools they CANNOT be used to identify coronavirus or any other illness. Persons who trigger the temperature alarm MUST have their body temperature checked using a suitable thermometer. Furthermore, as these cameras are unable to detect asymptomatic carriers, they CANNOT be used in place of other social distancing and hygiene measures, such as hand sanitiser stations and face masks/ visors. However, FLIR Exx- and T-series Thermal Cameras are a reliable and simple-to-use preliminary precaution suitable for identifying persons who might be ill and may need to undergo further medical screening.
FREE Training: How to Use FLIR Exx- and T-Series Cameras for EST-Screening
FLIR has provided a series of FREE video tutorials that offer instructions on using FLIR Exx- and T-series Thermal Cameras to screen for elevated skin temperature. FLIR's FREE tutorial videos are available below and on FLIR's website.
Please see the following steps and videos for an overview of how to use the FLIR Exx- and T-series Thermal Cameras for skin-temperature screening.
Prepare the Screening Environment
Set up the FLIR Exx- or T-series Thermal Camera in an indoor area with consistent ambient conditions
Ensure the camera is securely mounted
Clearly mark the screening spot to ensure all persons (subjects) are screened at the same distance from the camera
Remove any hot objects, such as monitors, computers or lights, that may appear in the background of the thermal image
Switch on the thermal camera at least 30 minutes prior to use to enable it to acclimatise
Configure the Thermal Camera
Click the central Menu-Enter button to access the camera's menu
Click the Menu-Enter button again to bring up the measurement settings
Use the left and right directional buttons to navigate to the required options
Set the Object Distance using the actual distance-to-subject/ screening spot (e.g.1-2m/ 6 ft)
Set the Reflected Temperature to 20°C/ 68°F
Set the Emissivity to 0.98, the emissivity of human skin
Click the Menu-Enter button twice to exit the menus
Ensure the camera is in focus: press and hold the auto-focus button and use the manual focus ring on the side of the camera's lens to adjust the focus
Set the screening area: use the touchscreen display to move the measurement box over the subject's face
Set the Baseline Average Skin-Temperature
Press and hold the P-button to reset the measurement data
A 'Temperature Reset' message will be displayed when the data has been cleared
Add healthy temperature samples by short-pressing the P-button after each screening
A 'Temperature Updated' message will be displayed each time a new temperature is added
FLIR advises entering ten healthy skin-temperatures to enable the thermal camera to calculate an accurate and reliable average. However, both the FLIR Exx- and T-series Thermal Cameras are able to determine an average skin-temperature using only three data points. Furthermore, to account for skin-temperature changes and fluctuating ambient conditions that occur naturally throughout the day, FLIR recommends adding new measurements every hour to ensure the average skin-temperature is accurate and up-to-date. This, in turn, will provide reliable and precise temperature alarms.
To maintain an accurate average, each time a new reading is added, the hottest and coldest values will be removed from the calculation.
Commence Temperature Screening
One at a time, subjects stand on the screening spot
Ensure subjects remove hats, glasses and face masks
Request that subjects remain still for 1-2 seconds to allow the camera to focus
If the alarm is triggered, remove the subject from the screening area to verify his/her temperature using a body thermometer
FREE FLIR Troubleshooting Guide
FLIR has also provided a FREE troubleshooting guide for FLIR Exx- and T-series Thermal Cameras. It details five possible solutions that can be used to correct common problems:
Restore factory settings
Clean the lens
Ensure the camera is properly focused using the manual- or auto-focus
Use the Non-Uniformity Correction (NUC) function to ensure the best accuracy
Upgrade the camera's firmware
PASS Ltd offers an array of FLIR Exx- and T-series Thermal Cameras that are suitable for skin-temperature screening; to view our complete selection of IR and thermal temperature-screening instruments, please follow this link. See our Covid-19 section to view our range of PPE and hand sanitiser products.
For further information regarding any of these items, please contact our sales team on 01642 931 329 or via our online form.
---
[1] NHS, Check if you or your child has coronavirus symptoms, last accessed 08 July 2020 <https://www.nhs.uk/conditions/coronavirus-covid-19/symptoms/>
[2] GOV.UK, PM announces easing of lockdown restrictions: 23 June 2020, last accessed 08 July 2020 <https://www.gov.uk/government/news/pm-announces-easing-of-lockdown-restrictions-23-june-2020>
[3] BBC News, Coronavirus and how to beat it on the sausage frontline, last accessed 08 July 2020 <https://www.bbc.co.uk/news/av/stories-53070115/coronavirus-and-how-to-beat-it-on-the-sausage-frontline>