Optimised for use by professional hunters, FLIR's new Scout II thermal cameras bring wildlife tracking to the next level.
Picture the scene: you're out in a darkened wood, tracking an animal. The darkness is thick, the trees and foliage dense, making it almost impossible to see ahead. The rain lashes down from above, further obscuring your vision. Finding the animal in these conditions is going to be almost impossible; but not with the FLIR Scout II as part of your equipment.
Capable of seeing through complete darkness, through foliage and even weather conditions, FLIR Scout II cameras pick up on the body heat emitted by animals, allowing what's hidden to be seen with ease.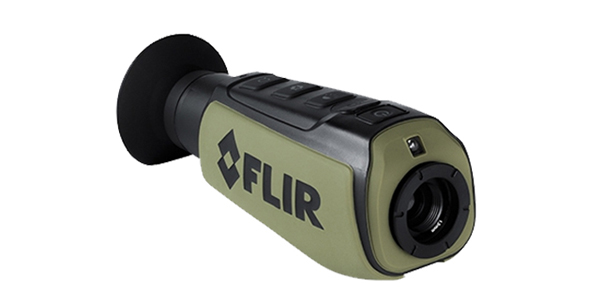 Based on the design of the original FLIR PS24 and PS32, the Scout II range consists of two new models – the 240 and 320. Featuring a number of enhanced functions compared to the original models, the new cameras can see further (up to 550m away on the 320) and produce images at a higher resolution to make animal identification even easier.
When out hunting, a thermal camera is the tool you never knew you needed, but won't be able to work without once you try it.
FLIR's Scout II cameras are designed for use outdoors, with rugged, IP67 weatherproof casing, average battery life of 5 hours and fast response so you can start seeing in thermal within seconds. The cameras are also extremely lightweight (approximately 12 ounces), easy to operate and have a comfortable eyepiece for extended use.
For those new to thermography, the Scout II 240 is the perfect starting point. Easy to use even without prior training, the 240 produces thermal images with resolution of 240 x 180 pixels, comes with a freeze frame function and 13mm fixed focus lens.  For those who want even more out of their equipment, the Scout II 320 improves upon the 240 with 336 x 256 pixel thermal resolution, 2x zoom and 19mm fixed focus lens.
The cameras also come with additional functionality such as a built-in LED task light, adjustable image colour palettes (black hot, white hot and FLIR's unique InstAlert which flags up hot objects) and adjustable brightness. All of these functions can be adjusted using easy-access buttons on the top of the camera even when it's held up to the eye.
Drop The Nightvision, Go Thermal
Although nightvision equipment can be useful for getting about in the dark, it isn't the best way for hunters to operate. FLIR Scout II thermal cameras have all of the benefits of nightvision, but allow you to significantly improve your tracking abilities and spot what otherwise couldn't be seen.
The difference between nightvision and thermal is important to understand. Nightvision equipment still relies on some form of visible light to operate, whereas thermal cameras rely on thermal emissivity (the level of heat given off by objects) to form images.  In practice, this means that a thermal camera will identify objects that give off a lot of heat (e.g. a deer) whereas nightvision equipment would simply only allow you to see through the dark.
This means that working with a FLIR Scout II would allow users to see thermal signatures both during the day and at night. Outside of factors such as sunlight etc affecting the heat of objects, operating in the dark will be as simple as it is in the daytime with one of these cameras.
The benefits of these cameras don't stop there either; they can be used to find members of your party who have gotten lost, help you to remain safe in the woods and – by using the built in task light – can even help you see where you're going.
There's one simple philosophy behind FLIR Scout cameras: heat can't hide. With the Scout II in your hand, neither can animals!
More On FLIR Scout Cameras
To see our full range of thermal cameras for hunting, please visit our dedicated Scout thermal camera page!