With FLIR's new range of thermal cameras, there's never been a better time to get into thermography.
Thanks to several new innovations in thermal technology, owning a thermal camera doesn't have to break the bank. With FLIR's new Lepton Core technology, the interior power behind thermal cameras is smaller, cheaper to develop and ultimately means that more people than ever can now own a thermal camera.
To cater for these widening markets, FLIR has unveiled a brand new line-up of products for 2015. With FLIR's newest products, you'll be able to spot problems in your house, workplace or anywhere else with a pocket-sized unit or you can even use the redesigned FLIR ONE to turn your smartphone into a fully-functioning thermal camera!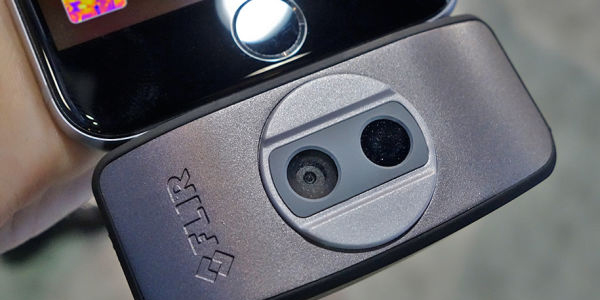 The first generation FLIR One was only compatible with the iPhone 5 and 5s, but this brand-new, redesigned version for 2015 is universally compatible with iOS devices with a built-in Lightning Connector!
The ONE can be used with the iPhone 6, iPhone 6 Plus, iPhone 5, Iphone 5s, IPad Air, iPad Air 2, iPad Mini, IPad Mini 3 and iPad (4th generation).
How does it work? Simple - download the FLIR One App, plug the ONE into your phone and start seeing in thermal! The dongle is designed to be entirely non-intrusive, fitting into the bottom of your phone or iPad.
The ONE runs entirely on its own power supply (no draining your battery) has an extremely wide temperature range and even comes with FLIR's MSX technology. This unique mode - exclusive to FLIR - actively blends together digital and thermal images, significantly enhancing the detail of a captured thermal image.
Here's an example of the difference:

Other key features of the iOS FLIR one include:
Non-contact temperature measurements
160 x 120 pixel thermal resolution
Protective case included
FLIR ONE app - features include thermal panoramas, timelapse and more
Dongle design - plugs directly into phone/tablet connector
Temperature range of -4 to 248°F (-20 to 120°C)
The FLIR One for iOS is just £165 (excl. VAT)! Get yours today.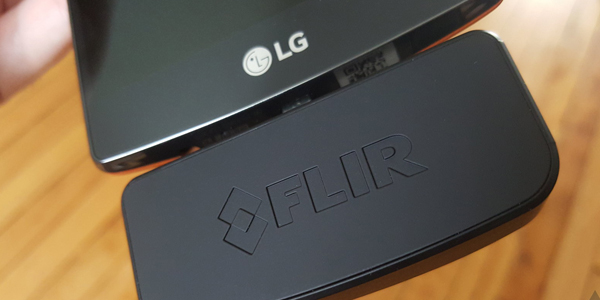 Android users, your cries for a FLIR One have been answered!
When FLIR originally released the ONE, Android users were left without a device suitable for their phones and tablets. With the next-generation ONE, Android users can now get exactly the same benefits of iOS users.
Identical in appearance to the iOS version, the Android ONE is designed to fit into any Android device with USB-On-The-Go (OTG) connectors. Compatible devices include the Samsung Galaxy S5 and S6 and other smartphones from Sony, HTC, LG and several others.
Just like the iOS version, the Android version has its own internal power supply, the same temperature range and delivers thermal images with resolution of 160 x 120 pixels.
A micro-USB charging cable is included as standard.
The FLIR One for Android is just £165 (excl. VAT)! Get yours today.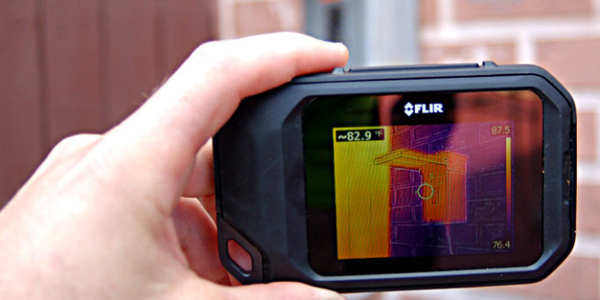 FLIR are well known for their innovations, but the C2 may be one of their best-yet!
The world's first pocket-sized thermal camera, the C2 is low cost, fits comfortably in a shirt pocket and perfect for a huge amount of applications ranging from checking electrical components for overheating to finding problems with building pipes and brickwork.
Like the FLIR One, the C2 comes with MSX, allowing it to actively blend together thermal and digital images to offer excellent levels of detail. It's also completely focus-free and designed to always capture the best image at all times.
Although it's pocket-sized, the FLIR C2's large 3" touchscreen means viewing back images is quick and intuitive. It's even got a built-in LED spotlight near the camera to help you see what you're doing in poor lighting conditions.
Other key features of the C2 include:
Capture fully radiometric thermal images or use MSX to blend digital/thermal together
Wide field of view and high thermal sensitivity
80 x 60 pixel thermal resolution
Compatible with FLIR Tools software for downloading into PC
Temperature measurement -10 to +150°C
FLIR's unique 2-10 warranty included - covering parts and labour for two years and the detector for ten
Spotmeter function
Internal memory stores up to 500 sets of images
Non-radiometric IR video streaming and visual video streaming
USB connector for attachment to PC
Includes lanyard, power supply with multi-plugs, USB cable and memory stick with documentation
Interested in the C2? Get yours for just £518 (excl VAT).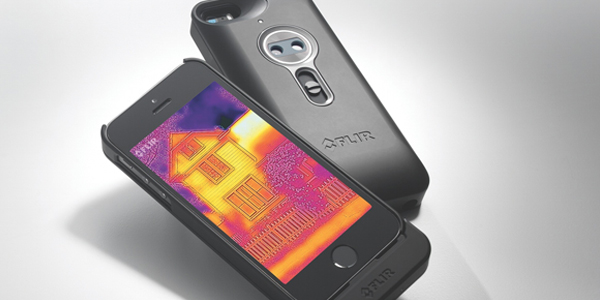 If you've got an iPhone 5 or 5s, the original FLIR one is still a great option.
Unlike the new versions, the original ONE is basically a phone case - it slides on top of your phone and fits snugly in place and is ideal for checking water heaters and furances, locating poor insulation, spotting moisture build-up, finding water leaks and locating pipes in a wide variety of applications. You can even use it to see through the dark outside.
This version of the ONE is equipped with a dual camera system and will - like the new versions - blend together digital and thermal images using MSX technology.
Key features of this version include:
Clips directly onto an iPhone 5 or Iphone 5S
Space grey colour
Lightweight design - shaped like a normal phone case for comfortable use
High sensitivity - spots differences in temperature as low as 0.1°C
Includes both a visual and a thermal camera
MSX blending - the detail of a digital image with the temperature data of a thermal image
Own battery supply
Works in combination with the FLIR ONE app
Get a first-generation FLIR ONE for just £135 (excl VAT).