or Call 01642 931 329 to discuss product options
Note: there are two versions of this product available. Both kits are identical - the only difference is the frame rate. Choose between 9Hz or 30Hz versions using the dropdown box above.
Due to restrictions on thermal camera supply, we may not be able to supply the 30Hz model to you. Please call our sales team directly for more information on the restrictions.
Professional home surveys just got easier - introducing the DJI and FLIR Home Inspection Drone, a powerful, easy-to-control aerial surveillance tool equipped with a high resolution, exceptional quality FLIR Zenmuse XT thermal imaging camera.
This kit is highly recommended for professional building surveys - thanks to the ease of using the drone, you can fly over a home and get a comprehensive view of structural problems, all of which are highlighted by the capabilities of the Zenmuse XT (more information on the camera's capabilities is available further below).
What's Included?
This comprehensive home inspection kit is a joint effort between thermal camera manufacturer FLIR and DJI, one of the world's premier suppliers of high quality aerial drones.
You will receive all of the following as standard in this kit.
Zenmuse XT Thermal Camera with Stabilised Gimbal*
DJI Inspire 1 V20 Aerial Drone
Zenmuse X3 4K Video Camera with Stabilised Gimbal*
2 x Intelligent Drone Battery Packs
Wireless Controller
FLIR Tools+ Analysis Software
iPad Mini 4 (64GB, Wi-Fi and Cellular)
Monitor Hood
Rugged Carrying Case
*Note: only one of the two included cameras can be connected to the drone. You will need to swap them out before flying as needed.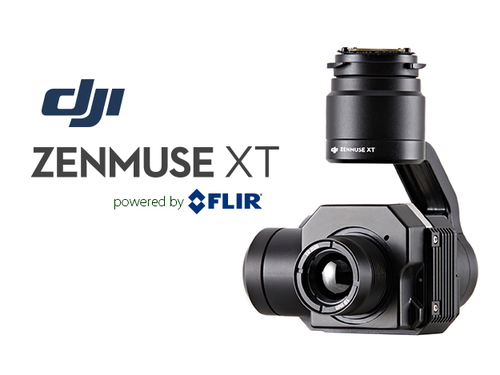 About the Zenmuse XT Thermal Camera
No more ladders - no more scaffolding. With the capabilities of the Zenmuse XT Thermal Camera from FLIR, you can take a comprehensive thermal survey of a property from a safe, secure spot on the ground!
With exceptional thermal resolution, wireless video and image capturing and full, 360° remote control using the included controller and iPad, the Zenmuse XT is ready for all the challenges you face on a daily basis.
| | |
| --- | --- |
| Thermal Resolution - The quality of images captured using the camera | 336 x 256 pixels |
| Frame Rate - the rate at which the camera displays video. The higher the frame rate, the smoother the image | 9Hz and 30Hz versions both available |
| Thermal Sensitivity - the ability of the camera to adjust itself to different temperatures | <50mK at f/1.0 |
| Pixel Pitch - the lower the value, the higher quality the image | 17μm |
| Thermal Imager Type | Uncooled VOx Microbolometer |
| Photo Formats | JPEG (8 bit) and TIFF (14 bit) |
| Video Format | MP4 |
| Digital Zoom | 2x, 4x and 8x |
| Lens | 6.8mm lens (45 x 35°) |

Precision Control with the DJI GO App!
Control your Zenmuse XT completely through the DJI GO app, freely available for download to the included iPad Mini!
The included controller includes a port for mounting your iPad; just download the app, mount it on your controller and you can use it to completely control the Zenmuse XT and also view in real time exactly what the camera sees.
With DJI GO, you can:
Use spot metering and calculate temperatures at the mid point
Adjust the digital zoom of the camera
Choose between single or interval shooting modes
Takes photos, preview photos and download photos
Adjust camera colour palettes
Activate Scene mode (automatic gain correction - AGC)
Activate Region of Interest (ROI) mode
Set Isotherm mode with alarm limits
Seamless Integration with the Inspire 1 Drone
It's lightweight, flexible and maintains constant stability in the air - with DJI's Inspire 1 aircraft (included as standard in this kit), you'll have everything you need for exceptional quality surveys as standard.
This kit includes both the Zenmuse XT thermal camera and DJI's 4K standard video camera, the Zenmuse X3 as standard. You can swap out either camera as needed (only one can be mounted at a time) with seamless switching made easy thanks to DJI's gimbal system.
The DJI Inspire 1 aircraft is packed with functionality - you can expect all of the following from this drone:
Aerodynamic, transforming design - powerful carbon fiber arms give you the ability to move through the air with ease and they move out of the way of the camera with the flick of a switch
Fully 360° field of view - control the camera's rotation directly using the controller or iPad hooked up to the DJI GO app
13 inch quick release rotors with DJI's unique 'Z blade' design - exceptional performance with increased stability thanks to carbon fiber design
Curved magnets - fitting flush around the edge of each motor, these magnetcs eliminate air flow gaps and increase efficiency greatly
Single-wire design - no more copper strands; the Inspire 1 uses a single, dense strand of copper for more power and less resistance within the drone's motors
Intelligent Power Management System - DJI's intelligent batteries show you a real-time update of battery life, letting you know exactly how long you have left to fly. Advanced algorithms also calculate the estimated time to return home, allowing you to easily determine when you should fly the drone back. Battery reports are also available with the voltage of each cell, total lifetime charges/discharges and battery status
Maximum flight time of up to 22 minutes per battery
Range of 3.1 miles (5KM) HD
Automatic positioning updates - the Inspire 1 uses a high strength intelligent GLONASS + GPS system to determine the position of the drone. With fast satellite acquisition, the Inspire 1's position is easy to determine on a live map and makes it easy to pinpoint an area for the drone to hover over
Powerful main controller - intelligent 'brain' in the drone receives thousands of data bits every second and translates data into action when flying. This controller calculates environmental conditions in real time and ensures that your drone instantly responds to your commands
Stable IMU - built-in Inertial Measurement Unit (IMU) handles the stability of the drone thanks to 6-axis gyroscope and accelerometer to monitor miniscule changes in both tilt and movement
Failsafe - all of the above features combine into a failsafe system. If the worst happens and your battery runs out or the connection with your remote drops, the Inspire 1 is clever enough to use its positioning system and smart flight technology to return back to you!
DJI Vision Positioning System - no GPS? You can take off and land the Inspire 1 at the touch of a button and even hover the drone with no GPS (ideal for indoor shots where satellite positioning may not be possible)
Absolute Control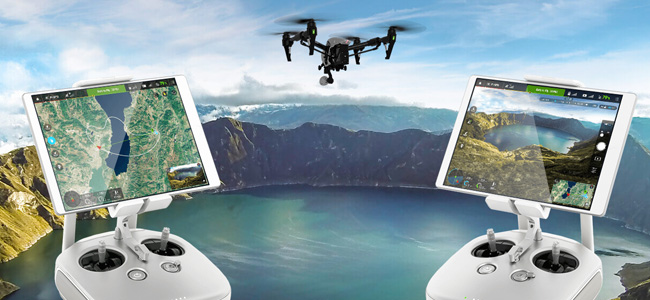 This kit ships as standard with both a DJI Inspire control unit and an iPad Mini, allowing you to take complete control over all of the functionality of your drone.
The controller for this drone is more than a simple pad with joysticks - this advanced controller has been made for both controlling the drone and the camera and even includes a mounting stand for your iPad so you can view seamless, real-time footage from your drone and access all of the advantages of the DJI Go App!
Here's all of the capabilities of DJI's remote:
Seamless DJI Lightbridge connectivity - see what your drone's camera is seeing at a distance of up to 3.1 miles (5km)
Dedicated buttons for flight and camera plus butons for photo and video capturing, dials for tilting the gimbal and adjusting camera settings
One button Return To Home function
Dual Operator Control support - get another controller and one person can control the drone while the other controls the camera!
Runtime - built-in 6000 mAh LiPo 25 rechargeable battery suitable for multiple flights with thinking about the remote's power. Battery life is displayed directly on the remote
FLIR Drone Comparison Chart
Not sure this is the right drone for your application?
To help you decide which drone is suitable for you we have prepared a table which outlines the difference between each drone.
Important Note
Please note that operation of the Small Unmanned Aircraft Systems sold by FLIR Systems requires compliance with applicable local regulations, including aircraft registration and operator certification requirements, and may constitute commercial use of a civil aircraft or require coordination with local aviation authorities. Required registrations and certifications are not conveyed with a camera purchase and must be obtained by the buyer. Operator training is strongly recommended in all cases.
Part Code75501-0101GB
Model Differences/Tech Specs
Part Number
76401-0101

75501-0101

Product name
FLIR Aerial Home Inspection Kit (9 Hz)

FLIR Aerial Home Inspection Kit (30 Hz)

Revision
36063
36063
Last modified
2016-05-31 10:49
2016-05-31 10:49

Aircraft

Model
Inspire 1 – T600
Inspire 1 – T600
Weight (battery included)
2935 g (6.471 lb.)
2935 g (6.471 lb.)
Hovering accuracy (P mode)

Vertical: 0.5 m (1.6 ft.)
Horizontal: 2.5 m (8.2 ft.)

Vertical: 0.5 m (1.6 ft.)
Horizontal: 2.5 m (8.2 ft.)

Maximum angular velocity

Pitch: 300°/s
Yaw: 150°/s

Pitch: 300°/s
Yaw: 150°/s

Maximum tilt angle
35°
35°
Maximum ascent speed
5 m/s (16 ft./s)
5 m/s (16 ft./s)
Maximum descent speed
4 m/s (13 ft./s)
4 m/s (13 ft./s)
Maximum speed
22 m/s (72 ft./s) (ATTI mode, no wind)
22 m/s (72 ft./s) (ATTI mode, no wind)
Maximum service ceiling above sea level
4500 m (14 700 ft.) (software altitude limit: 120 m (390 ft.) above takeoff point)
4500 m (14 700 ft.) (software altitude limit: 120 m (390 ft.) above takeoff point)
Maximum wind speed resistance
10 m/s (32 ft./s)
10 m/s (32 ft./s)
Maximum flight time
Approximately 18 minutes
Approximately 18 minutes
Motor model
DJI 3510
DJI 3510
Propeller model
DJI 1345T
DJI 1345T
Indoor hovering
Enabled by default
Enabled by default
Operating temperature range
–10 to +40°C (+14 to +104°F)
–10 to +40°C (+14 to +104°F)
Diagonal distance
559–581 mm (22.0–22.8 in.)
559–581 mm (22.0–22.8 in.)
Dimensions
438 mm × 451 mm × 301 mm (17.2 in. × 17.8 in. × 11.9 in.)
438 mm × 451 mm × 301 mm (17.2 in. × 17.8 in. × 11.9 in.)

Gimbal (Zenmuse XT)

Name
Zenmuse XT
Zenmuse XT
Dimensions
103 mm × 74 mm × 102 mm (4.1 in. × 2.9 in. × 4.0 in.)
103 mm × 74 mm × 102 mm (4.1 in. × 2.9 in. × 4.0 in.)
Weight
270 g (0.60 lb.)
270 g (0.60 lb.)
Angular vibration range
±0.03°
±0.03°
Mount
Detachable
Detachable
Controllable range

Tilt: +35° to –90°
Pan: ±320°
Roll: ±15°

Tilt: +35° to –90°
Pan: ±320°
Roll: ±15°

Mechanical range

Tilt: +45° to –135°
Pan: ±320°
Roll: ±45°

Tilt: +45° to –135°
Pan: ±320°
Roll: ±45°

Maximum controllable speed
120°/s
120°/s

Gimbal (Zenmuse X3)

Model
Zenmuse X3
Zenmuse X3
Output power (with camera)

Static: 9 W
In motion: 11 W

Static: 9 W
In motion: 11 W

Operating current

Station: 750 mA
Motion: 900 mA

Station: 750 mA
Motion: 900 mA

Angular vibration range
±0.03°
±0.03°
Mounting
Detachable
Detachable
Controllable range

Pitch: –90° to +30°
Pan: ±320°

Pitch: –90° to +30°
Pan: ±320°

Mechanical range

Pitch: –125° to +45°
Pan: ±330°

Pitch: –125° to +45°
Pan: ±330°

Max. controllable speed

Pitch: 120°/s
Pan: 180°/s

Pitch: 120°/s
Pan: 180°/s

Camera (Zenmuse XT)

Thermal imager
Uncooled VOx microbolometer
Uncooled VOx microbolometer
FPA/digital video display formats
336 × 256 pixels
336 × 256 pixels
Analog video display formats

720 × 480 pixels (NTSC)
720 × 576 pixels (PAL)

720 × 480 pixels (NTSC)
720 × 576 pixels (PAL)

Pixel pitch
17 μm
17 μm
Spectral band
7.5–13.5 μm
7.5–13.5 μm
Full frame rates

30/60 Hz (NTSC)
25/50 Hz (PAL)

30/60 Hz (NTSC)
25/50 Hz (PAL)

Exportable frame rates

7.5 Hz (NTSC)
8.3 Hz (PAL)

7.5 Hz (NTSC)
8.3 Hz (PAL)

Sensitivity (NETD)
<50 mK at f/1.0
<50 mK at f/1.0
Accuracy
±20°C (±36°F)
±20°C (±36°F)
Scene range (high gain)
–25 to +100°C (–13 to +212°F)
–25 to +100°C (–13 to +212°F)
Scene range (low gain)
–40 to +550°C (–40 to +1022°F)
–40 to +550°C (–40 to +1022°F)
Spot meter
Temperatures measured in central 4 × 4 pixels
Temperatures measured in central 4 × 4 pixels
File storage
Micro SD card. 16 GB Class 10 included, up to 32 GB supported.
Micro SD card. 16 GB Class 10 included, up to 32 GB supported.
Data logging

8-bit AGC + LUT video at camera frame rate packaged in either .MOV or .MP4 wrappers.
8-bit AGC + LUT still images in .JPG.
14-bit TIFF raw still images with FLIR-specified metadata.

8-bit AGC + LUT video at camera frame rate packaged in either .MOV or .MP4 wrappers.
8-bit AGC + LUT still images in .JPG.
14-bit TIFF raw still images with FLIR-specified metadata.

Camera (Zenmuse X3)

Name
X3
X3
Model
FC350
FC350
Total pixels
12.76 Mpixel
12.76 Mpixel
Effective pixels
12.4 Mpixel
12.4 Mpixel
Image max. size
4000 × 3000
4000 × 3000
ISO range

100–3200 (video)
100–1600 (photo)

100–3200 (video)
100–1600 (photo)

Electronic shutter speed
8 s to 1/8000 s
8 s to 1/8000 s
FOV (field of view)
94°
94°
CMOS
Sony EXMOR 1/2.3"
Sony EXMOR 1/2.3"
Lens

20 mm (35 mm format equivalent) f/2.8 focus at ∞
9 elements in 9 groups
Anti-distortion

20 mm (35 mm format equivalent) f/2.8 focus at ∞
9 elements in 9 groups
Anti-distortion

Still photography modes

Single shoot
Burst shooting: 3/5/7 frames
Auto exposure bracketing (AEB): 3/5 bracketed frames at 0.7 EV bias
Time-lapse

Single shoot
Burst shooting: 3/5/7 frames
Auto exposure bracketing (AEB): 3/5 bracketed frames at 0.7 EV bias
Time-lapse

Video recording modes

UHD (4K): 4096x2160p24/25, 3840x2160p24/25/30
FHD: 1920x1080p24/25/30/48/50/60
HD: 1280x720p24/25/30/48/50/60

UHD (4K): 4096x2160p24/25, 3840x2160p24/25/30
FHD: 1920x1080p24/25/30/48/50/60
HD: 1280x720p24/25/30/48/50/60

Max. bit rate of video storage
60 Mbps
60 Mbps
Supported file formats

FAT32/exFAT
Photo: JPEG, DNG
Video: MP4/MOV (MPEG-4 AVC/H.264)

FAT32/exFAT
Photo: JPEG, DNG
Video: MP4/MOV (MPEG-4 AVC/H.264)

Supported SD card types

Micro SD
Max. capacity: 64 GB. Class 10 or UHS-1 rating required.

Micro SD
Max. capacity: 64 GB. Class 10 or UHS-1 rating required.

Operating temperature range
0 to +40°C (+32 to +104°F)
0 to +40°C (+32 to +104°F)

Image processing and display controls

NTSC/PAL (field switchable)
Yes
Yes
Image optimization
Yes
Yes
Digital detail
Yes
Yes

Enhancement

Polarity control (black hot/white hot)
Yes
Yes
Color and monochrome palettes (LUTs)
Yes
Yes
Digital zoom
2×, 4×, 8×
2×, 4×, 8×

Lens model

Focal length
6.8 mm
6.8 mm
f number
f/1.4
f/1.4
FoV
49.1° × 37.4°
49.1° × 37.4°
iFoV
2.519 mrad
2.519 mrad
Minimum focus distance
2.3 cm (0.9 in.)
2.3 cm (0.9 in.)
Hyperfocal distance
1.2 m (3.9 ft.)
1.2 m (3.9 ft.)
Hyperfocal depth of field
0.6 m (2.0 ft.)
0.6 m (2.0 ft.)

Environmental

Operating temperature range
–10 to +40°C (+14 to +104°F)
–10 to +40°C (+14 to +104°F)
Non-operating temperature range
–30 to +70°C (–22 to +158°F)
–30 to +70°C (–22 to +158°F)
Temperature shock
5°C/min (41°F/min)
5°C/min (41°F/min)
Humidity
5–95%
5–95%

Certifications

Compliance

Remote controller

Name
C1
C1
Operating frequency

922.7–927.7 MHz (Japan only)
5.725–5.825 GHz
2.400–2.483 GHz

922.7–927.7 MHz (Japan only)
5.725–5.825 GHz
2.400–2.483 GHz

Transmitting distance

Up to 5.0 km (3.1 miles) (unobstructed, free of interferences and FCC compliant) when it is FCC compliant
Up to 3.5 km (2.1 miles) (unobstructed, free of interferences) when it is CE compliant

Up to 5.0 km (3.1 miles) (unobstructed, free of interferences and FCC compliant) when it is FCC compliant
Up to 3.5 km (2.1 miles) (unobstructed, free of interferences) when it is CE compliant

EIRP

10 dBm @ 900 m
13 dBm @ 5.8 G
20 dBm @ 2.4 G

10 dBm @ 900 m
13 dBm @ 5.8 G
20 dBm @ 2.4 G

Video output port
USB, Mini-HDMI
USB, Mini-HDMI
Power supply
Built-in battery
Built-in battery
Charging
DJI charger
DJI charger
Dual-user capability
Host-and-slave connection
Host-and-slave connection
Mobile device holder
Tablet or smart phone
Tablet or smart phone
Output power
9 W
9 W
Operating temperature range
–10 to +40°C (+14 to +104°F)
–10 to +40°C (+14 to +104°F)
Storage temperature range

Less than 3 months: –20 to +45°C (–4 to 113°F)
More than 3 months: 22–28°C (72–82°F)

Less than 3 months: –20 to +45°C (–4 to 113°F)
More than 3 months: 22–28°C (72–82°F)

Charging temperature range
0–40°C (32–104°F)
0–40°C (32–104°F)
Battery
6000 mA h LiPo 2S
6000 mA h LiPo 2S

Charger

Model
A14-100P1A
A14-100P1A
Voltage
26.3 V
26.3 V
Rated power
100 W
100 W

Battery (standard)

Name
Intelligent flight battery
Intelligent flight battery
Model
TB47
TB47
Capacity
4500 mA h
4500 mA h
Voltage
22.2 V
22.2 V
Battery type
LiPo 6S high-voltage battery
LiPo 6S high-voltage battery
Energy
99.9 W h
99.9 W h
Net weight
570 g
570 g
Operating temperature range
–10 to +40°C (+14 to +104°F)
–10 to +40°C (+14 to +104°F)
Storage temperature range

Less than 3 months: –20 to +45°C (–4 to 113°F)
More than 3 months: 22–28°C (72–82°F)

Less than 3 months: –20 to +45°C (–4 to 113°F)
More than 3 months: 22–28°C (72–82°F)

Charging temperature range
0–40°C (32–104°F)
0–40°C (32–104°F)
Maximum charging power
180 W
180 W
Maximum number of charging cycles
200
200

Battery (optional)

Name
Intelligent flight battery
Intelligent flight battery
Model
TB48
TB48
Capacity
5700 mA h
5700 mA h
Voltage
22.8 V
22.8 V
Battery type
LiPo 6S
LiPo 6S
Energy
129.96 W h
129.96 W h
Net weight
670 g
670 g
Operating temperature range
–10 to +40°C (+14 to +104°F)
–10 to +40°C (+14 to +104°F)
Storage temperature range

Less than 3 months: –20 to +45°C (–4 to 113°F)
More than 3 months: 22–28°C (72–82°F)

Less than 3 months: –20 to +45°C (–4 to 113°F)
More than 3 months: 22–28°C (72–82°F)

Charging temperature range
0–40°C (32–104°F)
0–40°C (32–104°F)
Maximum charging power
180 W
180 W
Maximum number of charging cycles
200
200

Vision positioning

Velocity range
Below 8 m/s (26 ft./s) (2 m (6.6 ft.) above ground)
Below 8 m/s (26 ft./s) (2 m (6.6 ft.) above ground)
Altitude range
5–500 cm (2.0–200 in.)
5–500 cm (2.0–200 in.)
Operating environment
Brightly lit (lux > 15) patterned surfaces
Brightly lit (lux > 15) patterned surfaces
Operating range
0–300 cm (0–120 in.)
0–300 cm (0–120 in.)

DJI GO app

Mobile device system requirements

iOS version 7.1 or later
Android version 4.1.2 or later

iOS version 7.1 or later
Android version 4.1.2 or later

Supported mobile devices

iPhone 6 Plus
iPhone 6
iPhone 5S
iPad Air 2
iPad Mini 3
iPad Air
iPad Mini 2
iPad 4
Samsung Note 3
Samsung S5
Sony Z3 EXPERIA

It is recommended that you use a tablet for the best experience

iPhone 6 Plus
iPhone 6
iPhone 5S
iPad Air 2
iPad Mini 3
iPad Air
iPad Mini 2
iPad 4
Samsung Note 3
Samsung S5
Sony Z3 EXPERIA

It is recommended that you use a tablet for the best experience

Documentation and firmware

Download link
https://tinyurl.com/z8esgtc
https://tinyurl.com/z8esgtc

Warranty

Warranty
https://www.dji.com/service#warranty_period
https://www.dji.com/service#warranty_period

Global trade data

HS Code

8802200015 (Inspire 1)
9032896085 (Zenmuse XT)

8802200015 (Inspire 1)
9032896085 (Zenmuse XT)

ECCN code
6A993 (Zenmuse XT)

6A003.b.4.b. (Zenmuse XT)

Shipping information

Packaging type
Cardboard box
Cardboard box
List of contents

Inspire T600 aircraft
Zenmuse XT thermal camera with stabilized gimbal
Zenmuse X3 video camera with stabilized gimbal
Battery
Controller
FLIR Tools+
iPad Mini 4 (64 GB, Wi-Fi and cellular)
Monitor hood
Rugged carry case

Inspire T600 aircraft
Zenmuse XT thermal camera with stabilized gimbal
Zenmuse X3 video camera with stabilized gimbal
Battery
Controller
FLIR Tools+
iPad Mini 4 (64 GB, Wi-Fi and cellular)
Monitor hood
Rugged carry case