Free Floor Stand, Floor Stickers & Tape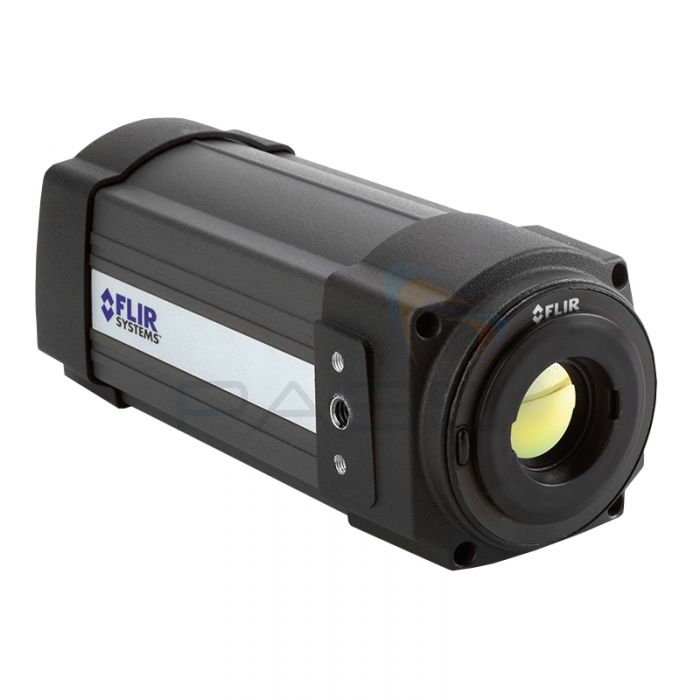 The upgraded version of FLIR's A300 automated thermal camera system.
Boasting a number of additional features compared to the previous model, the A300 provides an effective, instant way of spotting temperature problems in production lines and hazardous areas. A fixed-mounted thermal camera, the A300 installs via an ethernet cable and transmits data to a control point in video and image form.
This model includes several additional functions such as spot, area and difference temperature functions, a built-in alarm that sounds when a threshold is exceeded, ethernet/IP and Modbus TCP compliance, automatic messaging function, image masking and much more!
FLIR A310 Automation Thermal Camera Key Features
Fixed mounted thermal camera can be installed anywhere to monitor critical equipment and valuable assets
MPEG-4 streamed video directly over ethernet to show live images on PC
PoE - power over ethernet - communicate and power the camera using just one cable
Composite video output with PAL and NTSC compatibility
Comes as standard with 25 degree lens with motorized and autofocus
Optional lenses can be purchased separately
Remote control of the camera via web and TCP/IP protocols
16 bit radiometric image streaming to PC for further analysis
Built-in 100MB ethernet connection
Rugged aluminium housing
Easy mounting on three sides
Built-in extensive analysis function
Alarm function - configured to analysis, internal temperature or digital input
Ethernet/IP and Modbus TCP compliance allows easy sharing of analysis and alarm results to PLCs
Messaging functionality - automatic sending of analyais results, IR images and more as an email on a schedule or upon an alarm limit being reached
Image masking - select only the relevant part of an image for analysis
What's Included?
FLIR A310 Automation Thermal Camera
Utility CD-ROM
Calibration Certificate
Ethernet Cable
Mains Cable
Power Cable (Pig-Tailed)
Power Supply
Printed Getting Started Guide
Printed Important Information Guide
User Documentation CD-ROM
Warranty Extension Card
6-Pole Screw Terminal (Mounted On Camera)
Accessories related to this product:
Part Code48201-1101
FLIR A310 Technical Specifications
Imaging and Optical Data
Field of View (FOV)
25 x 18.8°
Minimum Focus Distance
0.4m (1.31ft)
Focal Length
18mm (0.7in)
Spatial Resolution (IFOV)
1.36mrad
Lens Identification
Automatic
F-Number
1.3
Thermal Sensitivity/NETD
<0.05°C @ +30°C (+86°F) / 50mK

Image Frequency
30Hz
Focus
Automatic or manual (built-in motor)
Zoom
1-8x continuous, digital, interpolating zooming on images
Detector Data
Detector Type
Focal plane array (FPA), uncooled microbolometer
Spectral Range
7.5 to 13μm
IR Resolution
320 x 240 pixels
Detector Pitch
25μm
Detector Time Constant
Typical 12ms
Measurement
Object Temperature Range
-20 to 120°C (-4 to +248°F)
0 to 350°C (+32 to 662°F)
Accuracy
±2°C (±3.6°F) or ±2% of reading

Measurement Analysis
Spotmeter
10
Area
10 boxes with MAX/MIN/AVG/Position
Isotherm
1 with above/below/interval
Measurement Option
Measurement mask filter
Schedule response: file sending (ftp), email (SMTP)
Difference Temperature

Delta temperature between measurement functions or reference temperature

Reference Temperature

Manually set or captured from any measurement function

Atmospheric Transmission Correction

Automatic, based on inputs for distance, atmospheric temperature and relative humidity

Optics Transmission Correction

Automatic, based on signals from internal sensors

Emissivity Correction

Variable from 0.01 to 1.0

Reflected Apparent Temperature Correction

Automatic based on input of reflected temperature

External Optics/ Windows Correction

Automatic, based on input of optics/window transmission and temperature

Measurement Corrections

Global and individual object parameters

Alarm

Alarm Functions

6 automatic alarms on any selected measurement function, Digital In, Camera temperature, timer

Alarm Output

Digital out, log, store image, file sending (ftp), email (SMTP), notification

Setup



Colour Palettes

BW, BW inv, iron, rain

Setup Commands

Date/time, temperature (°C/°F)
Storage Of Images

Image Storage Type
Built-in memory for image storage

File Formats
Standard JPEG, 16-bit measurement data included

Ethernet

Control
Result and image

Type

100Mbps

Standard

IEEE 802.3

Connector Type
RJ-45

Communication

TCP/IP socket-based FLIR proprietary

Video Streaming

MPEG-4, ISO/IEC 14496-1 MPEG-4 ASP@L5

Image Streaming

16-bit 320 x 240 pixels @ 7-8Hz
Radiometric

Power

Power over ethernet, PoE IEEE 802.3af class 0

Protocols

Ethernet/IP, Modbus TCP, TCP, UDP, SNTP, RTSP, RTP, HTTP, ICMP, IGMP, ftp, SMT, SMB (CIFS), DHCP, MDNS (Bonjour), uPnP

Digital Input/Output



Digital Input Purpose
Image tag (start/stop/general), Input ext. device (Programatically read)

Digital Input
2 opto-isolated, 10-30V DC

Digital Output Purpose

As function of ALARM, output to ext device (programatically read)

Digital Output

2 opto isolated, 10-30V DC, max 100mA

Digital I/O, Isolation Voltage

500V RMS

Digital I/O, Supply Voltage
12/24V DC, max 200mA

Digital I/O, Connector Type

6-pole jackable screw terminal

Composite Video

Video Out
Composite video output, PAL and NTSC compatible

Video Standard

CVBS (ITU-R-BT 470 PAL/SMTPE 170M NTSC)

Video Connector Type

Standard BNC operator

Power System

External Power Operation
12/24V DC, 24W absolute max

External Power Connector Type

2-pole jackable screw terminal

Voltage

Allowed range 10-30V DC

Environmental Data

Operating Temperature Range
-15 to 50°C (5 to 122°F)
Storage Temperature Range
-40 to 70°C (-40 to 158°F)
Humidity (Operating and Storage)
IEC 60068-2-30/24 h 95% relative humidity +25 to 40°C (+77 to 104°F)
EMC
EN 61000-6-2: 2001 (Immunity)
EN 61000-6-3: 2001 (Emission)
FCC 47 CFR Part 15 Class B (Emission)

Bump

25g (IEC 60068-2-29)

Vibration

2g (IEC 60068-2-6)

Physical Data

Weight
0.7kg (1.54lbs)

Camera Size (L x W x H)

170 x 70 x 70mm (6.7 x 2.8 x 2.8in)

Tripod Mounting

UNC ¼"-20 (on three sides)

Base Mounting

2 x M4 thread mounting holes (on three sides)

Housing Material

Aluminium