or Call 01642 931 329 to discuss alternatives
Due to the high sensitivity detector in the C2 which can capture subtle temperature differences, and can therefore be used to measure body heat.
Small spikes in body temperature can be crucial to people's health and therefore spotting it early may help in taking corrective action.
Whilst it is not medically approved and is not sold as a medical camera, it can help aid in the screening of those with elevated temperatures.
---
This is the FLIR C2, a pocket-sized thermal camera with fully radiometric thermal capabilities that's ideal for a wide range of applications, such as building, electrical, mechanical and reading body temperature.
There's countless uses for the FLIR C2; use this thermal camera to find hidden hotspots on electrical equipment, to detect energy waste in a property, find structural defects, HVAC issues and much, much more. If you've been looking to get into thermography and looking for a great quality, entry-level thermal camera, the FLIR C2 is the one you've been searching for.
Take a look at this video, courtesy of FLIR, which shows the C2 in action:
Fully Radiometric Thermal Imaging
Unlike other, slightly cheaper thermal cameras available, the FLIR C2 Thermal Camera has the added benefit of capturing fully radiometric thermal images.
Radiometric images are different to standard thermal images; while thermal images show the heat map of the object the camera was looking at, radiometric images show this heatmap and also assign a temperature reading to every captured pixel in the image!
In short, this means that you can click on an exact area of the captured image (using FLIR Tools software on your PC) and get an accurate, reliable temperature reading!
With FLIR Tools, you can also:
Analyse your findings
Change colour palettes
Access thermal and visual images
Create professional reports
See the Difference with MSX, Only From FLIR
If you've ever seen a thermal image in the past, you may have seen that often, they're little more than a series of blurry colours.
That's not a problem with the FLIR C2 thanks to FLIR MSX (multi-spectral dynamic imaging) which is included as standard!
MSX is a unique mode, exclusive to FLIR, which blends together a thermal image with extracted detail from a digital image. The result? You can clearly see object outlines and what the camera was pointing at when capturing your images, making it much easier to analyse objects, show reports to customers and work more efficiently.
Take a look for yourself just how different the level of detail is with and without MSX: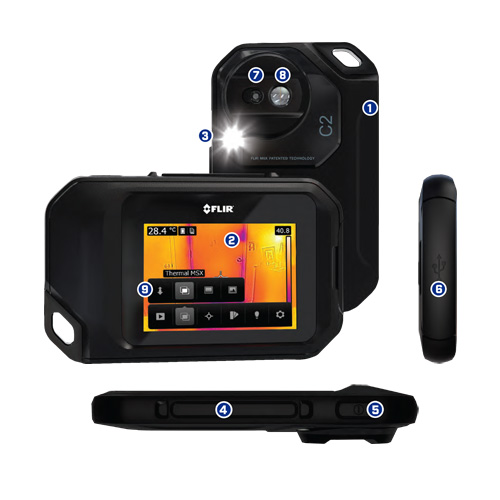 A Closer Look at the C2
1) Light, Slim, Pocket-Sized Design - the C2 is designed to be comfortable to hold in the hands and fits comfortably in a pocket when not in use
2) Bright, 3" Touchscreen - gives you quick and easy access to all functions
3) Built-in LED Worklight with Flash - use as a means of seeing where you're going, or for illuminating your photos
4) Large-Size Snapshot Button - easily capture thermal, visible and MSX images
5) Easy to Access ON/OFF Button - with fast power on
6) USB Micro-B Connector - use the included USB cable for file and data transfer
7) Visible Light Camera - capture a digital reference image alongside a thermal image and blend the two image types together with FLIR MSX
8) Thermal Camera - powerful FLIR thermal technology captures fully radiometric thermal images
9) Intuitive User Interface - change modes and camera settings as needed
Pocket-Sized Design, Packed with Technology
Despite its small design, the C2 includes all of the quality technology you'd expect from a FLIR thermal camera. Here's just a few of the benefits of the FLIR C2:
Capture thermal images with resolution of 80 x 80 pixels (4,800 pixels per image) with radiometric analysis
High-sensitivity thermal detector captures subtle temperature differences and thermal patterns (ideal for finding leaks and building problems)
Generous 45° field of view helps you capture more in every image
Live thermal video streaming via USB connection (non-radiometric), visual video streaming also possible
Auto-orientation capacitive touchscreen (3.5")
Built-in LED spotlight - ideal for use as a torch or for illuminating your photos
On-board functions include thermal images, visual images, MSX ON/OFF and gallery view
Wide temperature range from -10 to +150°C
Emissivity correction caters for use on different types of surfaces
Switch between different colour palettes - Iron, Rainbow, Rainbow HC (high contrast) and Grey all available as standard
Built-in digital camera with resolution of 640 x 480 pixels
Battery life of 2 hours, charges to full in 1.5 hours
All that's squeezed into a slimline, easy to use thermal camera system that fits in your pocket when you're done capturing.
What's Included in the Pack?
As standard, you'll get all of this when purchasing this item:
FLIR C2 Radiometric Pocket-Sized Thermal Camera
Rechargeable Battery (Inside Camera)
Lanyard
Power Supply/Charger with EU, UK, US, CN and AU Plugs
Printed Getting Started Guide
USB Cable
Please note that FLIR Tools software is available as a download from the FLIR website!
FLIR C2 Technical Specifications
Imaging and Optical Data
IR Sensor
80 x 60 (4,800 measurement pixels)
Thermal Sensitivity
<0.10°C
Field of View
41 x 31°
Minimum Focus Distance
Thermal: 0.15m (0.49ft)
MSX: 1.0m (3.3ft)
Image Frequency
9Hz
Focus
Focus-free
Spectral Range
7.5 to 14μm
3" Display (Colour)
320 x 240 pixels
Auto Orientation
Yes
Touch Screen
Yes, capacitive
Image Presentation Modes
Types
Thermal
Visual
MSX
Gallery
Measurement
Object Temperature Range
-10 to +150°C (14 to 302°F)
Accuracy
±2°C (±3.6°F) or 2%, whichever is greater, at 25°C (77°F) nominal

Measurement Analysis
Spotmeter
On/off
Emissivity Correction
Yes, matte/semi/glossy + user set
Measurement Correction
Reflected apparent temperature
Emissivity
Setup
Colour Palettes
Iron, rainbow, rainbow HC, grey
Storage Media
Internal memory stores at least 500 sets of images
Image File Format
Standard JPEG, 14-bit measurement data included
Video Streaming
Types
Non-radiometric IR
Visual
Digital Camera
Type
640 x 480 pixels
Focus
Fixed focus
Additional Info
USB Connector Type
USB Micro-B: data transfer to and from PC, iOS and Android
Battery
3.7V rechargeable Li-ion polymer battery
Battery Operating Time
2h
Charging System
Charged inside the camera
Charging Time
1.5h
External Power Operation
AC adapter, 90-260V AC input
5V output to camera
Power Management
Automatic shutdown
Operating Temperature Range
-10 to +50°C (14 to 122°F)
Storage Temperature Range
-40 to +70°C (-40 to 158°F)
Weight (Incl. Battery)
0.13kg (0.29lbs)
Size (L x W x H)
125 x 80 x 24mm (4.9 x 3.1 x 0.94")
Accessories related to this product:
Additional Information
| | |
| --- | --- |
| SKU | 72001-0101 |
| Manufacturer Part Code | 72001-0101 |