As low as
£7,716.00
£6,430.00
Free Software & Accessory Bundle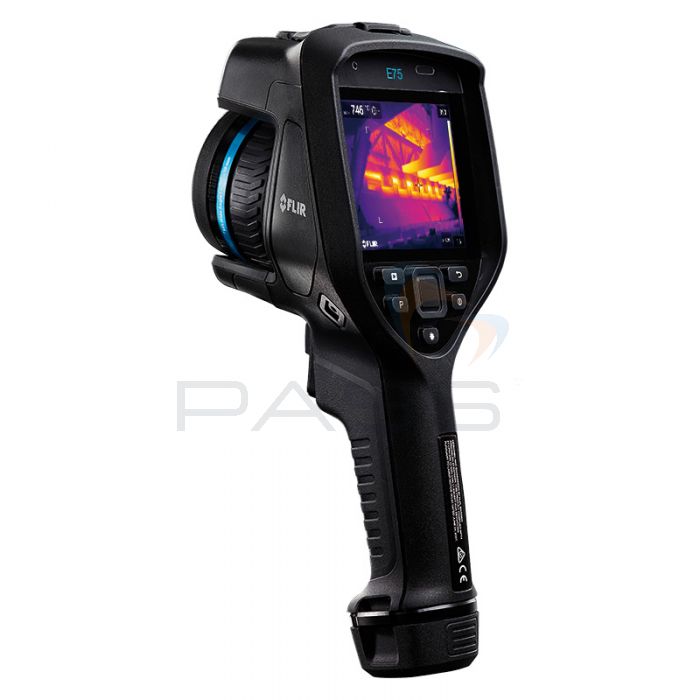 Important note: FLIR's E75 thermal imaging camera is available in seven different variations, each supplied with different thermal lenses. Use the dropdown box above to select which package you would like when placing your order.
The best just got better - this is the FLIR E75, the entry-level model in FLIR's improved Exx series of professional-grade handheld thermal cameras.
Reimagined from the handle up, the FLIR E75 produces crisp, clear thermal images, is packed with extra functions is designed for a wide variety of different applications ranging from studying electrical components to the temperature distribution of buildings.
What's In the Kit?
FLIR E75 Thermal Imaging Camera
2 x Rechargeable Batteries
Lenses (As Selected Above)
Hand Strap
Hard Transport Case
Lanyards for Battery Charger and Camera
Lens Caps
Lens Cleaning Cloth
Power Supply for Battery Charger
Power Supply, 15W/3A
Printed Documentation
SD Card (8GB)
Torx Screwdriver
USB 2.0A to USB Type-C cable, 1m
USB Type-C to HDMI Cable
USB Type-C to USB type-C cable, 1m
Wrist Strap
Exceptional Thermal Quality
FLIR's E75 is made to produce high quality thermal images - its 320 x 240 pixel thermal resolution is higher than many thermal cameras on the market, ensuring you get more pixels of temperature data in every image.
High thermal sensitivity, wide field of view and multiple lens options all combine together to give you consistent images you can rely on and study at a later date on PC using free FLIR Tools software.
NEW for the FLIR E75 is also FLIR's advanced automatic lens calibration - when swapping lenses, the camera will automatically adjust itself and takes camera of your image focusing, ensuring you can work faster.

Superior MSX Scene Enhancement
You can see the benefits of MSX in the image. The image where more detail is shown is with MSX enabled.

FLIR's MSX (multi-spectral dynamic imaging) is perhaps one of the greatest changes brought to the thermography market in recent memory.
Now, on the FLIR Exx series, MSX is even better than ever before!
MSX is a unique mode found on FLIR thermal cameras where visual and thermal images are combined together, vastly enhancing the level of detail found in captured images. On the FLIR E75, MSX is better than ever before, bringing visual and infrared thermal images even closer together.
Packed with Extra Features
There's so much more to the E75! This thermal camera also includes:
Capture both infrared and digital reference images using built-in thermal and digital cameras
Picture-in-picture mode - add a window of thermal to a digital image to isolate specific problems
Automatic hot and cold detection - automatically adds maximum/minimum markers within an area
Isotherm colour alarm - set above, below, interval, condensation and insulation alarms to instantly detect problems within buildings
Adjustable emissivity to cater for use on different types of surface
Selectable colour palettes - choose between iron, grey, rainbow, arctic, lava and rainbow high contrast
High quality touchscreen with auto orientation
Thumbnail image gallery to easily swap between images
Wide temperature measurement range from 0 to 650°C
Moisture and insulation alarms
Removable SD card memory (8GB included as standard)
Add voice text annotations to your images (up to 60 seconds) using built-in microphone and speaker
Add text annotations using predefined entries or set your own using the touchscreen
Sketch on images directly using the touchscreen
METERLiNK mode - allows the camera to connect wirelessly to other compatible FLIR/Extech testing tools for more complete readings
Integrated compass adds GPS data and image orientation to captured images
Radiometric and non-radiometric video recording and streaming
5MP digital camera with built-in LED light
Laser pointer for added precision when lining up images
USB, Bluetooth and WiFi interfaces
Powered by rechargeable batteries - up to 2.5 hours operating time with field-swappable batteries
Tripod mount - UNC 1/4" - 20
Optimised for Electrical and Mechnical Studies
It takes the right tools to quickly identify potential points of failure in an electrical or manufacturing environment, especially since many of these components are impossible to reach. That's why the new FLIR Exx-Series of advanced thermal imaging cameras offer superior resolution, precise laser-assisted autofocusing, and the option of interchangeable lenses – so you can target any component, survey from top to bottom, and avoid costly shutdowns
Advanced Thermal Imaging Camera for Building Applications
With wide field of view, a huge variety of extra features and a rugged, tough case, the FLIR E75 is the perfect companion for building work.
Spot building problems, water intrusion, missing insulation and much, much more, all on the screen in real time.
FLIR Exx Series Comparison Chart
The FLIR E75 is part of the Exx series - three different thermal cameras made for professional building and electrical studies.
This camera is the entry-level model in the series - why not consider instead upgrading to the E85 or E95 and enjoy even better themography?
The comparison chart below shows the differences between each.
Feature
FLIR E75
FLIR E85
FLIR E95
IR Resolution
320 x 240 (76,800 pixels)
384 x 288 (110, 592 pixels)
464 x 348 (161, 472 pixels)
Object Temperature Range
-20°C to 120°C (-4°F to 248°F)
0°C to 650°C (32°F to 1200°F)
300°C to 1000°C (572°F to 1830°F)
Optional calibration: 300°C to 1000°C (572°F to 1830°F)
-20°C to 120°C (-4°F to 248°F)
0°C to 650°C (32°F to 1200°F)
300°C to 1200°C (572°F to 2192°F)
-20°C to 120°C (-4°F to 248°F)
0°C to 650°C (32°F to 1200°F)
300°C to 1500°C (572°F to 2732°F)
Time-Lapse (Infrared) Mode
No
No
10 seconds to 24 hours
Spotmeter
1 in live mode
3 in live mode
3 in live mode
Part Code78502-0101
FLIR E75 Technical Specifications
Full specs available in attached datasheet.
Imaging and Optical Data
Infrared Resolution
320 x 240 pixels
UltraMax (Super Resolution)
In FLIR Tools software
NETD
<40mK @ +30°C
Field of View
24 x 18°
Minimum Focus Distance
0.5m (1.6ft)
Minimum Focus Distance with MSX
0.5m (1.6ft)
Focal Length
17mm (0.67")
Spatial Resolution (IFOV)
0.90mrad/pix
External Optics
14°
12°
Lens Identification
Automatic
f Number
1.3
Image Frequency
30Hz
Focus
Continuous, one-shot LDM (laser distance meter), one-shot contrast, or manual
Field of View Match
Yes
Digital Zoom
1-4x continuous
Detector Data
Focal Plane Array/Spectral Range
7.5 to 14μm
Detector Pitch
17μm
Image Presentation
Resolution
640 x 480 pixels (VGA)
Surface Brightness (cd/m²)
400
Screen Size
4 inches
Viewing Angle
80°
Colour Depth (Bits)
24
Aspect Ratio
4:3
Auto Rotation
Yes
Touchscreen
Optically bonded PCAP
Display Technology
IPS
Cover Glass Material
Dragontrail®
Programmable Buttons
1
Image Adjustment
Yes
Infrared Image
Yes
Visual Image
Yes
MSX
Yes
Picture-in-Picture
Resizable and moveable
Gallery
Yes
Measurements and Measurement Analysis
Object Temperature Range

-20 to +120°C (-4 to 248°F)
0 to 650°C (32 to 1200°F

Accuracy
±2°C (±3.6°F) or ±2% of reading, for ambient temperature 15 to 35°C (59 to 95°F) and object temperature above 0°C (32°F)
Spotmeter
1 in live mode
Automatic Hot/Cold Detection
Auto maximum, minimum markers within area
Colour Alarm (Isotherm)
Above, below, interval, condensation and insulation
Measurement Presets
No measurements, center spot, hot spot, cold spot, user preset 1, user preset 2
Difference Temperature
Yes
Reference Temperature
Yes
Emissivity Correction
Yes: variable from 0.01 to 1.0 or selected from materials list
Measurement Correction
Yes
External Optics/Windows Correction
Yes
Screening
0.5°C (0.9°F) accuracy @37°C (98.6°F) with reference