As low as
£11,085.60
£9,238.00
Free Software & Accessory Bundle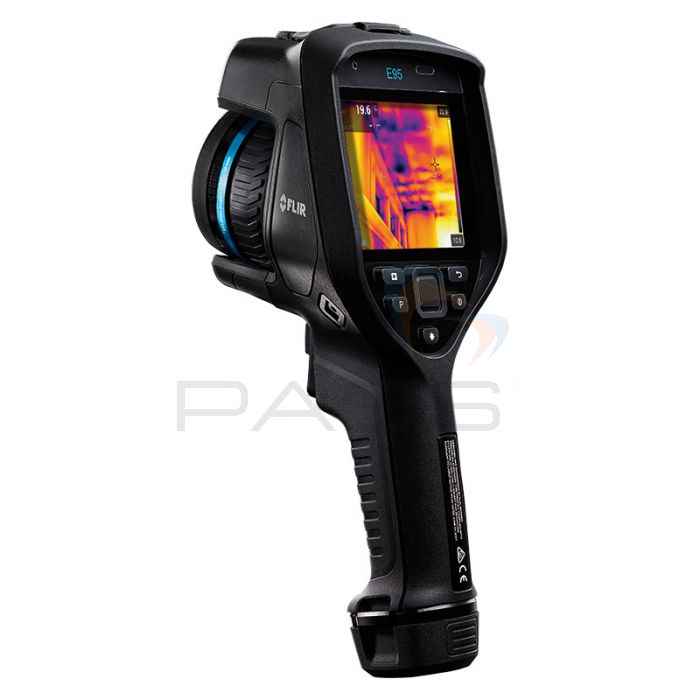 Note: there are various versions of this camera available, each supplied with different lenses. See the dropdown box above for the full list.
The highest spec model in FLIR's Exx series, the FLIR E95 has excellent thermal resolution, high levels of thermal sensitivity and a wide temperature measurement range for use in practically any thermal imaging application.
With resolution of 464 x 348 pixels (a vast improvement upon the E75 and E85), the E95 produces crisp thermal images with even more temperature data. Every single pixel in an image taken by the E95 is assigned a temperature measurement, allowing you to easily determine accurate temperature distribution over a wide area.
Thanks to FLIR's MSX mode (included as standard), images taken on the E95 are vastly enhanced compared to other thermal imaging cameras on the market. MSX actively blends together a thermal image with a detail found in a normal digital image, making it easier to spot objects and what the camera was looking at when the image was originally captured.
Viewing images on the FLIR E95 is fast and responsive thanks to 30Hz frame rate, included as standard. It also includes a large-size, full colour touchscreen and a trigger system on the rear for instant image capturing.
This thermal imaging camera also includes a wide range of extra features including 1-4x continuous digital zoom, video streaming, a built-in laser pointer, selectable colour palettes, image analysis modes, moisture and insulation alarms and much, much more.
FLIR E95 Thermal Imaging Camera Key Features
Upgraded resolution compared to the E85 - 464 x 348 pixels
Capture both infrared and digital reference images using built-in thermal and digital cameras
Picture-in-picture mode - add a window of thermal to a digital image to isolate specific problems
Automatic hot and cold detection - automatically adds maximum/minimum markers within an area
Isotherm colour alarm - set above, below, interval, condensation and insulation alarms to instantly detect problems within buildings
Adjustable emissivity to cater for use on different types of surface
Selectable colour palettes - choose between iron, grey, rainbow, arctic, lava and rainbow high contrast
High quality touchscreen with auto orientation
Thumbnail image gallery to easily swap between images
Wide temperature measurement range from 0 to 650°C
Moisture and insulation alarms
Removable SD card memory (8GB included as standard)
Add voice text annotations to your images (up to 60 seconds) using built-in microphone and speaker
Add text annotations using predefined entries or set your own using the touchscreen
Sketch on images directly using the touchscreen
METERLiNK mode - allows the camera to connect wirelessly to other compatible FLIR/Extech testing tools for more complete readings
Integrated compass adds GPS data and image orientation to captured images
Radiometric and non-radiometric video recording and streaming
5MP digital camera with built-in LED light
Laser pointer for added precision when lining up images
USB, Bluetooth and WiFi interfaces
Powered by rechargeable batteries - up to 2.5 hours operating time with field-swappable batteries
Tripod mount - UNC 1/4" - 20
What's Included?
FLIR E95 Thermal Imaging Camera
2 x Rechargeable Batteries
Lenses (As Selected Above)
Hand Strap
Hard Transport Case
Lanyards for Battery Charger and Camera
Lens Caps
Lens Cleaning Cloth
Power Supply for Battery Charger
Power Supply, 15W/3A
Printed Documentation
SD Card (8GB)
Torx Screwdriver
USB 2.0A to USB Type-C cable, 1m
USB Type-C to HDMI Cable
USB Type-C to USB type-C cable, 1m
Wrist Strap
Part Code78502-0301
FLIR E95 Technical Specifications
Full specs available in attached datasheet.
Imaging and Optical Data
Infrared Resolution
464 x 348 pixels
UltraMax (Super Resolution)
In FLIR Tools software
NETD
<40mK @ +30°C
Field of View
24 x 18°
Minimum Focus Distance
0.5m (1.6ft)
Minimum Focus Distance with MSX
0.5m (1.6ft)
Focal Length
17mm (0.67")
Spatial Resolution (IFOV)
0.90mrad/pix
External Optics
14°
12°
Lens Identification
Automatic
f Number
1.3
Image Frequency
30Hz
Focus
Continuous, one-shot LDM (laser distance meter), one-shot contrast, or manual
Field of View Match
Yes
Digital Zoom
1-4x continuous
Detector Data
Focal Plane Array/Spectral Range
7.5 to 14μm
Detector Pitch
17μm
Image Presentation
Resolution
640 x 480 pixels (VGA)
Surface Brightness (cd/m²)
400
Screen Size
4 inches
Viewing Angle
80°
Colour Depth (Bits)
24
Aspect Ratio
4:3
Auto Rotation
Yes
Touchscreen
Optically bonded PCAP
Display Technology
IPS
Cover Glass Material
Dragontrail®
Programmable Buttons
1
Image Adjustment
Yes
Infrared Image
Yes
Visual Image
Yes
MSX
Yes
Picture-in-Picture
Resizable and moveable
Gallery
Yes
Measurements and Measurement Analysis
Object Temperature Range

-20 to +120°C (-4 to 248°F)
0 to 650°C (32 to 1200°F

Accuracy
±2°C (±3.6°F) or ±2% of reading, for ambient temperature 15 to 35°C (59 to 95°F) and object temperature above 0°C (32°F)
Spotmeter
1 in live mode
Automatic Hot/Cold Detection
Auto maximum, minimum markers within area
Colour Alarm (Isotherm)
Above, below, interval, condensation and insulation
Measurement Presets
No measurements, center spot, hot spot, cold spot, user preset 1, user preset 2
Difference Temperature
Yes
Reference Temperature
Yes
Emissivity Correction
Yes: variable from 0.01 to 1.0 or selected from materials list
Measurement Correction
Yes
External Optics/Windows Correction
Yes
Screening
0.5°C (0.9°F) accuracy @37°C (98.6°F) with reference