As low as
£810.00
£675.00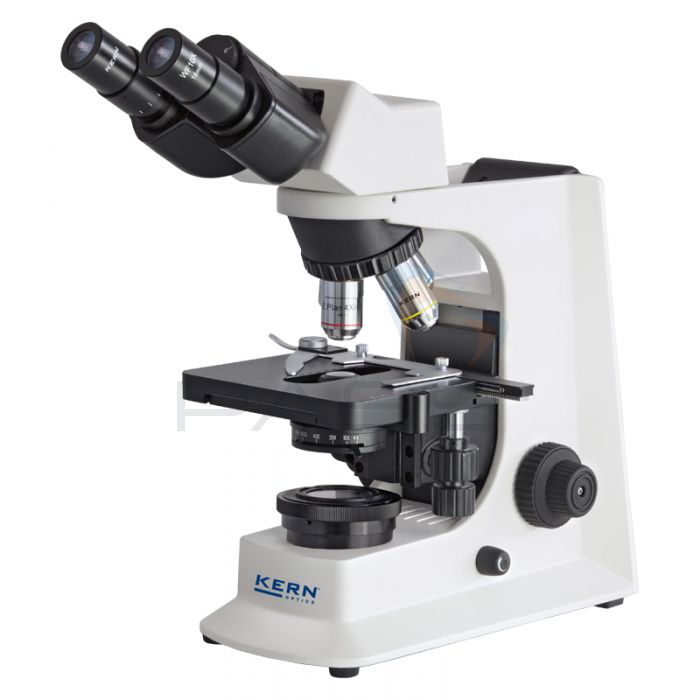 Note: this product is available in three variations. Please see the table below for more information on the difference between each.
This compound microscope is designed for use in laboratories and vocational training applications.
Built to the highest standards, Kern's OBF microscopes are equipped with adjustable field diaphragm plus pre-centred and height-adjustable Abbe condenser (with adjustable aperture diagram) to ensure high quality images in both bright and dark field applications.
Depending on the model you buy, the OBF will be supplied with various achromatic or plan objective lenses. Up to four of these can be fitted simultaneously into the microscope's rotatable viewer, allowing you to instantly switch between each for the best view.
Every version of the Kern OBF also comes equipped with an illumination source; models OBF 121 and OBF 122 have a 6V/20W halogen light, while the OBF 123 comes with a 3W LED illuminator.
Kern OBF-1 Compound Variable Laboratory Microscope Key Features
Designed for use by professionals in the lab, or for use in vocational training
Adjustable field diaphragm, plus pre-centred and height-adjustable Abbe condenser
Binocular-style viewfinder
Supplied with achromatic or plan objective lenses (varies depending on model)
Quadplex nosepiece allows attachment of up to four lenses simultaneously
Halogen or LED illumination (varies depending on model)
Fine adjustment and course adjustment knobs
Integral carrying handle for transportation
Mains powered
3 year Kern warranty included
360° rotation
Microscope Difference Table
This table outlines the difference between Kern OBF series microscopes.
Note: full specs are only currently available for OBF 121, OBF 122 and OBF 123. For more information on other models, please call us directly.
√ = standard configuration
Optional = can be configured with this option - please call for any enquires about different configurations.
Model Outfit
Kern Model Number
OBF 121
OBF 122
OBF 123
Eyepieces
WF 10x / 18mm diameter
√
√
√
WF 16x / 13mm diameter
Optional
Optional
Optional
WF 10x / 18mm diameter (reticule 0.1mm) (non-adjustable)
Optional
Optional
Optional
WF 10x / 18mm diameter (reticule 0.1mm) (adjustable)
Optional
Optional
Optional
WF 10x / 20mm diameter (reticule 0.1mm) (adjustable)
Optional
Optional
Optional
Achromatic Objectives
4x
√
-
-
10x
√
-
-
40x (spring)
√
-
-
100x / 1.25 (oil) (spring)
√
-
-
20x
Optional
Optional
Optional
60x (spring)
Optional
Optional
Optional
Plan Objectives
4x
-
√
√
10x
-
√
√
40x / 0.65 (spring)
-
√
√
100x / 1.25 (oil) (spring)
-
√
√
20x
-
Optional
Optional
60x (spring)
-
Optional
Optional
Binocular Tube
Siedentopf, 30° inclined, 360° rotatable
Interpupillary distance: 0 to 75mm (for non-infinity system)
With diopter adjustment (one-sided)
√
√
√
Trinocular Tube
Siedentopf, 30° inclined, 360° rotatable
Interpupillary distance: 50 to 75mm
Light distribution: 20:80 (for non-infinity system)
With diopter adjustment (one-sided)

Optional
Optional
Optional
Nosepiece
Quadplex
√
√
√
Mechanical Stage
Stage size (W x D): 145 x 140mm
Travel: 76 x 52mm
Coaxial coarse and fine focusing knobs, scale: 2μm
Two slide holder
√
√
√
Condenser
Abbe N.A. 1.25 precentered (aperture diaphragm)
√
√
√
Illumination
6V/20W Halogen (Transmitting)
√
√
-
3W LED illumination system (transmitting) (non-rechargeable)
-
-
√
Field Diaphragm
Field diaphragm
√
√
√
Darkfield Unit
N.A. 0.9 (dry)
Usable for 4x to 40x objectives
Optional
Optional
Optional
Polarising Unit
Analyser/polariser
Optional
Optional
Optional
Fluorescence Unit
100W HBO Epi Fluorescence unit, three-hole slide (B/G) including centering objective
Optional
Optional
Optional
3W LED Epi Fluorescence unit, three-hole slide (B/G) including centering objective
Optional
Optional
Optional
Filter
Blue
√
√
√
Green
Optional
Optional
Optional
Yellow
Optional
Optional
Optional
C-Mount
0.57x (focus adjustable)
Optional
Optional
Optional
1x
Optional
Optional
Optional