Tiny in size but big in capabilities, the Seek Thermal Compact is a portable, easy-to-use and affordable thermal camera which plugs directly into an iOS smartphone/ iPhone.
**PLEASE NOTE this product is only compatible with iPhones or IOS devices, a model which is compatible with Android devices is available here.** 
Seek Thermal's Compact camera is an absolutely ideal product for a wide variety of different applications. HVAC technicians can use these to easily find problematic temperature hotspots; electricians can use it to easily find overheating components and building surveyors can use it to find various building issues including poor seals, structural defects, moisture damage and more!
Despite its tiny size, the Seek Thermal is packed with functionality. It produces excellent quality thermal images thanks to its 206 x 156 pixel detector, can work over a distance of 1000 feet and also includes a wide field of view and excellent temperature measurement range.
The camera is controlled entirely by using the free Seek Thermal app which is available as a download from the App Store. With this app, you can capture full thermal photos and videos, share findings with others via text, social media and emails, adjust colour palettes and modes plus much, much more.
It's time to seek out heat - here's just a few of the inventive ways you can use the Seek Thermal Compact!
Seek Out Building Problems with the Seek Thermal Compact!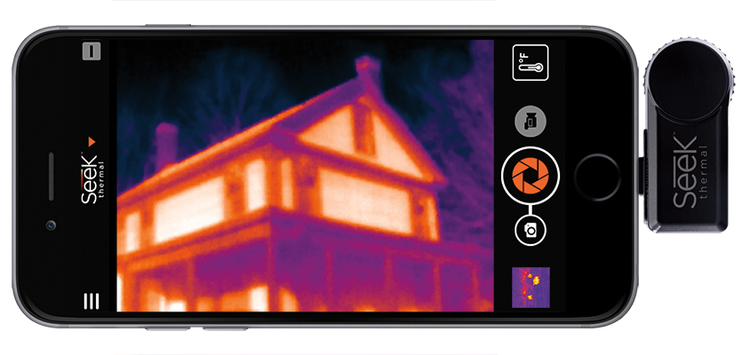 The Seek Thermal Compact is excellent for both indoor and outdoor studies of the building envelope, helping you to pinpoint a wide variety of different issues.
With Seek Thermal's technology, you'll be able to:
Find water and air leaks
Spot hidden structural damage
Find unsealed gaps and drafts
Inspect doors, window frames and seals to ensure heat isn't being lost
Locate HVAC Issues Easily with Your Own Smartphone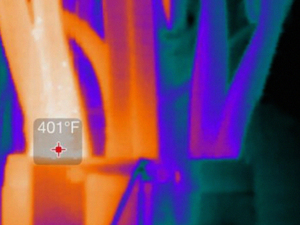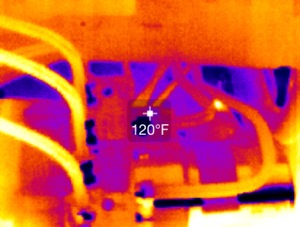 The Seek Thermal Compact is an excellent solution for any HVAC professional and will help you to easily detect elevated temperatures, which are a common source of energy waste and possible failures within HVAC systems.
With thermal imaging, you'll be able to see what would otherwise be hidden and spot higher temperatures than normal in:
Electrical connections
Fan-cooled motors
Bearings
Winding insulation
Ensure Boilers are Running at Optimal Efficiency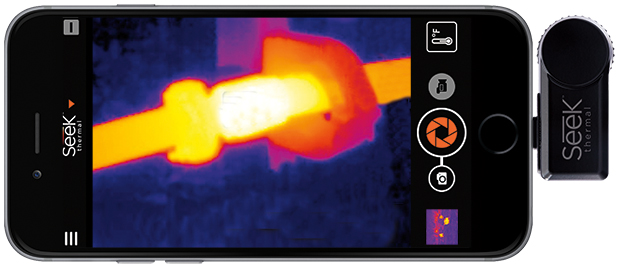 With both steam and hot water systems, incorrectly installed parts, older parts and damaged components can all lead to energy efficiency loss. With Seek Thermal's Compact thermal camera, you'll be able to find a wide variety of heat problems in:
Refractory and insulation
Fan motors
Pumps and valves
Electrical connections
Use it Everywhere Else!
The possibilities with Seek Thermal's compact are endless – take it indoors or outdoors and use it to see the world like never before through the power of thermal!
Here's just a few examples of how this technology can be used:
Use to inspect electrical sockets, wires, transformers, lighting circuit controls and other electrical items
Use outdoors to track other members of your party
See through complete darkness to spot the heat of objects
Use in your own home to find structural defects and find out just why your rooms are cold
You can even use it to find the perfectly chilled beer!
Seek Thermal Compact iOS Smartphone Thermal Camera Key Features
Plug into your iOS smartphone and turn it into a thermal camera!
Ideal for any professional contractor – find heating problems in electrical, HVAC, boilers and various other systems, as well as buildings
Free app available on the App Store – use to capture videos and images, change colour palettes, determine specific temperatures, share with others and much more
206 x 156 pixel thermal detector produces great quality thermal images
Detection distance of up to 1000 feet (330 yards, 300m)
36 degree field of view ensures you get a wide image with lots of detail
Temperature measurement range from -40 to 626°F (-40 to 330°C) caters for a wide variety of applications
Adjustable focus
Switch between Celsius and Fahrenheit measurement modes
9 selectable different colour palettes
Different modes included – spot thermography, high/low and threshold modes
No batteries required! Powered directly from your smartphone
Suitable for use in both day and night conditions
What's Included?
Seek Thermal Compact Thermal Camera for iOS
Waterproof Carrying Case
Seek Thermal Compact Series Comparison Chart
There are three different models available in the Seek Thermal Compact series. The following table outlines the difference between each.
Model Number

Compact



For iOS      For Android

CompactXR



For iOS     For Android

CompactPRO



For iOS     For Android
Thermal Resolution
206 x 156 pixels
206 x 156 pixels
320 x 240 pixels
Detection Distance
1000 feet (330yards, 300m)
1,800 feet (600 yards, 550m)
1,800 feet (600 yards, 550m)
Field of View
36°
20°
32°
Temperature Range
-40 to 626°F (-40 to 330°C)
-40 to 626°F (-40 to 330°C)
-40 to 626°F (-40 to 330°C)
Frame Rate
<9Hz
<9Hz
>15Hz FastFrame
Android Version
Don't Have an iOS Smartphone? Seek Thermal Compact is also available for Android!
Click this link for more information >>
*Notes on Compatibility
Please note that not all iOS smartphones and tablets are compatible with the Seek Thermal Compact.
Please review all of the following information carefully to determine whether or not your device is compatible with the Seek Thermal Compact.
Any questions? Please call us directly.
Smartphone Case Compatibility
In some cases, thicker smartphone cases (especially ruggedized ones) will not provide enough clearance around the connection port. To use the camera you must either remove the case or attach the camera using an extender or adapter (sold separately).
Operating System Compatibility
You will require an iOS smartphone or tablet running at least iOS 8.0 to use this camera and the compatible app.
List of Tested Compatible Devices
iPhone XS Max

iPhone XS

iPhone XR

iPhone X

iPhone 8 Plus

iPhone 8

iPhone 7 Plus

iPhone 7

iPhone SE

iPhone 6s Plus 

iPhone 6s

iPhone 6 Plus

iPhone 6

iPhone 5s

iPhone 5c

iPhone 5 

iPod Touch 5th Generation

iPad Mini (all versions)

iPad Air

iPad 4th Generation
List of Incompatible Products
The Seek Thermal CompactPRO will NOT work with these products.
iPhone 4s or lower

iPad 3 or lower

iPod Touch 4 or lower

iPad Pro
Part CodeLW-EAA
Seek Thermal Compact Technical Specifications
Detector and Optics
Thermal Sensor
206 x 156
Detection Distance
1000 feet (330 yards/300m)
Field of View
36 degree FOV
Temperature Range
-40 to 626°F (-40 to 330°C)
Frame Rate
<9Hz
Focus
Adjustable
Lens Material
Chalcogenide
Microbolometer
Vanadium oxide
Pixel Pitch
12 microns
Spectral Range
7.5 to 14 microns
System Specs
User Interface
Connects to a smartphone. Controlled by free Seek mobile app
Temperature Display Scale
Fahrenheit or Celsius
Colour Palettes
9 options
Thermal Tools
Spot thermography, hi-low and threshold
Capture Settings
Records photos and video
Storage Media
Stores photos and video directly to smartphone
Battery
No batteries required. Powered by smartphone
Phone Compatibility
iPhone and Android (for compatible phone list, visit www.thermal.com/supported)
Device & Package Info
Country of Origin
Designed and manufactured in Santa Barbara, California, USA with global components
Colour
Black
Device Dimensions (H x W x D)
1 x 1.75 x 8 inches
Device Weight
0.5 ounces
Box Dimensions (H x W x D)
7 x 3.75 x 1.25 inches
Package Weight
8.3 ounces