or Call 01642 931 329 to discuss alternatives
Limited Time Offer - FREE Carrying Pouch
Simply buy a Seek Thermal Reveal camera and we'll include a free Seek carrying pouch in the box with your goods.
Offer only available while stocks last.
About the Seek Thermal Reveal XR
Note: the Seek Thermal Reveal XR is available in either jet black (recommended for security) or camo colours (recommended for hunting/outdoor use). Choose which you'd prefer using the dropdown box.
With a narrower field of view and wider detection range than the standard Seek Thermal Reveal, the Reveal XR thermal camera is a professional tool made for use by hunters in the great outdoors, or for use by security professionals as an aid to prevent unauthorised entry to an area.
Made tough with highly rugged case in your choice of black or camouflage colours, the Seek Thermal Reveal is optimised for use in any conditions, regardless of whether it is being used indoors or outdoors. It's also extremely easy to use, even for those new to thermography.
The Seek Thermal Reveal XR includes a high quality, 206 x 156 pixel thermal detector and can measure temperature from -40 to 626°F (-40 to 330°C). It can detect the heat of a target from a distance of up to 900 feet away from the user, making this tool excellent for tracking game from a distance, or for detecting the body heat of an intruder over a wide distance.
To ensure you never miss a thing when it matters most, the RevealXR thermal camera starts up in under 3 seconds. Multiple selectable colour palettes give you full control over your images, while a microSD card which is included as standard in the box can be used to store captured images.
This thermal camera also has among the best battery life available in its class - it'll last for up to 10 hours on a single charge (rechargeble batteries built in as standard)!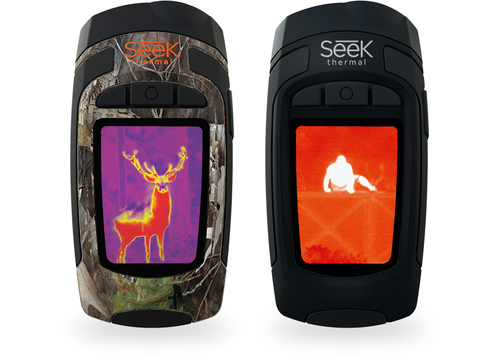 Choose Your Style!
The Seek Thermal XR is available in two designs! Choose between TrueTimber Kanati Camouflage or Pure Black when you place your order.
Both models are identical in functionality, however Seek does recommend the camo version for hunting/outdoor use, while the Jet Black version is recommended for use in security applications.
Day and Night, Reveal All with the Reveal XR for Hunting!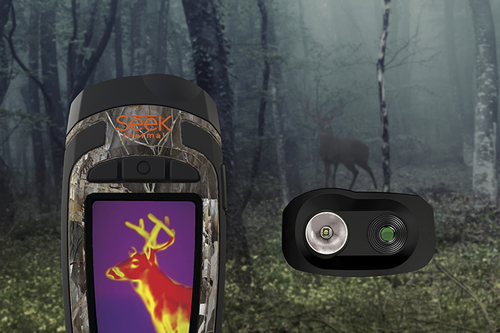 The effectiveness of your hunting abilities only goes so far - if you're dealing with fog, complete darkness and other conditions, you may miss what you're looking for.
Seek Thermal's Reveal XR solves this problem; with this camera, you can see through the day and night with no drop in performance and even see through weather conditions such as fog and rain!
Use the camera to:
Accurately scout terrain
Track game
Recover with a new advantage after dusk
Stay safe when working in outdoor conditions
Gain A Security Advantage with the Seek Thermal XR!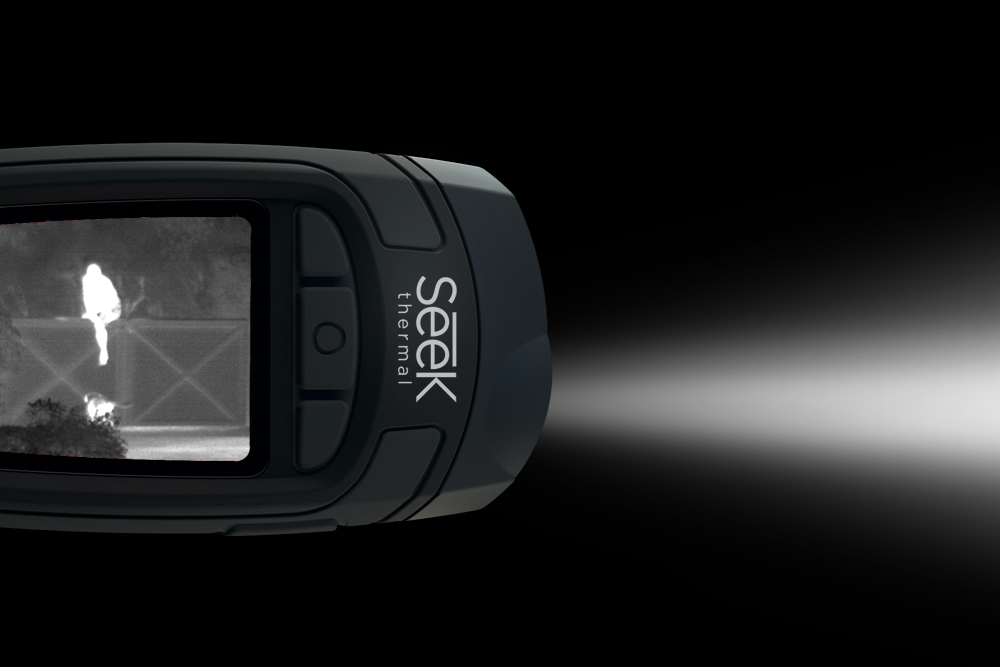 See what can't be seen - even in complete darkness, you can use the Seek Reveal XR to detect the body heat of an object from a wide distance!
So if someone is somewhere they shouldn't be, you can use the Seek RevealXR to easily detect their body heat and take action long before their intrusion becomes a serious problem.
This camera is highly recommended for:
Law Enforcement
Night Security
Search and Rescue
Land Surveillance and Border Protection
Public Safety and Tactical Support
Safeguarding Facilities including Factories and Warehouses, Government Sites and Residential Properties
Seek Thermal RevealXR Thermal Camera Key Features
Powerful thermal camera designed for use in hunting and security applications
206 x 156 pixel thermal resolution produces great quality images
9Hz frame rate
900 feet (300 yards, 275m) target detection range
Narrow field of view (20°) makes it easier to see a specific target at a distance
Temperature measurement range from -40 to 330°C (-40 to 626°F) with the ability to switch between Celsius and Fahreneheit measurement modes
High quality, 2.4" full colour screen with resolution of 240 x 320 pixels
300 Lumen LED torchlight built-in (with adjustable brightness)
7 selectable colour palette options
Stores images on included SD card
Starts up in under 3 seconds so you never miss a thing
Powered by rechargeable lithium batteries with life of 10 hours (among the best in its class)
Extremely easy to use, even for those new to thermography
What's Included?
Seek Thermal Reveal XR in Your Choice of Colour (Jet Black or Camo)
Welcome Guide
Wrist Lanyard
MicroSD Card
USB Cable
Want a smoother viewing experience when using your thermal camera? With a faster frame rate, the RevealXR FastFrame will help you to get clearer image when using your thermal camera.
The difference can clearly be shown in the video below.
Part CodeRT-EBA
Seek Thermal Reveal XR Technical Specifications
Detector and Optics
Thermal Sensor
206 x 156 pixels
Detection Distance
900 feet (00 yards, 275m)
Field of View
20 degree FOV
Temperature Range
-40 to 626°F (-40 to 330°C)
Frame Rate
<9Hz
Focus
Fixed
Lens Material
Chalcogenide
Microbolometer
Vanadium oxide
Pixel Pitch
12 microns
Spectral Range
7.5 to 14 microns
System Specs
Flashlight
300 lumen LED (programmable brightness)
Display Resolution
2.4" colour, 230 x 320 pixels
Temperature Display Scale
Fahrenheit or Celsius
Colour Palettes
7 options
Startup Time
< 3 seconds
User Interface
Self-contained device with 3 button navigation
Storage Media
MicroSD card included
Battery
3.7V rechargeable lithium
Battery Life (Operating)
Up to 10 hours continuous thermal
Device and Package Info
Country of Origin
Designed and manufactured in Santa Barbara, California, USA, with global components
Colour
Camo or Black
Device Dimensions (H x W x D)
5 x 2.4 x 1.2 inches
Device Weight
6.25 ounces
Box Dimensions (H x W x D)
6.25 x 3.75 x 3.25 inches
Package Weight
18.5 ounces
Included in the Box
Seek RevealXR, Welcome Guide. Wrist Lanyard, MicroSD Card and USB Cable