Amprobe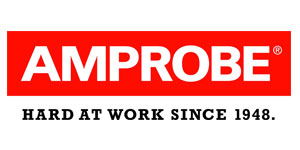 Founded in Long Island, New York in 1948 as the Pyramid Instrument Company, Amprobe was the first manufacturer to successfully produce and patent the electrical clamp meter, now used by hundreds of thousands of professionals around the globe every single day.
The original clamp meter was known as the 'Amprobe' and proved so popular that the company renamed itself and is now formally known as the Amprobe Instrument Corporation. In modern times, Amprobe focus on developing a wide range (over 500 products) made for use by residential and commercial electricians, HVAC/R technicians, utilities and industrial maintenance professionals.
At Tester.co.uk we stock a wide range of Amprobe test equipment, including clamp meters, cable locators, hygrometers/humidity meters, datalogging thermometers, sound meters, tachometers, voltage testers and much more. Regardless of what industry you work in, there's likely to be an Amprobe model available for your application.