As low as
£293.53
£244.61
The FastFrame (>15Hz) versions of Seek's CompactPro Thermal Camera for iOS, Android and Android USB-C gives you a much smoother viewing experience when viewing moving objects. Please note that there are two models available:
UQ-EAAX - for Android
LQ-EAAX - for iOS
CQ-EAAX - For Android USB-C
The Compact PRO is Seek Thermal's most powerful thermal camera available for iOS and Android* smartphones and tablets!
Boasting a number of improvements compared to Seek's Compact and Compact XR models, this camera is ideal for a wide variety of professional inspections. Use it to detect problems with electrical components, use it to find building defects or even use it outdoors to track animals. There's nothing the Compact PRO can't do; if you've been looking for an affordable, high-quality solution to get you into thermography, this is the product you've been looking for.
The main difference between this model and the Compact and CompactXR is vastly improved thermal resolution of 320 x 240 pixels. This means that the image taken with the Compact PRO is higher quality than the same image you'd get with the other models. Similarly, the frame rate of the Compact PRO is also improved to above 15Hz, an improvement on the 9Hz offered on the Compact and CompactXR. This will give you a smoother image when moving with the camera.
Seek Thermal Compact Series Comparison Chart
Please see the following table for an overview of this product's specifications.
Model Number

CompactPRO



For iOS For Android For Android USB-C
Thermal Resolution
320 x 240 pixels
Detection Distance
1,800 feet (600 yards, 550m)
Field of View
32°
Temperature Range
-40 to 626°F (-40 to 330°C)
Frame Rate
>15Hz FastFrame
The Seek Thermal App - The Perfect Companion to the Compact PRO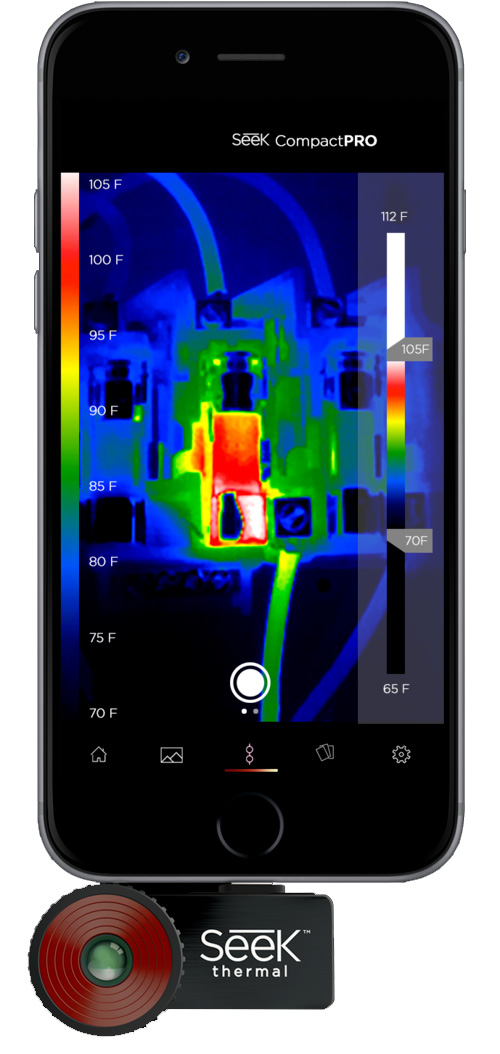 With Seek's enhanced app (available as a download from the Google Play Store and App Store), using the Seek Thermal CompactPRO is simple. The app is packed with features, including:
Thermal Level and Span - set and lock a temperature range to display the maximum thermal info of any object or scene, complete with a set point and range
Emissivity Control - calibrate the imager to cater for different surface types, ensuring accurate results
Adjustable Image Colour Palettes - enhanced colour palettes make it easier to get the image you want, every time
Full Frame Thermography - selectable 4:3 and 16:9 formats with full temperature data
7 Different User Modes - includes Spot Temperature, High/Low Temperature, Level and Span, Above Threshold, Below Threshold, Equal Threshold and Thermal+ Visible
*Radiometric File Format - coming soon! Allows images to be stored with 76,800 pixels of thermal measurements
Seek Thermal Compact PRO Smartphone Thermal Camera Key Features
The most powerful thermal camera available for your Android or iOS smartphone or tablet
Exceptional image clarity - 320 x 240 pixel resolution delivers over 76,000 pixels per image
32° wide field of view ensures you always get the best image
Wide temperature measurement range from -40 to 626°F (-40 to 330°C)
Measure from as close as 6 inches to as far as 1800 feet
Suitable for use in both day and night conditions
Waterproof carrying case included
Adjustable emissivity - caters for use with different surface types
Focusable lens - ideal for ensuring the best image possible
Level and span controls allow you to easily isolate and capture the results you want
Record images and videos directly on your smartphone
Frame rate above 15Hz ensures smoother video while moving
9 selectable colour palettes
What's Included?
Seek Thermal Compact PRO Camera
Waterproof Carrying Case
*Notes on Compatibility
Please note that not all Android and iOS smartphones and tablets are compatible with the Seek Thermal Compact.
Please review all of the following information carefully to determine whether or not your device is compatible with the Seek Thermal Compact.
Any questions? Please call us directly.
Smartphone Case Compatibility
In some cases, thicker smartphone cases (especially ruggedized ones) will not provide enough clearance around the connection port. To use the camera you must either remove the case or attach the camera using an extender or adapter (sold separately).
Operating System Compatibility
You will require an Android smartphone or tablet running at least Android 4.3 to use this camera and the compatible app. Alternatively; you will require an iOS smartphone or tablet running at least iOS 8.0 to use this camera and the compatible app.
Listed of Tested Compatible Android Phones
Google Nexus 5 (requires adapter)
Google Nexus 5x (requires USB C adapter)
Google Nexus 6 (requires adapter)
Nexus 6p (requires USB C adapter)
HTC Desire 820 (requires adapter)
HTC Desire EYE (requires adapter)
HTC One Mini 2 (requires adapter)
HTC One A9 (requires adapter)
HTC One M8 (requires adapter)
Motorola Moto X
Motorola Moto G
Samsung Galaxy S3
Samsung Galaxy S4
Samsung Galaxy S5 (except some running 5.1.1)
Samsung Galaxy S6
Samsung Galaxy S6 Edge
Samsung Galaxy Note 2
Samsung Galaxy Note 3
Samsung Galaxy Note 4
Samsung Galaxy Note Edge
Please note that the Seek Thermal is designed for use with smartphones with a micro-USB slot running at least Android 4.3. Therefore it has not been tested but may work with many other HTC, LG, Sony Xperia and some Galaxy Tab models.
*Please note that new Samsung phones, such as the S8 are supplied with adaptors which are not OTG enabled. Therefore you will need a separate adaptor with OTG (On The Go) capability in order to connect this Thermal Camera to your device.
List of Incompatible Android Devices
The Seek Thermal Compact will NOT work with these products.
Amazon Fire Phone & Tablet
Google Nexus 4
Google Nexus 7 (2012)
HTC Desire 620
HTC Desire 626
HTC Nexus 9
Nexus 9
Samsung Galaxy 2 (old)
Samsung Galaxy Mega
Samsung Galaxy Note (original)
Samsung Google Nexus S
Samsung Nexus S
Samsung Galaxy S3 NEO
Samsung S4 mini
Samsung S5 mini
NOTE: Android devices sometimes orient the microUSB connecter in different directions or locations. For correct usage the USB port should be located on the bottom, with the widest portion of the port aligned with the back of your smartphone. Many LG and HTC devices orient the connecter in the opposite direction, and many devices from Sony and Motor,ola often position the port on the side. In these cases it is recommended to use a microUSB cable or adapter to allow proper aiming and positioning of the camera (sold separately).
List of Tested iOS Compatible Devices
iPhone SE
iPhone 6S Plus
iPhone 6S
iPhone 6 Plus
iPhone 6
iPhone 5s
iPhone 5c
iPhone 5
iPod Touch 5th Generation
iOS Devices this Camera Works with but is Not Optimised For
iPad Mini (all versions)
iPad Air
iPad 4th Generation
List of Incompatible iOS Products
The Seek Thermal CompactPRO will NOT work with these products.
iPhone 4s or lower
IPad 3 or lower
iPod Touch or lower
Part CodeUQ-EAAX
Seek Thermal Compact PRO Technical Specifications
| | |
| --- | --- |
| Thermal Sensor | 320 x 240 pixels (76,800 pixels) |
| Detection Distance | 6 inches to 1,800 feet |
| Field of View | 32 degree FOV |
| Temperature Range | -40 to 626°F |
| Frame Rate | >15Hz FastFrame |
| Focus | Adjustable |
| Lens Material | Chalcogenide |
| Microbolometer | Vanadium Oxide |
| Thermal Sensitivity | <70mK |
| Spectral Range | 7.5 to 14 microns |
| User Interface | Free Seek Thermal Mobile App |
| Temperature Display Scale | Fahrenheit, Celsius or Kelvin |
| Colour Palettes | 9 options |
| Storage Media | Stores directly to smartphone |
| Battery | Low power provided by smartphone (280mW) |