As low as
£729.95
£608.29
Limited Time Offer - FREE Carrying Pouch
Simply buy a Seek Thermal Reveal camera and we'll include a free Seek carrying pouch in the box with your goods.
Offer only available while stocks last.
About the Seek Thermal Reveal PRO
Note: the Seek Thermal Reveal PRO is available with either frame rate of 9Hz (standard) or with Seek's FastFrame (frame rate above 15Hz). You can choose which version you prefer using the dropdown box. The FastFrame version will provide a smoother viewing experience than the standard model will, particularly when objects are moving.
The Seek Thermal Reveal PRO is more than just a compact, easy-to-use thermal camera, it's also Seek's most advanced thermal camera yet!
Equipped with a extremely high performance 320 x 240 pixel thermal detector, the Reveal PRO produces excellent quality thermal images and stores them all on its built-in 4GB hard drive. Images can be easily downloaded via USB connection to your PC, with a micro USB connection cable included as standard in the box.
The Seek Reveal PRO offers among the best functionality in its price bracket. You can expect excellent quality images thanks to the detector (among the highest resolution cameras available for the cost), a wide, 32° field of view, wide temperature range from -40 to 330°C (-40 to 626°F) and a huge detection range up to a total of 1800ft (550m).
For added performance in poor lighting conditions, or just to help you see where you're going, the Reveal PRO also includes a built-in 300 lumen LED torchlight.
Exceptional Quality for a Low Cost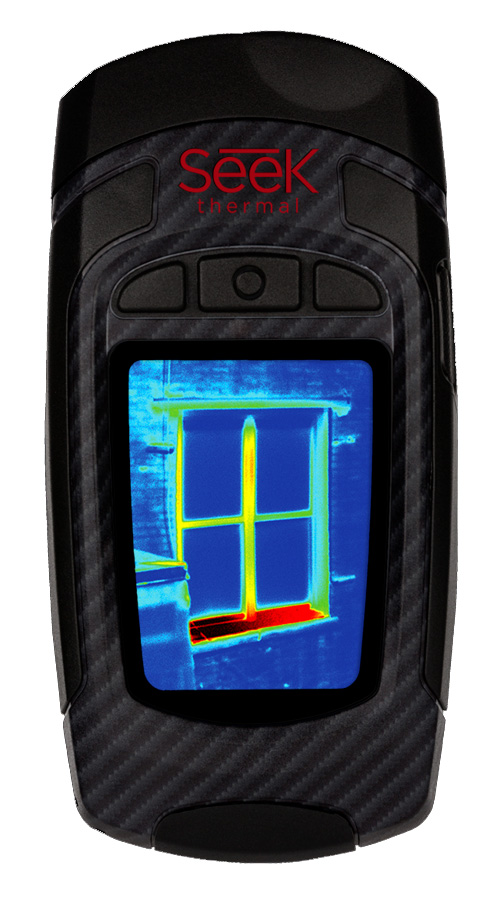 The Seek Thermal Reveal PRO is packed with functionality. Despite its relatively low cost for a thermal camera, you can expect a wide range of advanced, useful features including:
Thermal Level and Span - set and lock a temperature range to display the maximum thermal information of objects and scenes, complete with a set point and range
Emissivity Control - calibrate the camera to ensur accurate results on different surface types
Nine Standard and High Contrast Colour Palettes - greyscale, spectra high contrast, rainbow, prism and much more all available
Full-Frame Mapping of Temperature Distribution - all temperature data shown, giving you a comprehensive view of heat maps
Multiple User Modes - choose between Normal thermal, Spot Temperatures and Level/Span
Ruggedised Display - 2.4" colour display with Corning Gorilla Glass protection
4x Digital Zoom and Wide Field of View - Get in closer with up to 4x zoom and see more with wide, 32° field of view
Seek Thermal Reveal PRO Thermal Camera Key Features
Exceptional image quality - equipped with a 320 x 240 pixel detector with resolution of 76,800 pixels per image
Detect a target from a distance of 12 inches up to 1800 feet
32 degree wide angle field of view packs every image with a large amount of detail
Temperature measurement range from -40 to 330°C (-40 to 626°F)
Choice of two models - with frame rate of 9Hz or smoother FastFrame (above 15Hz)
Fixed focus for easier targeting
300 lumen LED light built in
Thermal sensitivity of <70mK
Fahrenheit, Celsius and Kelvin temperature modes
4GB internal drive with space for more than 4000 images
Up to 4 hours thermal imaging battery life in normal mode
What's Included?
Seek Thermal Reveal PRO Thermal Camera
USB Cable
Wrist Lanyard
Part CodeRQ-EAA
Seek Thermal Reveal PRO Technical Specifications
| | |
| --- | --- |
| Thermal Sensor | 320 x 240 (76,800 pixels) |
| Detection Distance | 12 inches to 1,800 feet |
| Field of View | 32° FOV |
| Temperature Range | -40 to 626°F |
| Frame Rate | >15Hz FastFrame, or 9Hz standard |
| Focus | Fixed focus |
| Flashlight | 300 lumen LED |
| Display | 2.4" colour with Corning Gorilla Glass |
| Microbolometer | Vanadium oxide |
| Thermal Sensitivity | <70mK |
| Spectral Range | 7.5 to 14 microns |
| User Interface | Self-contained device with 3 button navigation |
| Temperature Display Scale | Fahrenheit, Celsius or Kelvin |
| Colour Palettes | 9 options (greyscale and high contrast) |
| Storage Media | 4GB internal drive (>4000 images) |
| Battery | Up to 4 hours thermal imaging in normal mode |