Please note this blog was originally published on the 24th January 2020. It was updated on the 20th May 2021 to include current product recommendations.
In this blog, we suggest screening people for raised body temperature to identify potential cases of coronavirus. It is important to note that a raised body temperature is not conclusive proof of infection. Temperature screening should always be used in conjunction with medical tests. However, it does provide an efficient and easy way of identifying those who require further screening.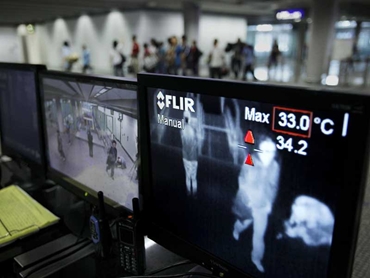 With the current threat of the new coronavirus, we wanted to make it quick and easy for those who work in transportation and passenger management roles to find the right products for monitoring and screening passengers and crowds.
Quick Links
Non-Contact Thermal Imaging and IR Thermometers
We have a number of products such as thermal imaging cameras and IR thermometers that will effectively monitor and detect raised body temperatures without making contact. Some systems can scan large crowds and will alert users to anyone who has a body temperature greater than the acceptable range. A raised body temperature is one of the first signs of infection.
Working with the product manufacturers we have agreed to prioritise customers who have an urgent need for products that are to be used for this application.
The main areas for monitoring are ports, airports, railway stations and areas of transit. They are the best places to identify cases quickly and stop the spread of viruses. Early detection and quarantine is the key to containing and stopping the spread of this potentially lethal disease.
Here are the recommended products which are currently being used to detect viruses, such as the coronavirus, and are helping to identify cases in an effort to control and contain the current outbreak.
IR Thermometers
Mounted Crowd-Monitoring Thermal Imaging Cameras
We stock a selection of mounted FLIR, Hikvision, and Seek Thermal solutions ideal for temperature screening and identifying people with elevated body temperatures. They help to pick out hot people in crowds who may require further tests. Many of these solutions allow you to set a predetermined temperature threshold, for instance, 38°C; temperatures that exceed this threshold will trigger a visual and/or audible alert.
To view all our mounted elevated skin temperature (EST) screening solutions, please click here. Below we have highlighted some of our most popular products for your consideration.
Handheld Thermal Imaging Monitoring
In addition to mounted temperature-screening solutions, we also stock a selection of handheld FLIR and Hikvision thermal cameras suitable for detecting elevated body temperature. These efficient and easy-to-use thermal cameras can be used to scan one individual at a time. They are perfect for premises with a modest to medium footfall, for instance, smaller transport stations, as well as offices, schools and factories.
Our complete collection of EST-screening handheld thermal cameras are available to view here. Below we have highlighted some of our most popular models for your consideration.
Further Information
For more information regarding temperature screening or any of the products featured in this blog, please contact our Sales team on 01642 931 329 or via our online form.
In the meantime, please browse our extensive array of COVID-19 products, including all of our IR & thermal temperature screening solutions.