As low as
£11,030.40
£9,192.00
Free Software, Battery, Pouch & Powerbank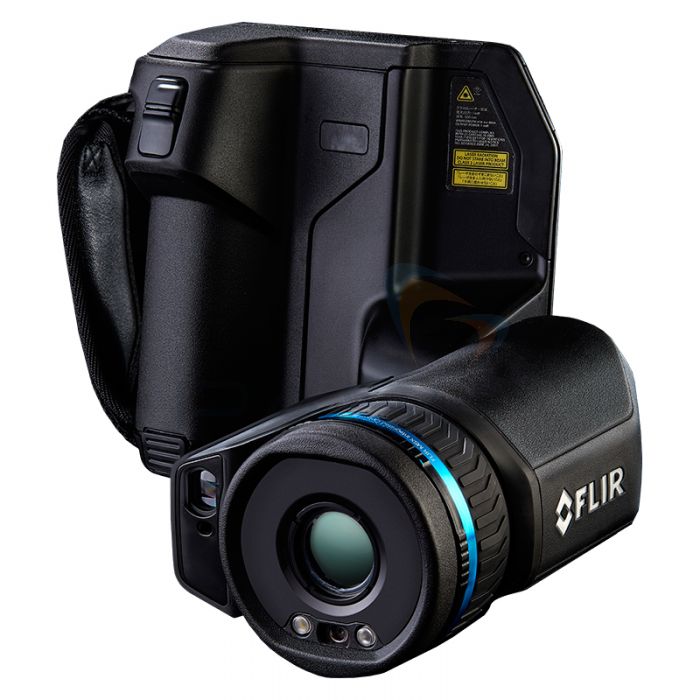 Note: the FLIR T530 is available in several different kits, each of which includes 1 or more different lenses. Using the dropdown box, please choose an option when ordering or - if you wish to purchase over the phone - quote the part number shown at the start of each entry in the dropdown box to our sales team.
Designed for advanced thermographers, the FLIR T530 is a professional thermal camera that's ideally suited for use in industries such as power generation, electrical distribution and manufacturing industries.
Combining together ergonomic design, high thermal resolution and fast, easy access to all functions, the FLIR T530 includes everything you need for capturing highly detailed thermal images and for creating equally detailed reports afterwards.
Crisp, Detailed Thermal Images
The FLIR T530 produces thermal images with detail of 320 x 240 pixels, which means images captured on the T530 have 76,800 pixels worth of temperature data. Images are fully radiometric, so you can hone in on an exact pixel in the image to measure specific temperature levels.
As standard, FLIR T530 thermal cameras include FLIR MSX, a unique mode which blends together digital and thermal images to increase the level of detail in a thermal image. FLIR's UltraMax mode is also included; this enhances (using the software included) the resolution of captured images via unique FLIR image processing techniques up to a resolution with 307, 200 effective pixels worth of temperature data!
Your images are also further enhanced thanks to laser-assisted autofocusing. The T350 includes a built-in laser pointer which calculates distances, then the image automatically compensates itself so you always get the best image.
The laser pointer can also be used to actually calculate distances to your target.
Thermal Imaging Made Easy with 180° Rotating Optical Block
With the FLIR T530's built-in 180° rotating optical block, grabbing quality thermal images at even the most tricky angles is made easy.
The rotating block can move completely up and down over a 180° angle, allowing you to easily angle the camera's lens below or above you without you needing to crane your neck. The display remains level at all times, so you can simply rotate the lens as needed to get the best possible angle.
Images are presented on the FLIR T530's bright and vivid 4 inch capacitive touch screen in exceptional levels of detail. The screen is scratch-resistant and 33% brighter and 4 x the resolution of many other comparable cameras available on the market.
You can even make access to your most commonly-used features easier thanks to the inclusion of two fully programmable buttons.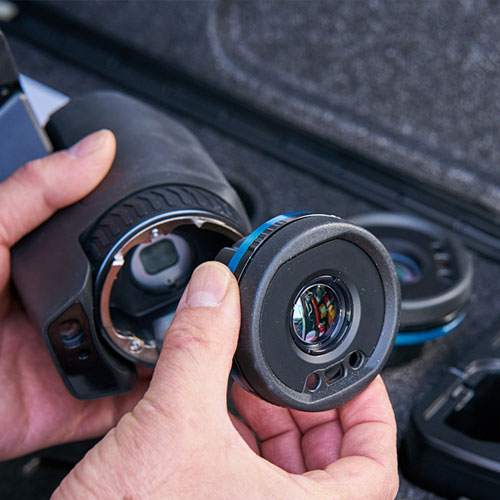 Auto-Calibrating Interchangeable Lenses
Available as standard with various different lens types (also available for purchase separately), the FLIR T530 allows you to instantly swap out lenses to cater for different applications. Whether you need a wide angle lens for wide shots or a close-up telephoto lens, just remove the old lens and replace with the new one quickly and seamlessly.
Every lens will also automatically calibrate itself - the T350 will detect which lens is attached and adjust itself accordingly, ensuring all image quality is maintained and there's no effort required from you when swapping out lenses.
If you are interested in more information about additional lenses for your FLIR T530 please feel free to call our sales department for availability, pricing or any questions you might have about the lenses' capabilities.
Make Your Work Easier with the FLIR T530's Range of Advanced Features
We've already taken a look at the T530's range of useful features, but here's a full, comprehensive breakdown of this thermal camera's capabilities:
Fast, Responsive Design - quickly access menus, folders, settings and more using intuitive controls such as the fast response touchscreen and two programmable buttons
WiFi Streaming through FLIR Tools app - let you customers or colleagues see your findings in real time on a smartphone/tablet by streaming your images wirelessly from the T530
Streamlined Reporting Features - the T530 thermal camera includes built-in voice annotations, text comments (with an automatic filling option) and the abiity to sketch directly on captured images using the touchscreen
Embedded GPS Location - easily determine the location of your image and also export data from compatible METERLiNK FLIR clamps/multimeters alongside your thermal findings
Laser Distance Measurements - use the built-in laser pointer to easily determine reliable, accurate distances to your target
Rechargeable Batteries - with up to 4 hours operating time (assumes typical use)
Get in Closer with Digital Zoom - adjustable from 1 to 4x continuous
Fast Image Frame Rate of 30Hz - smooth image viewing when moving for more comfortable use
Integrated Digital Camera - take 5MP digital images and includes a LED photo/video lamp.
Adjustable Colour Palettes - choose between Iron, Grey, Rainbow, Arctic, Lava and Rainbow High Contrast modes
Excellent Thermal Resolution of 320 x 240 Pixels - see the detail with up to 76,800 pixels worth of temperature data in every image captured on the T530
Quadruple your Image Quality with FLIR UltraMax Image Processing - use the FLIR Thermal Studio Software package to activate UltraMax and increase image quality up to 307,200 effective pixels
Wide Temperature Range - the FLIR T530 can detect and display temperature data across a range from -20 to 120°C and 0 to 650°C with accurate, reliable results within ±2°C or ±2% of reading
High Thermal Sensitivity - make sure nothing is missed with thermal sensitivity as low as <30mK
FLIR MSX Enabled - use MSX to blend together digital and thermal images, enhancing the detail level of captured images significantly
Fully Adjustable Lenses with Automatic Calibration - just swap and change as needed, catering for use in almost any environment
Laser-Assisted Autofocusing - the FLIR T530 will use a built-in laser pointer to measure distances and automatically adjust the image so you always get the best focus possible
Real-Time, Fully Radiometric Video Streaming - see your images in real time on a PC and analyse every pixel in the image
What's Included?
FLIR T530 Thermal Camera + Your Choice of Lens Pack
FLIR Thermal Studio Software (1-Year Subscription)
2 x Rechargeable Batteries
Battery Charger
Hard Transport Case
Lanyards
Front Lens Cap
Power Supplies
Printed Documentation
8GB SD Card
USB 2.0A to USB Type C Cable
USB Type C to HDMI Cable
USB Type C to USB Type C Cable
Part Code79302-0101
FLIR T530 and FLIR T540 Technical Specifications/Comparison Chart
There are two models in the T500 series: the T530 and the T540. The following table outlines the spec of each.
T530
T540
Infrared (IR) Resolution
320 x 240 pixels (76,800 total)
464 x 248 pixels (161,472 total)
UltraMax Resolution
307,200 effective pixels
645,888 effective pixels
Object Temperature Range
-20 to 120°C (-4 to 248°F)
0 to 650°C (32 to 1202°F)
Optional Calibration: 300 to 1200°C (572 to 2192°F)
-20 to 120°C (-4 to 248°F)
0 to 650°C (32 to 1202°F)
300 to 1500°C (572 to 2732°F)
Digital Zoom
1-4x continuous
1-6x continuous
Common Features
Detector Type and Pitch
Uncooled microbolometer, 17μm
Thermal Sensitivity/NETD
<30mK @30°C (42° lens)
Spectral Range
7.5 to 14.0μm
Image Frequency
30Hz
Lens Identification
Automatic
F-Number
42° Lens: f/1.2
24° Lens: f/1.3
14° Lens: f/1.5
Focus
Continuous with laser distance meter (LDM), one-shot LDM, one-shot contrast, manual
Minimum Focus Distance
42° Lens: 0.15m
24° Lens - 0.15m optional macro mode
14° lens - 1.0m
Macro Mode
24° lens option: 103μm effective spot size
24° lens option: 71μm effective spot size
Programmable Buttons
2
Image Presentation and Modes
Display
4 inch, 640 x 480 pixel touchscreen LCD with auto rotation
Digital Camera
5MP, with built-in LED photo and video lamp
Colour Palettes
Iron, Grey, Rainbow, Arctic, Lava and Rainbow High Contrast
Image Modes
Infrared, Visual, MSX, Picture-in-Picture
Picture-in-Picture
Resizable and moveable
UltraMax
Quadruples pixel count; activated in menu and processed in FLIR Tools
Measurement and Analysis
Accuracy
±2°C (±3.6°F) or ±2% of reading
Spotmeter and Area
3 ea. in live mode
Measurement Presets
No measurement, centre spot, hot spot, cold spot, User Preset 1, User Preset 2
Laser Pointer
Yes
Laser Distance Meter
Yes, dedicated button
Annotations
Voice
60 seconds. Recording added to still images or video via built-in mic (has speaker) or via Bluetooth
Text
Predefined list or touchscreen keyboard
Image Sketch
From touchscreen, on infrared image only
Distance, Area Measurement
Yes, calculates area inside measurement box in m² or ft²
GPS
Automatic imaging tagging
METERLiNK
Yes
Image Storage
Storage Media
Removable SD card
Image File Format
Standard JPEG with measurement data included
Time Lapse (Infrared)
10 seconds to 24 hours
Video Recording and Streaming
Radiometric IR Video Recording
Real-time radiometric recording (.csq)
Non-Radiometric IR or Visual Video
H.264 to memory card
Radiometric IR Video Streaming
Yes, over UVC and WiFi
Non-Radiometric IR Video Streaming
H.264 or MPEG-4 over WiFI
MJPEG over UVC or Wifi
Communication Interfaces
USB 2.0, Bluetooth, WiFi
Video Out
Display Port over USB Type-C
Additional Specifications
Battery Type
Lithium-ion rechargeable, charged in camera or on separate charger
Battery Operating Time
Approx 4 hours at 25°C ambient temperature and typical use
Operating Temperature Range
-15 to 50°C (5 to 122°F)
Storage Temperature Range
-40 to 70°C (-40 to 158°F)
Shock/Vibration/Encapsulation
25g
IEC60068-2-27
2g
IEC 60068-2-6
IP54
Safety
EN/UL/CSA/PSE 60950-1
Weight (no lens)
1.3kg (2.9lbs)
Dimensions (no lens)
140 x 201 x 84mm (5.5 x 7.9 x 3.3 inches)
Files & Downloads: