As low as
£1,479.60
£1,233.00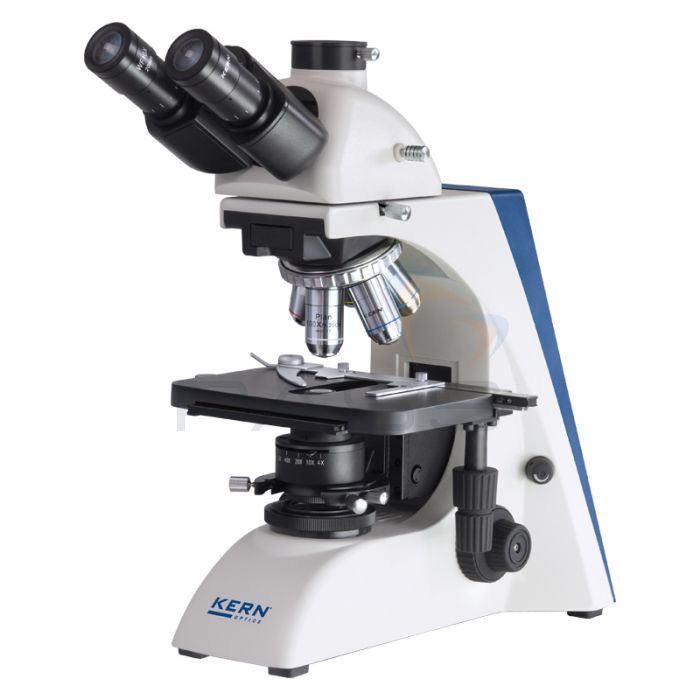 Note: there are two versions of this product available. Select an option using the dropdown box above.
Made for professional laboratories, Kern's trinocular OBN series microscopes are flexible and expandable, allowing the user to add features as and when needed.
Kern trinocular microscopes include a binocular eyepiece plus the ability to add a camera to the oscilloscope (sold separately). All modes in this series produce high quality images and come with 4 infinity plan acrhomatic objectives (4x, 10x, 20x and 40x).
Both models in the series include adjustable Koehler illumination, adjustable field diaphragm and a centerable and height-adjustable Abbe condenser. The included nosepiece can hold a total of 5 objectives at the same time with easy adjusting and a large-size specimen stage is included.
The Kern OBN-13 series is made with flexibility in mind - several optional accessories such as additional objectives, complete polarisation kit, swing-out condenser, diverse phase contrast sets, darkfield units and more can all be purchased and used with the microscope (not included as standard - please call for more information).
Kern OBN-13 Flexible Professional Compound Microscope Key Features
360° rotatable microscope head
Trinocular viewer - binocular eyepieces with additional space for a digital camera
Abbe condenser with high numerical aperture for concentrating and focusing light
Halogen and LED illumination (varies depending on model purchased)
230V standard mains power
Flexible design - options include binocular eyepieces, fluorescence illumination, phase contrast unit and polarising unit (sold separately)
3 year Kern warranty included as standard
Supplied with infinity plan achromatic lenses (4x, 10x, 20x and 40x)
Quintuple nosepiece can hold up to five objectives simultaneously
Integrated carrying handle for easy transportation
Coarse and fine adjustment knobs
Microscope Difference Table
√ = standard configuration
Optional = can be configured with this option - please call for any enquires about different configurations.
Model Design
Kern Part Number
OBN 132
OBN 135
Eyepieces
WF 10x / 18mm diameter
Optional

Optional
WF 10x / 20mm diameter
√
√
WF 16x / 13mm diameter
Optional
Optional
WF 10x / 18mm diameter (reticule 0.1mm) (adjustable)
Optional
Optional
WF 10x / 20mm diameter (reticule 0.1mm) (adjustable)
Optional
Optional
Infinity Plan Achromatic Objectives
4x / 0.10
√
√
10x / 0.25
√
√
20x / 0.40
√
√
40x / 0.66 (spring)
√
√
100x / 1.25 (oil) (spring)
√
√
2.5x / 0.07
Optional
Optional
60x / 0.80 (spring)
Optional
Optional
Binocular Tube
Siedentopf, 30° inclined, 360° rotatable
Interpupillary distance: 50-75mm
With diopter adjustment (both-sided)

Optional
Optional
Trinocular Tube
Siedentopf, 30° inclined, 360° rotatable
Interpupillary distance: 50-75mm
Light distribution: 100:0
With diopter adjustment (both-sided)

√
√
Nosepiece
Quintuple
√
√
Mechanical Stage
Stage size (W x D): 190 x 140mm
Travel: 78 x 55mm
Coaxial coarse and fine focusing knobs
Two slide holder
√
√
Condenser
Abbe N.A. 1.25 center-adjustable (aperture diaphragm)
√
√
Swing-out condenser N.A. 0.9 / 0.13 center-adjustable (aperture diaphragm)
Optional
Optional
Koehler Illumination
6V / 20W halogen (transmitting)
Optional
Optional
3W LED (transmitting)
Optional
Optional
Polarising Unit
Analyser/polariser
Optional
Optional
Phase Contrast Unit
Independent slot with ∞ PH-Plan objective 10x
Optional
Optional
Independent slot with ∞ PH-Plan objective 20x

Optional
Optional
Independent slot with ∞ PH-Plan objective 40x

Optional
Optional
Independent slot with ∞ PH-Plan objective100x
Optional
Optional
Darkfield Unit
N.A. 0.9 (dry)
Usable for 4x - 40x objectives
Optional
Optional
C-Mount
1x
Optional
Optional
0.57x (focus adjustable)
Optional
Optional
Fluorescence Unit
100W HBO Epi Fluorescence unit 6-filter disc (UV / V / B / G) including centering objective
Optional
Optional
100W HBO Epi Fluorescence unit, two-hole slider (B / G) including centering objective
Optional
Optional
3W LED Epi Fluorescence unit (B / G) including centering objective
Optional
Optional
Field Diaphragm
-
√
√
Filter
Blue
√
-
Green
Optional
-
Yellow
Optional
-