As low as
£658.80
£549.00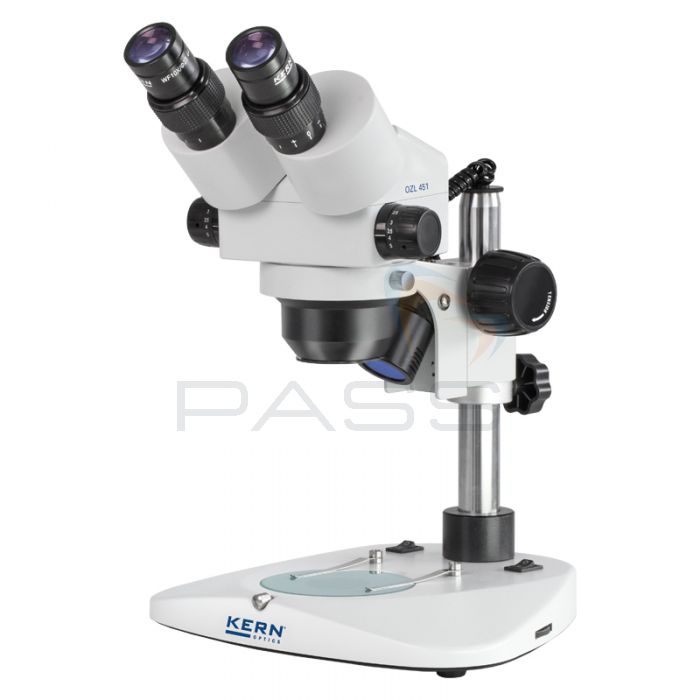 Kern's powerful smart microscope series, the OZL-45, is ideal for use in laboratories, training establishments, quality control environments and for use in agricultural applications.
Both models are stereo zoom microscopes with intergated objective zoom from 0.75x to 5.0x for great quality sample imagery. The microscopes both have binocular-style eyepieces attached to a robust pillar stand and a large-size staging plate for housing samples.
Exclusive to the OZL-451 are two illumination lights. These lights can be used for transmitting and incident illumination and both of the lights are 12V, 10W halogen.
These microscopes also have a Greenough optical system, adjustable brightness, 45° inclined viewing tube and diopter adjustment on both sides.
Includes 3 year Kern warranty as standard.
Kern OZL-45 Stereo Zoom Microscope Key Features
Stereo zoom microscopes for professional labs, quality control and other applications
Binocular eyepieces
High super wide field eyepieces for comfortable use, even when wearing glasses
0.75 to 5.00x objective zoom
Pillar-style stand
12V/10W halogen incident/transmitting illumination lights

Powered by standard 230V mains connection
Kern's 3-year warranty included
Model Specifications
Model Number
Tube
Eyepiece
Field of View
Objective Zoom
Stand
Illumination
OZL 451
Binocular
High-super wide field 10x with diameter of 23mm
33 to 5mm diameter
0.75 to 5.00x
Pillar
12/10W Halogen (incident)
12/10W Halogen (transmitting)