This article was updated on 04/02/2021 to include additional images and a link to Professional Electrician & Installer's 'Safe isolation saves lives | Di-Log'. It was also updated on 12/09/21 to include new DiLog offers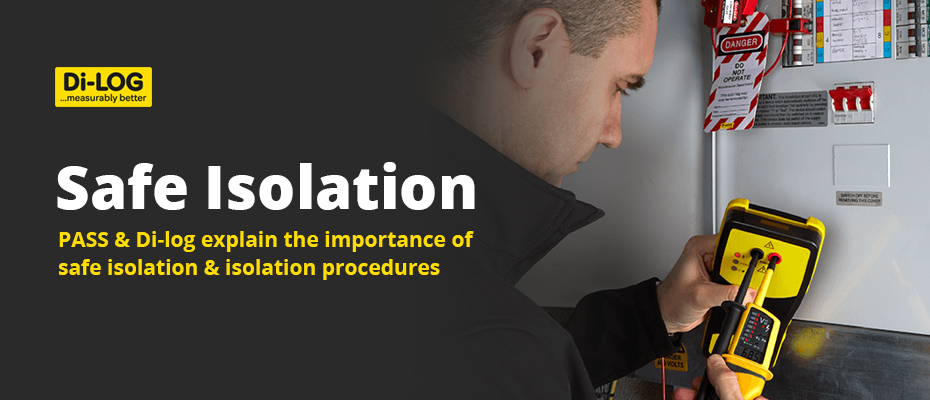 When working with live low-voltage installations or equipment, following safe isolation procedures is vital to protecting you and your team. PASS Ltd and DiLog are dedicated to ensuring the safety of electricians and tradesmen; together we offer a range of lockout, voltage indication and proving equipment, such as DiLog's CombiVolt 1 and CombiVolt 2 Voltage Testers, PU690V Proving Unit, and DLL0C3 and DLL0C4 Lockout Kits, designed to help you meet safe isolation regulations. DiLog's CombiVolt Safe Isolation Kits were featured in a recent article by Professional Electrician & Installer.
Quick Links
Why Follow Safe Isolation Procedures?
Simply, to prevent injury or fatality and to maintain compliance with the Electricity at Work Regulations 1989, aka the law.
Regulation 13 of the Electricity at Work Regulations states that 'adequate precautions shall be taken to prevent electrical equipment, which has been made dead in order to prevent danger while work is carried out on or near that equipment, from becoming electrically charged during that work if danger may thereby arise.'[1] This means that when working on electrical systems that have been switched off, measures must be in place to prevent the conductors or equipment from becoming accidentally re-energised. This, in essence, is safe isolation.
Safe Isolation Procedures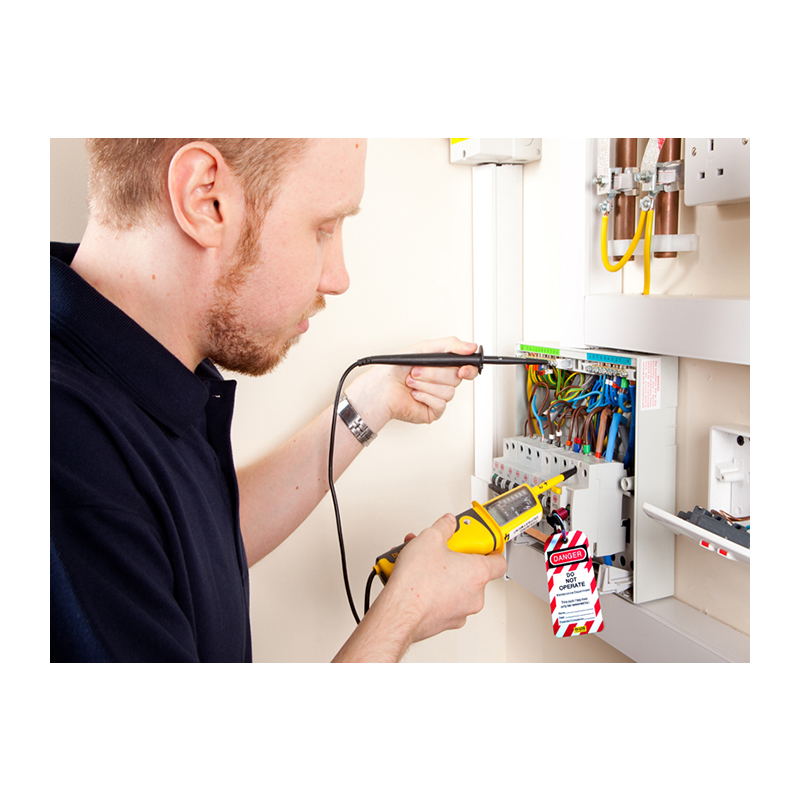 Safe isolation is being enforced across the industry. Organisations including the NICEIC and Elecsa, and publications such as the 18th Edition Wiring Regulations, are emphasising the importance of these procedures when it comes to protecting yourself and those around you.[2]
Electricians and tradesmen must ensure the electricity supply is cut off, the method of disconnection is secured in the 'off' position, and colleagues are made aware of ongoing work/ isolation. As David Sweetman, Marketing and Business Development Director at DiLog, points out 'the practice of placing insulating tape over a circuit breaker is not an adequate nor acceptable means of securing the device in the 'off' position'.[3] Therefore, once permission to begin work has been obtained (this may be in the form of a permit)[4], electricians and tradesmen must abide by the following safe isolation rules: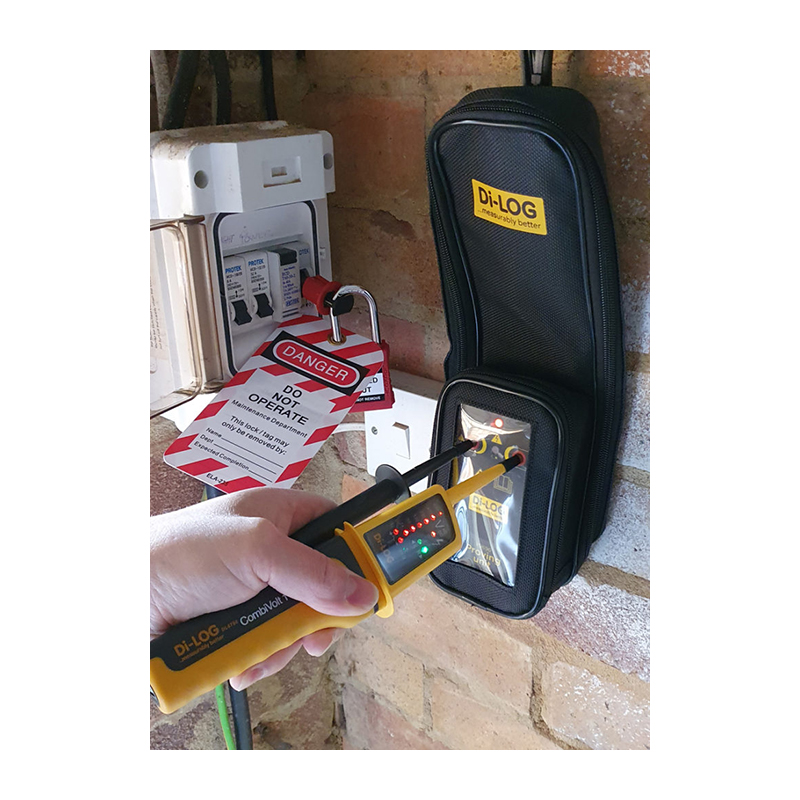 Identify the correct isolation point: if you are isolating the main energy supply it is also essential that secondary sources, such as standby generators, uninterruptable power supplies and micro-generators, are identified and isolated.
Verify the functionality of your voltage indicator using a proving unit: DiLog's CombiVolt 1 and CombiVolt 2 Voltage Testers can be verified using DiLog's PU690V Proving Unit.
Switch off the installation or equipment to be isolated.
Use your voltage indicator to prove the system or instrument is dead: check that voltage is no longer present.
Re-verify the functionality of your voltage indicator using the proving unit.
Secure the method of isolation using a lockout device: for instance, a padlock with a unique key that is retained by the individual carrying out the work; multi-lock hasps can be used when several people are working on an installation as this will ensure the isolation point is inaccessible until all individuals have removed their padlocks from the hasp.
Attach lockout labels and set up warning notices to alert people to on-going isolation.[5]
Proving Dead Isolated Circuits and Equipment
As detailed in the rules above, the system or equipment to be worked on must be confirmed as dead: electricians have to prove that voltage is not present and should check all line, neutral and protective conductors. The HSE Guidance Note 38 recommends using a test lamp or two-pole voltage tester to verify voltage absence.[6]
It is also a requirement that electricians check the functionality of voltage indicators before and after testing circuits and equipment. This is done using a known live source or proving unit. DiLog offers two safe isolation kits specifically designed to enable the proving of circuits and equipment:
Each of these kits includes a three-in-one, two-pole voltage, continuity and phase indicator. Both the DiLog CombiVolt 1 and CombiVolt 2 can identify and indicate AC/DC voltages between 12 and 690V. Moreover, the inclusion of a DiLog PU690 690V AC Proving Unit, which provides a 690V AC output, means the user can quickly and easily verify the functionality of his/her DiLog CombiVolt 1 or 2 before and after testing.
For a limited time only, PASS Ltd is offering a free DLL0C3 18th Edition Professional Lockout Kit (worth £59.80 ex VAT) or DLL0C4 18th Edition Expert Lockout Kit (worth £74.99 ex VAT) with DiLog's DLPK6780 and DLPK6790 Safe Isolation Kits. Click here to get a free lockout kit with your safe isolation set.
Further Information
For further information regarding our range of DiLog safe isolation instruments and kits, please contact our sales team on 01642 931 329 or via our online form. Alternatively, please browse our Safe Isolation Kit and Lockout Tagout Kit categories.
As mentioned above, DiLog's Safe Isolation Kits were featured in a recent Professional Electrician & Installer article. To read the full article, please follow this link.
---
[1] DiLog, Playing It Safe, last accessed 06 November 2020 <https://www.dilog.co.uk/wp-content/uploads/2019/08/ECN-PE-Safe-Isolation-Aug-2019-Edit-2.jpg>
[2] DiLog, Playing It Safe
[3] DiLog, Playing It Safe
[4] The Electrotechnical JIB, Safe Isolation Procedure, last accessed 06 November 2020 <https://www.jib.org.uk/safe-isolation-procedure>
[5] Fluke, Safe isolation procedures for low voltage installations, last accessed 06 November 2020 <https://www.fluke.com/en-gb/learn/blog/safety/safe-isolation-procedures>
[6] DiLog, Playing It Safe