Carlton House, a care home in New Milton, Hampshire, purchased a Hikvision DS-2TD1217B-6/PA Temperature-Screening Turret Thermal Camera from PASS Ltd in an effort to prevent the spread of COVID-19 amongst its thirty-one residents and thirty to forty staff members.

Ian Herridge, the proprietor of Carlton House, made local news for this innovative approach to tackling the pandemic.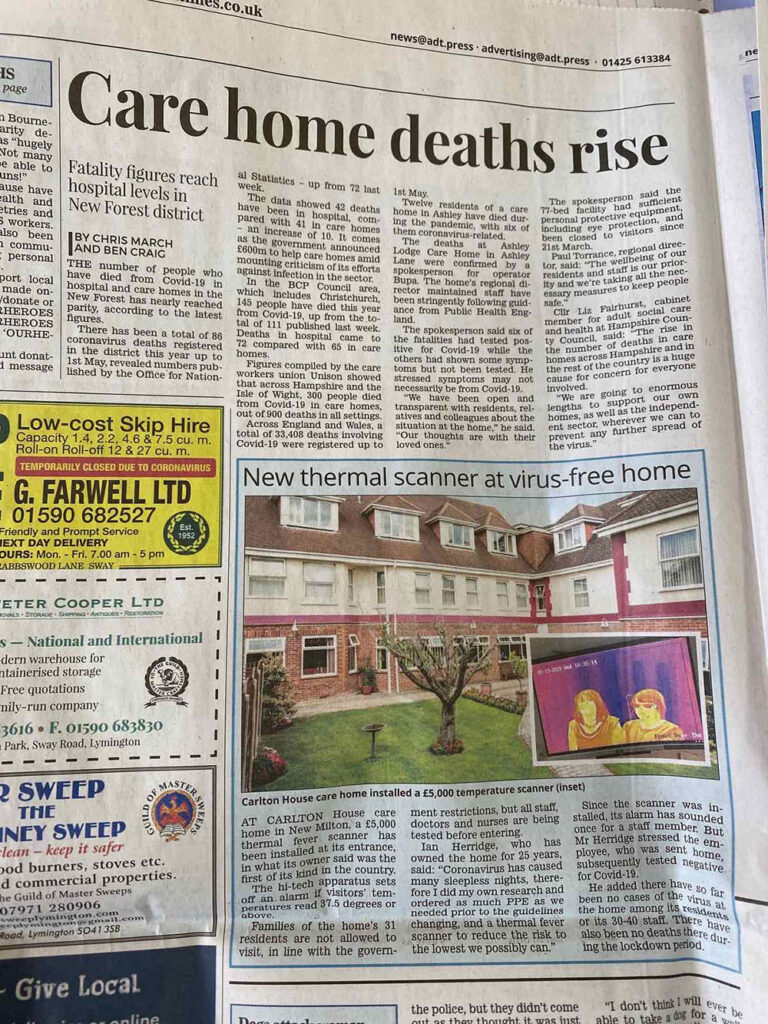 The £5000 Hikvision DS-2TD1217B-6/PA Temperature-Screening Turret Thermal Camera is part of PASS Ltd's range of Hikvision Body-Temperature Screening Thermal Cameras. It can measure skin-surface temperatures accurately to ±0.5°C and will issue an alarm when out-of-range body temperature is detected, e.g. 37.5°C or greater. When a member of staff at Carlton House triggered the Hikvision Thermal Camera's temperature alarm, the person was sent home and subsequently tested for COVID-19. Thankfully the test came back negative.[1]
Carlton House has not seen any coronavirus cases to date (16th May 2020) nor has it suffered any deaths during the lockdown period.[2] Unfortunately, this cannot be said of care homes everywhere. As of the 1st May 2020, New Forest, which encompasses New Milton, has reported forty-one coronavirus deaths in care homes.[3] Across England and Wales this number is 8312 (12 526 when the deaths of residents occurring outside of their care homes, such as in hospitals, are included) and in Scotland, it is 1438.[4]
Identifying persons with elevated body temperature can help to halt further spread of infection and protect residents and staff. Illnesses spread easily amongst care homes as residents are often in close contact with each other and their carers.[5] Temperature-screening thermal cameras can be employed to identify those with possible symptoms, who would be required to self-isolate and undergo further medical testing. Body-temperature screening thermal cameras provide an easy and effective method of stopping or limiting the spread of coronavirus and other illnesses in care homes. They can also be utilised in public places such as hospitals, offices, schools, stations, airports, hotels and restaurants.
For further information regarding our range of body-temperature screening thermal cameras please follow this link. Please see our COVID-19 section for hand sanitisers, masks and IR thermometers.
Contact PASS Ltd on 01642 931 329 or via our online form.
To read the full Advertiser & Times article, please follow this link.
---
[1] Chris March, 'Care home installs thermal scanner at entrance to spot coronavirus', Advertiser & Times, last accessed 18 May 2020 <https://www.advertiserandtimes.co.uk/thermal-scanner-coronavirus>
[2] March, 'Care home installs thermal scanner at entrance to spot coronavirus'
[3] Ben Craig, 'New coronavirus figures for Forest see care home deaths near hospital levels', Advertiser & Times, last accessed 18 May 2020 <https://www.advertiserandtimes.co.uk/deaths-coronavirus-care-homes>
[4] Ben Butcher & Alison Holt, 'Coronavirus deaths: How big is the epidemic in care homes?', BBC News, last accessed 18 May 2020 <https://www.bbc.co.uk/news/health-52284281>
[5] Butcher & Holt, 'Coronavirus deaths: How big is the epidemic in care homes?'