With simple, one-button operation, one button image capturing and excellent thermal imaging quality, the FLIR K33 is a must-have for all professional firefighters.
Serious Fire Protection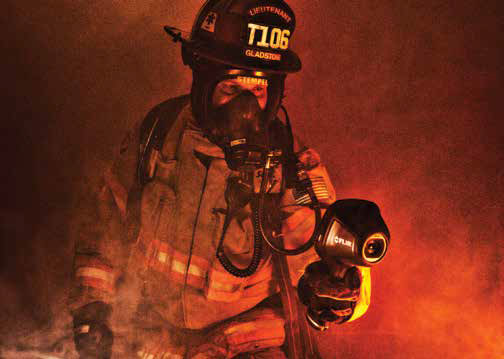 With the FLIR K33, firefighters can take their abilities to the next level. By using the power of thermal cameras, you'll be able to:
See through the dark and smoke
Spot the body heat of trapped individuals
Identify structural weakpoints and plan a course of action
Instantly capture thermal images with the press of a button
FLIR's K33 has the added benefit of an extremely high 60Hz frame rate, giving you smooth, clear images even when you're moving. Most thermal cameras offer frame rates of 9-15Hz - the bump up to 60Hz is an essential for firefighters who must react quickly to a wide variety of difficult challenges.
A clear, high quality 240 x 180 pixel thermal detector is also built into the K33, ensuring you get high quality thermal images either in real time or when capturing by squeezing the trigger.
See The Cameras In Action!
Intense Detail with FLIR Flexible Scene Enhancement (FSX)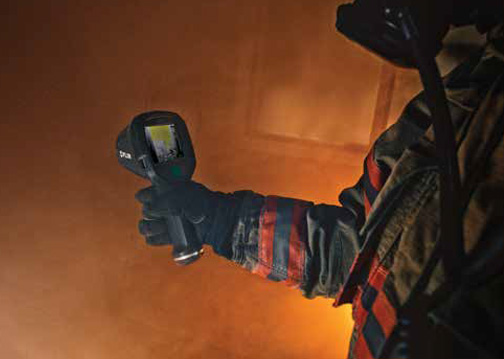 While traditionally thermal cameras display images as a series of blurs where you can only identify colours, FLIR's K33 doesn't.
Thanks to FLIR's unique FSX technology, the K33 will actively blend together digital and thermal images, enhancing detail significantly. Where before you only got a series of blurs, instead you'll be able to more accurately track your movement, identify clear structural problems and work safer, smarter and capture better quality images.
With the bright 4" LCD screen, the exceptional 60Hz frame rate and FLIR FSX all included as standard, FLIR's K33 includes all of the tools a firefighter needs.
FLIR K33 Firefighting Thermal Camera Key Features
See through the dark and through smoke, easily identify structural weakness, detect fire patterns and body heat and much more
Excellent thermal resolution of 240 x 180 pixels ensures you get high quality images
Unique FLIR Flexible Scene Enhancement (FSX) helps you to identify structural points and actually see what you need when using the camera
Exceptional 60Hz frame rate delivers smooth, crisp viewing even when moving
Startup from sleep mode of less than 4 seconds - ready whenever you need it
4", backlit 320 x 240 pixel LCD screen
Single button operation - ideal for use when working with gloved hands
Capture images instantly using the built-in trigger
Automatic heat detection (hottest 20% of the scene is colourised)
Up to 4 hours operating time - fully rechargeable batteries
2-bay charging system with optional truck charger available (sold separately)
Made tough - withstands drops of up to 2m onto a concrete floor
What's Included?
FLIR K33 Firefighting Thermal Camera
2 x Rechargeable Batteries
Battery Charger
Hard Transport Case
Power Supply
Printed Documentation
USB Cable
Lanyard Strap
Neck Strap
Retractable Lanyard
Accessories related to this product:
Part Code72203-0411
Files & Downloads:
FLIR K33 Technical Specifications
Infrared Resolution
240 x 180 pixels
Thermal Sensitivity/NETD
<40mK @ 30°C (86°F)
Contrast Optimisation
Digital image enhancement using FSX
Field of View (FOV)
51 x 38°
Focus
Fixed
Image Frequency
60Hz
Detector Type
Focal Plane Array (FPA), Uncooled Microbolometer
Spectral Range
7.5 to 13μm
Startup TIme
<17 seconds (IR image, no GUI)
Startup Time from Sleep Mode
<4 seconds
Image Presentation
Display
4" LCD, 320 x 240 pixels, backlit
Image Modes
Ti Basic
Auto-Range
Yes, mode-dependant
Measurement
Object Temperature Range
-20 to 150°C (-4 to 302°F), 0 to 650°C (32 to 1202°F)
Accuracy
±4°C or ±4% of reading for ambient temperature, 10 to 35°C (50 to 95°F)
Measurement Analysis
Spotmeter
One spotmeter
Isotherm
Yes, according to NFPA and mode-dependant
Automatic Heat Detection
Heat detection mode (hottest 20% of the scene is colourised)
Setup
Colour Palettes
Multiple palettes, mode-dependant
Regional Adjustments
Units, date and time formats
Data Communication Interfaces
Interface
USB-mini
USB
USB Mini-B: data transfer to and from PC
Power System
Battery
Li-ion, 4 hours operating time
Charging System
2-bay charger, truck charger available
Charging Time
2 hours to 85% (3 hours and 25 minutes) capacity, charging status indicated by LEDs
Charging Temperature
0 to 45°C (32 to 113°F)
Environmental Specs
Operating Temperature Range
-20 to 85°C (-4 to 185°F), 150°C (302°F): 15 min., 260°C (500°F): 5 min
Storage Temperature Range
-40 to 85°C (-40 to 185°F)
Humidity (Operating and Storage)
IEC 60068-2-30/24 h 95% relative humidity, 25 to 40°C (77 to 104°F) / 2 cycles
Directives
Designed to meet NFPA 1801: 2013 specification
Vibration
Impact acceleration resistance
Corrosion
Viewing surface abrasion
Heat resistance
Heat and flame
Product label durability
EMC
EN 61000-6-2: 2005 (immunity)
EN 61000-6-3: 2011 (emission)
FCC 47 CFR Part 15B (emission)
Magnetic Fields
EN 6100-4-8, Test level 5 for continuous field (severe industrial environment)
Encapsulation
IP67 (IEC 60529)
Shock
25g (IEC 60068-2-27)
Vibration

2g (IEC 60068-2-6)

Drop
2.0m (6.6ft) on concrete floor (IEC 60068-2-31)
Safety (Power Supply)
CE/EN/UL/CSA/PSE 60950-1
Physical Specs
Camera Weight (Incl. Battery)
<1.1kg (2.4lbs)
Camera Size (L x W x H)
120 x 125 x 280mm (4.7 x 4.9 x 11 inches)
Tripod Mount
UNC 1/4" -20