A professional thermal camera for use by firefighters, FLIR's K45 will allow you to react faster, spot the hottest part of a scene in seconds, detect the body heat of trapped people and can even be used as a navigation aid through thick, cloying smoke.
FLIR's K45 produces crisp and clear thermal images with resolution of 240 x 180 pixels. These are shown in real time on a large size, high brightness 4 inch LCD display and imagery can be controlled using the three large size buttons for zoom, mode select and power (can be easily pressed even when wearing thick gloves). With a click of the trigger, you can also store a thermal image on the camera's memory, then download it later at PC to produce reports on what happened at the scene.
This thermal camera also includes FLIR's unique FSX (Flexible Scene Enhancement) mode. This uniquely-designed technology vastly enhances the level of detail in captured thermal imagery, making every image ultra-sharp with added levels of detail. In real firefighting applications, FLIR FSX helps firefighters to see more clearly through an environment, helps to identify potential hazards and makes it easier to assess structural damage.
This image shows the difference that FLIR FSX makes.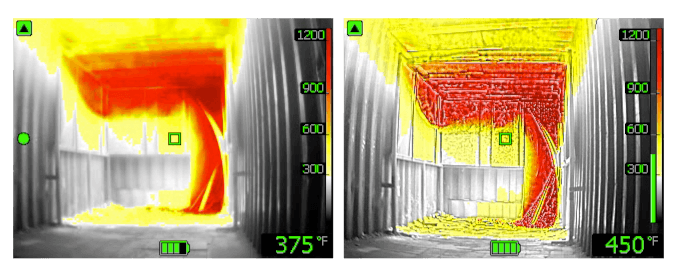 Thanks to FLIR's innovations, the FLIR K45's price point makes it affordable enough for firefighters to have at least one of these units in any truck. You can even charge it up on-route thanks to an optional in-truck charging station (sold separately).
FLIR K45 Thermal Camera Key Features
Ideal for fire attack, search and rescue, situational awareness and hot spot identification by professional firefighters
Affordable price point - FLIR's latest innovations make thermal imaging an option for more firefighters than ever before
Rugged and reliable design - withstands drops from heights of 2m onto concrete, IP67 water resistant and fully operational to +260°C
Clear and crisp thermal images - resolution of 240 x 180 pixels
Large-size, 4 inch, 320 x 240 pixel LCD screen
Snap thermal images with a simple click of the trigger and view them back later to create reports
Easy to use, even when you're wearing your gloves - large-size, simple user interface with three buttons for access to power, zoom and mode select
FLIR FSX included - automatically enhances the scene significantly, helping to determine the placement of specific objects
Multiple viewing modes - standard thermal, black/white, fire mode for use with higher background temperatures, search and rescue mode for lower temperatures and a special heat detection mode which automatically highlights the hottest 20% of an image
Charge the camera on the way to the scene with the in-truck charger (sold as an optional accessory)
Covered by FLIR's extended warranty - 2 years of coverage on batteries, five years on the camera and ten years on the detector
What's Included?
FLIR K45 Thermal Camera
Hard Transport Case
FLIR Tools Software (Download Scratchcard)
Power Supply + Multi-Plug Connectors
2 x Batteries
Battery Charger
USB Cable
Retractable Lanyard
Strap Lanyard
Neck Strap
Tripod Adapter
Documentation
Optional Accessories
FLIR also offer the following additional accessories for this camera, which are sold separately.
Extra Battery
Hard Case
Strap Lanyard
USB Cable
In-Truck Charger
Battery Charger
Retractable Lanyard
Neck Strap
Tripod Adapter
Accessories related to this product:
Part Code72201-0106
Files & Downloads:
FLIR K Series Technical Specifications
This table outlines the technical specifications for both K-series thermal cameras, the K45 and K55.
Model Number
K45
K55
Imaging and Optical Data
IR Resolution
240 x 180 pixels
320 x 240 pixels
Thermal Sensitivity
<40mK
<30mK
Contrast Optimisation
Digital image enhancement using FSX
In-Camera Video Recording
No
Non radiometric MPEG-4 to internal Flash Memory. Up to 600 minutes in separate clips of 5 minutes each
Field of View (FOV) / Focus
51° × 38° / fixed focus
Image Frequency
60Hz
Zoom
2x digital
Focal Plane Array (FPA) / Spectral Range
Uncooled microbolometer / 7.5 to 13μm
Startup Time
<17 seconds (IR-image, no GUI)
Startup Time from Sleep Mode
<4 seconds
Image Storage
Up to 200 JPEG images on internal Flash Memory
Image Presentation
Display
4 inch LCD, 320 x 240 pixels, backlit
Image Mode
IR image
Auto-range
Yes, mode-dependant
Measurement
Object Temperature Range
-20 to +150°C (-4 to +302°
0 to +650°C (32 to +1202°F)
Accuracy
±4°C or ±4% of reading for ambient temperature from 10 to 35°C (50 to 95°F)
Measurement Analysis
Spotmeter
1
Isotherm
Yes, according to NFPA and mode dependant
Automatic Heat Detection
Heat detection mode (the hottest 20% of the scene is coloured red)
Setup
Colour Palettes
Multiple palettes, mode-dependant
Regional Adjustments
Units, date and time formats
Data Communication Interfaces
Interfaces
USB-mini
USB
USB mini-B: data transfer to and from PC/ uncompressed colorised video
Power System
Battery
Li-Ion, 4 hours operating time
Charging System
2-bay charger, truck charger available
Charging Time
2 hours to 85% (3 hours and 25 minutes) capacity, charging status indicated by LEDs
Charging Temperature
0 to 45°C (32 to 113°F)
Power Management
Automatic shutdown and sleep mode
Environmental Data
Designed to meet NFPA 1801 Specifications
Vibration, impact acceleration resistance, corrosion, viewing surface abrasion, heat resistance,
heat and flame, product label durability.
Operating Temperature Range
20°C to +85°C (–4°F to +185°F) / +150°C (+302°F): 15 min / +260°C (+500°F): 5 min
Storage Temperature Range
–40 °C to +85 °C / -40 °F to +185 °F
Encapsulation
IP67 (IEC 60529)
Bump
25 g (IEC 60068-2-29)
Drop
2.0 m / 6.6 ft., on concrete floor (IEC 60068-2-31)
Physical Data
Camera Weight, Including Battery
1.1kg / 2.4lbs
Camera Size (L x W x H)
< 120 x 125 x 280mm / <4.7 x 4.9 x 11 inches
Tripod Mounting
UNC 1/4 inch - 20