2 Bundle Deals Available...
If you're looking to get started doing your own PAT testing, or are looking for a simple-to-use, entry-level unit that does all the basic tests you need, look no further than the UNI-T UT527 PAT Tester.
One of our best-selling PAT testers, the UT527 is perfectly suited for use by users in any application, particularly in smaller businesses, offices, charity shops, care homes, the leisure industry and absolutely anywhere else where you only have a small amount of appliances to test.
If you're interested in the UT527, why not consider purchasing one of our PAT Bundle packs which include all of the essentials you'll need such as labels, a PAT testing training DVD, comprehensive PAT handbook and much more? See below for more information on our available UNI-T UT527 PAT Testing bundle packs.
PAT Testing Made Simple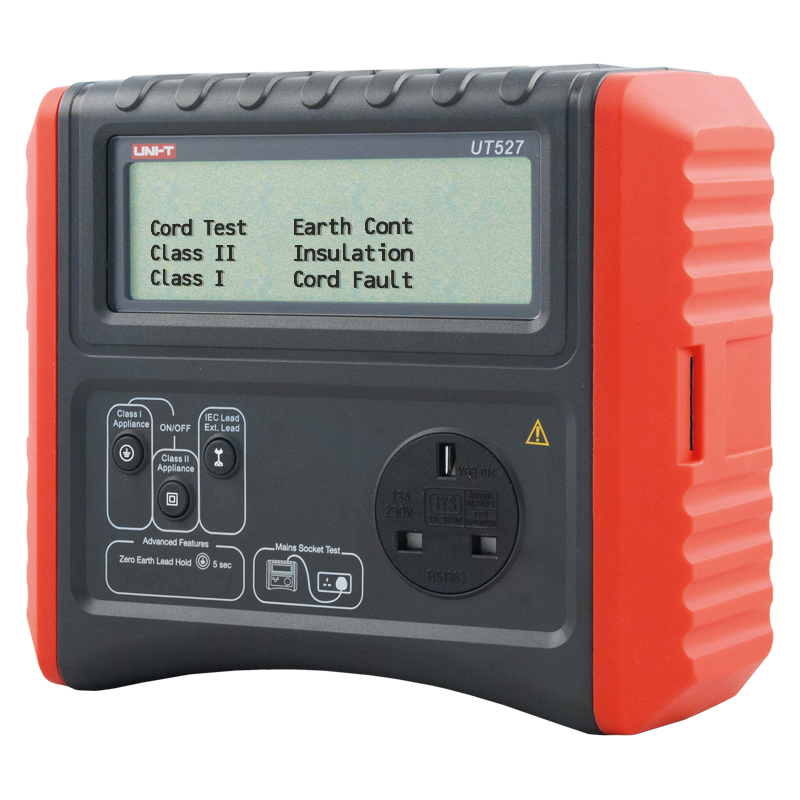 Even if you're brand new to the field of PAT testing, using the UNI-T UT527 is incredibly simple. All you need to do in the vast majority of cases is plug in your appliance to the tester, press the test button and make a note of the results in a PAT logbook or similar record keeping system.
Here's how the UT527 makes PAT testing as easy as possible:
Simple PASS/FAIL Indication - the UT527 simply tells you if an appliance has passed or failed the testing procedure; there's no complicated numbers and readings shown. The upgraded version of the UT527, the UT528, does show full readings.
Three-Button Test Activation - once you're connected to your appliance, all you need to do is press the right button to test. There are three buttons on the front of the UT527: the first is for class I appliances, the second is for class II appliances and the third is for use with IEC and extension leads
Built-in IEC Port and Mains Plug Port - in most cases, there's no need to use an IEC adapter with the UT527 to test IEC leads (such as laptop power supplies etc) as they'll plug directly into the top of the instrument. You can also plug standard 3-pin plug appliances into the slot on the front of the tester
Large-Size Screen - easily view the results of your tests, even from a distance
What Appliances Can the UT527 Test?
The UNI-T UT527 is ready to test almost any appliance. Whether you're testing kettles in an office or 110V equipment on a construction site*, this PAT tester is suitable for the job.
It can test:
Class I Electrical Appliances - includes such things as kettles, toasters, microwaves, fridges etc
Class II Electrical Appliances - includes things such as drills, televisions, lamps and other power tools
IT Equipment - the UT527 performs a safe, low current earth bond test so it won't damage IT equipment
IEC Leads and Extension Leads* - always make sure you test detachable power supplies too during PAT testing
110V and 415V Equipment - easily test 110V-powered appliances or three-phase 415V equipment with appropriate adapters (adaptors sold separately)
*Results subject to length/quality of leads tested.
UNI-T UT527 PAT Tester Key Features
Extremely easy to use PAT tester, highly recommended for use by those new to the industry
PASS/FAIL indication only - the UT527 will let you know if an appliance has passed the tests, but won't show full testing results
Does all the basic tests you need, including earth continuity and insulation resistance
Suitable for testing both class I and class II appliances, plus associated power leads
IT Safe earth continuity test - won't damage your IT equipment
Mains socket testing function included
Portable design with simple, three-button interface, large LCD screen and mains socket port
Can be used to test 110V equipment (requires optional 110V adapters, sold separately)
One touch testing - connect your leads and touch the testing button you need
Clearly labelled test buttons - one for class I, one for class II and one for IEC and extension leads
What's Included?
UNI-T UT527 PAT Tester
Earth Bond Test Lead
Alligator Clip
IEC Lead
Mains Socket Test Adapter
Instruction Manual
Hard Carrying Case
UT527 PAT Testing Kits
Get everything you'll need for PAT testing in one bundle pack with our exclusive kits!
Available for a vastly reduced price compared to buying everything separately, these kits are an essential for making sure you have all the labels, adapters and other accessories you'll need on a daily basis.
Don't need everything that's in one of the kits? No problem - call our sales team and they'll be happy to put you together your perfect PAT testing bundle pack.
Item Description
UNI-T UT527 PAT Tester Essentials Kit (Bundle 1)
UNI-T UT527 PAT Tester Professional Kit (Bundle 2)

Deluxe Carrying Case

Keep all of your equipment safe and in one place with this large-size carrying case!

(appearance of case may vary depending on current stock)

√
√

Socket Tester

Need to check if your sockets are working right? Just plug this in to a standard UK plug socket and if there's a problem, the socket tester will let you know about it!

(socket tester may vary depending on current stock)

√
√

PAT Testing Training DVD +
Online Exam & Certificate for 1 Person

Not yet trained as a PAT tester? With our training DVD, you can train yourself from the comfort of your own home or workplace! The DVD includes access to our online examination for one person (you can also purchase additional exams for other team members, if needed).

√

√

The PASS Handbook of Portable Appliance Testing

Everything you need to know about PAT testing is outlined in this comprehensive book. Inside, you'll find useful information, colour-coded sections, photographic examples and much more to help you PAT test on a daily basis.

√
√

PASS PAT Testing Logbook

Keep a record of all of your testing with our logbook. The book includes carbon-copied records, allowing you to keep one for yourself and give the other to customers or keep for a reference.

√
√

Microwave Leakage Detector

When PAT testing, it's common practice to check microwaves are also not emitting high levels of radiation. With our microwave leakage detector you'll be able to do this testing with ease.

√
√

PASSPTA21 - IEC (C13 Female)
to Cloverleaf (C6 Male) PAT Adaptor

You'll need this adaptor to connect your PAT tester to laptop/PC power leads and other similar equipment which has a cloverleaf-shaped connector.

√
√

PASSPTA29 - IEC Plug (C14)
to Cloverleaf (C5) PAT Adaptor

This adaptor is used to connect to laptop power supplies, portable projectors and other similar equipment.

√
√

PASSPTA28 - IEC Plug (C14)
to Fig 8 (C7) Pat Adaptor

You'll find several appliances such as game consoles, laptop power supplies, audio/visual equipment and more use this type of connector - with this adaptor, you can connect them up to your PAT tester.

√
√

CK Tools AV05050 5 Piece Insulated Screwdriver Kit

A handy set of insulated screwdrivers (suitable for live working to 1000V) suitable for a wide variety of applications.
Includes 2 x PZ (1 x 80 and 2 x 100mm) + 3 x slotted (3 x 75, 4 x 100 and 5.5 x 125mm) screwdrivers in a carrying case.

√
√

WM1 - 500 x Passed PAT Testing Labels

You'll need these every time an appliance passes a test - just tear one off, fill in the fields (appliance ID, your name, test date and next test due date) and stick on the appliance when done.

√
√

WM6500 - 500 x Circular Passed PAT Testing Labels

These circular-shaped PAT labels are great for plug tops and any other appliance. The labels also include space for ticking the month/year the next test is due.

√
√

WM12 250 - 250 x Cable Wrap Labels

These passed labels wrap around a wire/cable from an appliance and are recommended for use with power supplies or on appliances where you can't stick a label. They also include space for writing your appliance ID, name, test date and next test date.

√
√

WM7 250 - 250 x Failed PAT Testing Labels

You won't need these as often as your passed labels, but you'll need to apply one of these whenever an appliance fails a test. If it does fail, the item should be taken out of service for repair or replacement

√
√

SimplyPats Manual PAT Testing Software

Keep a database of your PAT testing information on your PC and print reports with SimplyPats Manual software. Please note that this software is manual entry; you cannot download directly from the PAT tester and you will need to type in records by hand.

-
√
Part CodeUT527
UNI-T UT527 Technical Specifications
Specifications
Range
Best Accuracy

Insulation Resistance (Ω)



Test voltage
500V
✔

Class I PASS Value
1MΩ
±0.1MΩ



Class II PASS Value



2MΩ

±0.1MΩ

Cord PASS Value
2MΩ

±0.1MΩ

Test Current
(R=500KΩ): >1mA

✔

Short-Circuit Current
<3mA

✔

Ground Resistance (Ω)

Class I PASS Value
0.2Ω

±0.03MΩ

Cord PASS Value
0.2Ω

±0.03MΩ

Test Current
>200mA (R<2Ω)

✔

Measuring Voltages (DC)
5V
✔


Cord Test
Correct Wiring

✔
Cord Fault
✔


Open Circuit, Short Circuit,Reverse Polarity

X Cord Fault

✔



Out With Testing
Test Voltage
AC220V
±10%

Normal
Show"LN ✔
, LE ✔
, NE ✔
"
✔

Off Ground
Show"LN X;
, LE ✔
, NE X"

✔

Out Zero Line

Show"LN ✔




, LE X

, NE X

"



✔

Features
Display Count
1999
Auto Power Off
✔
Low Battery Indication
✔
General
| | |
| --- | --- |
| Power | 1.5V Batteries (LR14) x6 |
| LCD Size | 136mm x 47mm |
| Product Colour | Red and Grey |
| Product Net Weight | 970g |
| Product Size | 210mm x178mm x 90mm |
| Standard Accessories | Batteries, Test Cord, Alligator Clip |
| Standard Individual Packing | Gift Box, English Manual, Tool Box |
| Standard Quantity Per Carton | 4 PCs |
| Standard Carton Measurement | 510mm x 330mm x 330mm (0.056cbm Per Standard Carton) |
| Standard Carton Gross Weight | 11Kg |