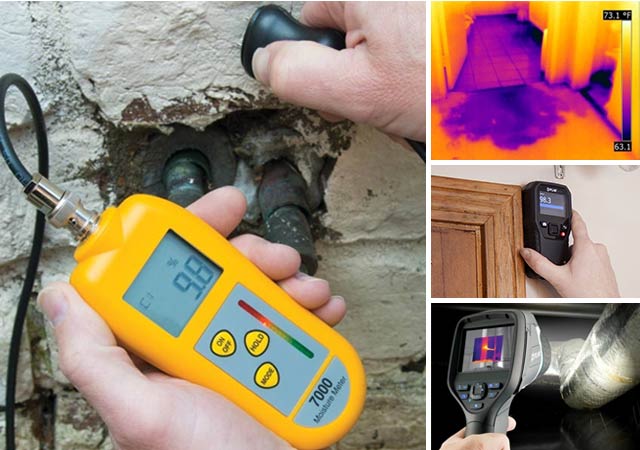 This time of the year autumn sneaks into our days and the weather starts to cool down, giving the possibility of condensation. If left untreated we could end up with more serious problems. So what are the main causes of damp and why it happens more in the colder climate?
The simple reason is all to do with temperature inside and outside of the building and the amount of moisture in the air inside the property. The warm air comes in contact with a wall or a window, which is colder, and the warm air will not be able to retain the same amount of moisture, so water droplets are formed on the surface. Leaving you at best with wet windows and at worst a serious damp problem!
This is what experts call a `moisture spike`. The condensation could be the result of very different causes, such as poor ventilation, plumbing failure or even damp penetration.
Working within the building or facilities management industry you know that moisture is one of the main factors that deteriorates buildings. Besides the walls, roofing and flooring, it could also damage your other possessions such as carpets, furniture and the electronic devices.
Moisture can also corrode contact inside and lower insulation resistance in your electrical appliances, which may cause short circuits.
What are the symptoms and consequences of the moisture problems?
Typical symptoms of moisture problems are the followings: the growth of surface mould, insects infestations, spalling exterior brick or concrete, peeling paint, failing floor adhesives.
So from the above it is easy to see that moisture control is one of the most essential activities for Facility Managers, not just to protect the buildings but also to protect our health, as long term moisture problems can affect our physical condition as well.
Some people are sensitive to microorganisms which can quickly develop in the damp environment. So in these cases nasal, throat or eye irritation could be the main symptoms. For long run the symptoms can lead to upper respiratory illnesses and skin diseases, allergies can be the result of these.
It's clear to see that it is of high importance to control the humidity within buildings to reduce the negative effects on our health and well-being as well as structural damage to the building itself.
One of the first steps is to find the cause and resolve the main source of moisture, damp, seepage, leakage before it causes bigger problems.
Professionals also know that certain work cannot be carried out without the proper moisture conditions, so they measure the moisture level of the walls, floors, concrete etc. to ensure the proper quality of their work.
How can we monitor and measure the moisture?
There is a huge arsenal of the different test equipment available to monitor, prevent, and detect moisture and control the damp.
There are many solutions for measuring and detecting damp. From basic moisture meters to more detailed thermal imaging equipment, there is something to suit every application and budget.
Click HERE to find some popular solutions.
Pin and Pinless moisture meters are widely used and simple to use, they can be easily added to your armoury to carry out moisture detection on many different building materials.
Building Diagnostic Thermal Cameras are also very popular to identify and locate the damp in the buildings. These cameras combine the functionality of a moisture meter with a thermal camera, make it possible to assess and identify the moisture intrusion. Another great advantage of thermal imaging cameras is as well as identifying damp patches they can also be used to locate many of the causes of the damp. Use to find missing insulation, leaks, overheating and much more.
Discover the range of Moisture Meter Thermal Cameras.
Below you can find other useful Thermal Imaging Cameras for locating damp:
FLIR One Pro Smartphone Thermal Camera for Android & IOS (3rd Gen)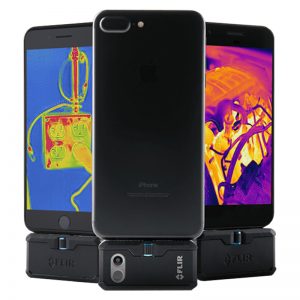 FLIR C2 Pocket-Sized Thermal Camera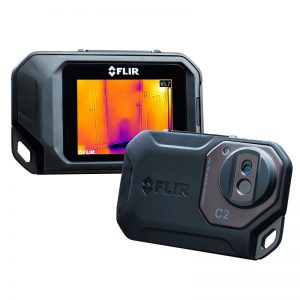 FLIR C3 Pocket-Sized Thermal Camera with WIFI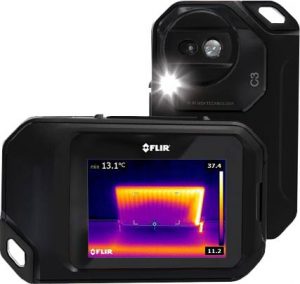 Related Articles:
Want to know more about Indoor Air Quality? Clicking HERE you can find a Fluke application note about the Indoor Air Quality monitoring!
If you would like to know more about these products, then please don`t hesitate to call us on 01642 931 329 or send an email to info@tester.co.uk.