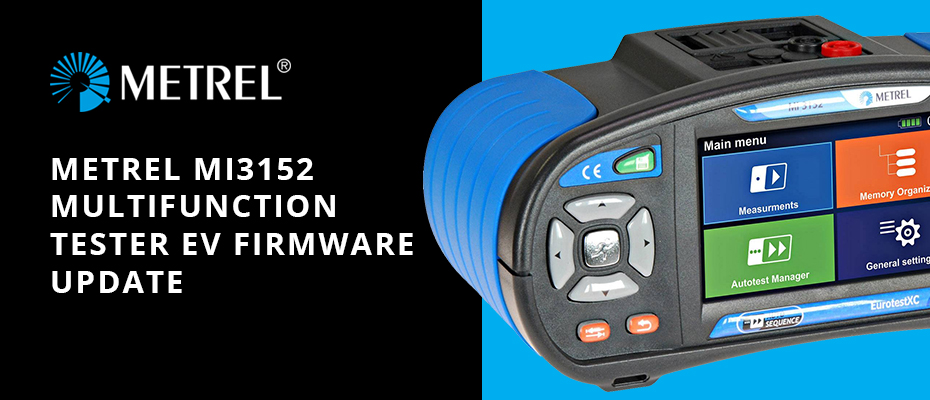 Metrel has advised that the firmware update for their MI3152 Multifunction Testers, which should have been available to download from their website/ software, has been delayed. To rectify this, Metrel has provided a link from which customers can download the firmware update and install it onto their Metrel MI3152 Multifunction Tester for free. This firmware update will enable the Metrel MI3152 Multifunction Tester to carry out an EV test it was previously unable to support.
Quick Links
Firmware Update
The Metrel MI3152 firmware update is available via this link. Metrel has provided these instructions for downloading and installing the update:
Click the download button in the top-right of the screen
Save the file once it has downloaded to your PC
Open the Downloads folder on your PC
Right-click on the MI3152 ZIP file and select Extract All
Click on the MI3152 file and select updates
Open the Upgrade-Automatic file
A Flash Me page will appear
Plug your MI3152 MFT into your PC via a USB port
Select the comms port via the drop-down box to enable the download
Run the file; it should have completed after approximately 20 minutes
Please note that Metrel advises that their firmware update is PC based. Customers with Apple devices may struggle. In this instance, Metrel requests that you get in contact to arrange a collection. Once collected, Metrel will update your MI3152 MFT and deliver it back to you free of charge.
Metrel MI3152 Multifunction Testers
All new Metrel MI3152 Multifunction Testers purchased from Feb/March 2021 onwards will be supplied with the firmware update already installed.
We stock a range of Metrel MI352 Multifunction Testers, including:
Please click the links above to read more about these Metrel MI3152 Multifunction Testers.
Further Information
For more information regarding the Metrel MI3152 EV firmware update or any of the aforementioned Metrel MI3152 Multifunction Testers, please don't hesitate to contact our Sales team on 01642 931 329 or via our online form.