Newly-acquired PAT contractor Pat Man UK has given a thumbs up to PASS Ltd, the independent test equipment expert, for the quality of its advice when upgrading to the latest test equipment.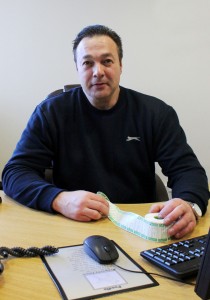 Tom Madden: "Shocking claim culture."
PAT testing is needed in any workplace where appliances are used by employees, where the public may use appliances in establishments such as hospitals, schools, hotels and shops, where appliances are supplied or hired, and where appliances are repaired or serviced.
Pat Man operates from Rotherham and offers a PAT testing service throughout South Yorkshire currently carrying out around 500,000 tests a year. In January 2014, Rotherham marquee company Gala Tent bought Pat Man UK's client base and assets and set up Pat Man Company to provide portable appliance testing for businesses.
With a comprehensive £5 million public liability insurance in place, a full asset register is provided after the work is carried out with a certificate provided and all appliances marked with a sticker and unique identification number.
With a team of electrical engineers and plans to expand the business, the new venture will be run by managing director Chris Winterbourne to provide PAT testing that complies with the Electricity at Work regulations and public or employee insurance liability requirements.
Insurance "GET OUT" clauses
A typical insurance policy condition requires the policy holder to "take all reasonable precautions to prevent or diminish loss, destruction or damage occurrence or cease any activity which may give rise to liability." This act in effect also requires the implementation of a systematic and regular program of maintenance, inspection and testing.
The Health & Safety Executive memorandum of guidance on the Electricity at Work Regulations advises that records of maintenance, including test results will enable the condition of equipment and the effectiveness of maintenance policies to be monitored.
Jason Mace, managing director of Gala Tent, said: "We spotted a gap in the market for an efficient and cost effective portable appliance testing service.
"We were offered a deal to acquire the customer base and assets of a reputable local business that needed help and so decided to expand our operations into this area. We expect to use our local business contacts to grow the client base and to create a number of new jobs over the next six months."
Chris Winterbourne, managing director of Pat Man Company adds: "We do not work on contract - we only price per item and we do not charge for call outs, minor faults or for a test certificate.
"Our price structure is refreshingly simple compared to our competitors. We do not have a minimum number of items, we do not charge for rectifications to plugs, we do not charge for replacement fuses, and we do not charge for post-test results."
Tom Madden, who has run Pat Man Company for the last five years, reveals: "I have always dealt with PASS in the past for all my needs, and with the new partnership with Gala Tent, we decided to continue in the same vein.
"I have done all my training courses with PASS and purchased all my items there, and of course it has a great reputation. We wanted the best for our company and the Seaward Apollo 600 is a fantastic piece of kit.
Shocking claim culture
"I'd rather spend a little more on good quality PAT testers than risk the safety of my clients. We live in a shocking claim culture so it pays make sure appliances are PAT tested," Madden quips.
Michaela Stafford of Gala Tent continues the story: "When I ordered the items over the phone, David Atkins was very helpful and being new to it all myself, he described everything thoroughly, and told me what I needed.
"He informed me of a month's free trial that I could use while I was waiting for some software. He has also been great for any follow-up information. As for the delivery service, PASS kept me very well informed about when it was due to deliver the items and it was right on time - absolutely fantastic service all round."