Get the maximum out of your flue gas analysers and minimise your problems with it.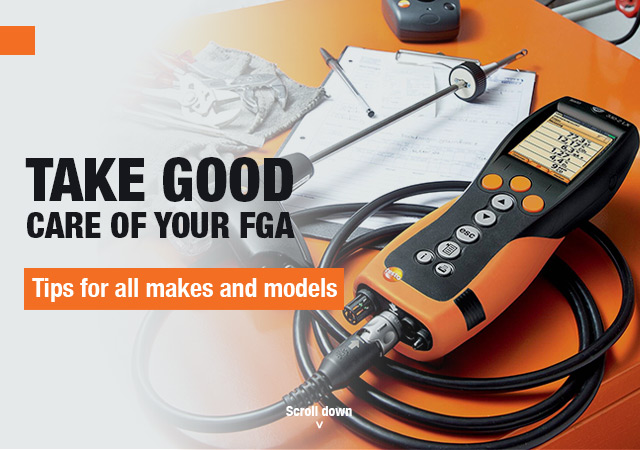 Modern gas appliances don`t have a visible burner flame, the burner is enclosed; so, in order to determine what`s happening during the combustion process, flue gas analyser (FGA) is needed. Every GAS SAFE Registered, OFTEC or HETAS qualified engineer has to use an FGA. They need an FGA for installing, fault finding, repairing or servicing heating appliances.
First and foremost it is vital that a well-maintained FGA has a current and valid certificate of calibration. All manufacturers recommend a minimum of an annual calibration and service to the consumable components. The consequences of using an FGA which is outside of its calibration can be very disastrous and can result in unsafe conditions.
Always keep the FGA`s display panel and the buttons clean; also make sure the FGA is not cracked or physically damaged. It is a good practice to keep your equipment in your toolkit bag when you are not using it.
Never leave your FGA in your vehicle overnight, especially not during the winter months, as the moisture can damage the equipment`s electronics and can block the sensors.
Before carrying out any tests, make sure that the water filter is clean. If it is visibly dirty or wet, always replace it. Regularly empty the condensate trap, dry it with a cloth, and make sure that there is no moisture in the trap.
Before turning on your FGA, first connect the flue probe; only disconnect the probe once the instrument is turned off.
Click HERE and browse around our flue gas analysers from the biggest brands, such as Testo, Anton, TPI, Kane.
Have you heard about the new Anton Future Proof Technology? Here you can read about it:
New Anton Sprint PRO: The future of Flue Gas Has Arrived
PASS Calibration & Repair Service Centre
We are an approved service centre for some of the leading brands, such as Testo, Anton, Kane, TPI, Crowcon and many more.
Our dedicated gas calibration service guarantees that your flue gas analyser or gas monitor/detector is working to its specified accuracy.
We provide a fast calibration service (our turnaround is from 1 day up to 3 days) and we always assure that your equipment is accurate to within all relevant standards.
If you need calibration, don`t hesitate to visit the following website: Calibration Service Centre.
If you have any questions or you just need an expert`s advice, please call us on 01642 931 329 or send an email to info@tester.co.uk.